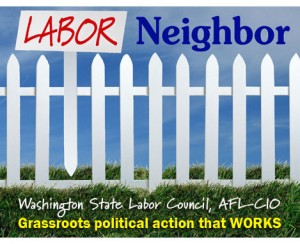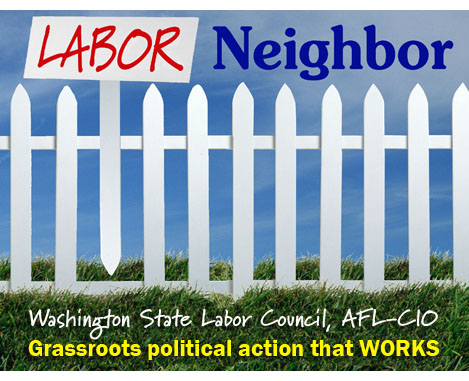 Labor Neighbor, the Washington State Labor Council's grassroots member-to-member political action program, engages union members to inform fellow union members and their families about the candidates and ballot measures that have earned labor's endorsement — and why they earned it.
UNION VOLUNTEERS ARE NEEDED for neighborhood walks, postcard-writing parties, phone banks, and other Labor Neighbor efforts. Even if you live outside the districts listed below, you can help in that area and/or phone banks scheduled throughout the state. Check the schedule and fill out the Labor Neighbor Volunteer Form (below), or call 206-281-8901 for more information.
SCHEDULE OF NEIGHBORHOOD WALKS
DISTRICT
DATE
STAGING LOCATION
6th LD
(Vehrs and Lichty)
Saturday, Oct. 29
9 a.m. to 1 p.m.
SPOKANE
Spokane Regional Labor Council
510 Elm St.
10th LD
(Homola, Brevoort)
Saturday, Oct. 29
9 a.m. to 1 p.m.
MOUNT VERNON
Steelworkers Hall
47 Alder Lane.
17th LD
(Probst, Kim)
Saturday, Oct. 29
Noon to 4 p.m.
VANCOUVER
Laborers Hall
2212 N.E. Andressen
Thurston County
(Hulse)
Saturday, Oct. 29
9 a.m. to 1 p.m.
OLYMPIA
WSLC
906 Columbia St. SW
In addition to these Neighborhood Walks, these will be Labor Neighbor postcard-writing parties where union members will produce handwritten messages to fellow union members urging them to vote and to support labor's endorsed candidates. The schedule of postcard parties will be available soon right here on this page. In the meantime…
FILL OUT THIS FORM TO VOLUNTEER for Labor Neighbor activities.