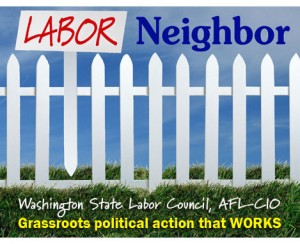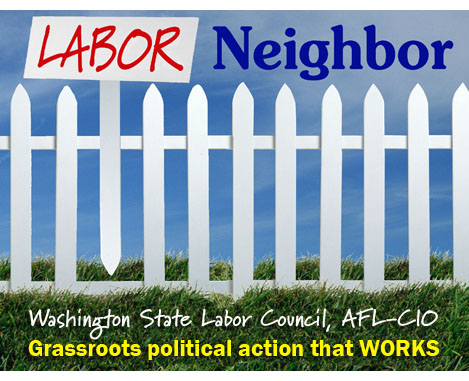 Labor Neighbor, the Washington State Labor Council's grassroots member-to-member political action program, engages union members to inform fellow union members and their families about the candidates and ballot measures that have earned labor's endorsement — and why they earned it.
UNION VOLUNTEERS ARE NEEDED for neighborhood walks, phone banks, and other Labor Neighbor efforts. Even if you live outside the districts listed below, you can help in that area and/or phone banks. Check the schedule and fill out the Labor Neighbor Volunteer Form (below), or call 206-281-8901 for more information.
SCHEDULE OF NEIGHBORHOOD WALKS
DISTRICT
DATE
STAGING LOCATION
19th LD
(Frasier, Blake)
Saturday, June 23
10 a.m. to 1 p.m.
LONGVIEW
Lake Sacajawea (covered picnic area)
16th Ave. & Nichols Blvd.
26th LD
(Randall, Fitzpatrick, Stanford)
Saturday, July 7
10 a.m. to 1 p.m.
BREMERTON
SEIU Local 925
2602 Burwell St.
29th LD
(Conway, Morgan, Kirby)
Saturday, July 14
10 a.m. to 1 p.m.
TACOMA
IBEW Local 76
3049 S. 36th St.
48th LD
(Kuderer, Slatter, Walen)
Saturday, Aug. 4
10 a.m. to 1 p.m.
REDMOND
8151 164th Ave. NE
PHONE BANKS — Weekly phone banks on Wednesdays and Thursdays, June 27-28, July 11-12, July 25-26 and Aug. 1-2 at the Machinists 751 Hall, 9135 15th Pl. S. in Seattle, with shifts from 4 to 6 p.m. and from 6 to 8 p.m. each night. Download the phone bank schedule. For more information or to RSVP, email the WSLC's Cherika Carter or call her at 206-384-1133.
FILL OUT THIS FORM TO VOLUNTEER for Labor Neighbor activities.