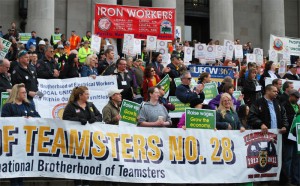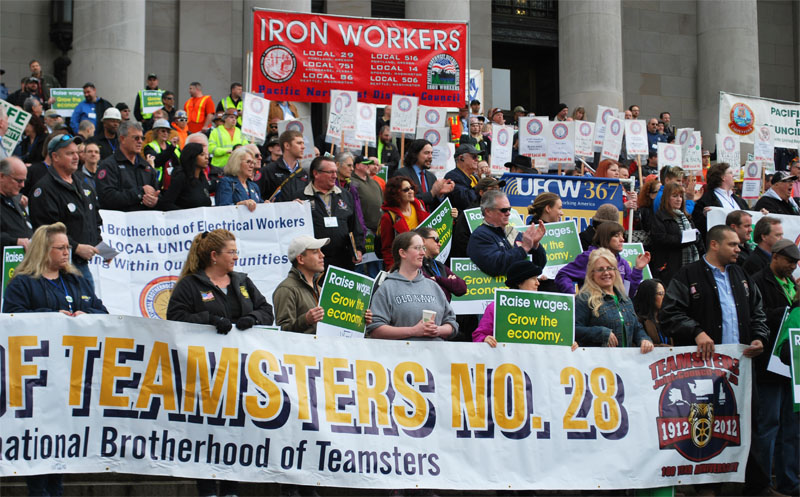 One of the services the Washington State Labor Council, AFL-CIO provides to its affiliated unions is legislative education and advocacy. As with collective bargaining, by joining forces and speaking with a united voice on public policy issues affecting working families, labor has greater influence.
There are about 540,000 union members in Washington state — 17.4% of the non-agricultural workforce — ranking Washington as the 5th most unionized state in the nation. With few exceptions, the positions taken by the WSLC are on issues affecting ALL working people, not just union members. From the minimum wage to workers' compensation, from overtime pay to unemployment insurance — the WSLC is all too often the only voice in Olympia on behalf of everyday working people on these issues. That is unfortunate, given the number of corporate lobbyists who often fight to remove or roll back hard-earned workplace standards and rights. But it is a banner the WSLC and other labor organizations carry with pride.
---
2017 Legislative Report & Voting Record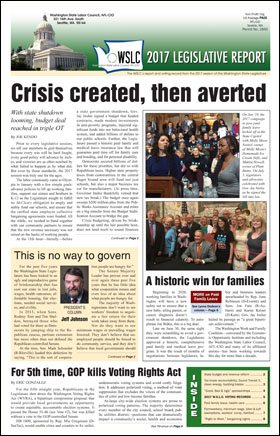 The 2017 edition of the Washington State Labor Council's Legislative Report is now available. This annual report summarizes the fate of legislation affecting Washington's working families in each year's State Legislature, and how each legislator voted on these issues (or you can download the WSLC 2017 Voting Record only). Printed copies of the WSLC's 2017 Legislative Report have been mailed to all affiliated unions. Officers, staff and rank-and-file members of WSLC-affiliated unions can request additional copies. Call 206-281-8901 for more information.
Download previous years' Legislative Reports:
Download previous years' WSLC Voting Records:
2003 — 2004 — 2005 — 2006 — 2007 — 2008 — 2009 — 2010 — 2011 — 2012 — 2013 — 2014 — 2015 — 2016
For earlier WSLC Voting Records, or for archived copies of previous years' WSLC Legislative Reports, email your request to David Groves.
---
2017 Legislative Updates
There are two ways to make sure you know the latest about the legislative issues affecting working families during the 2017 session of the Washington State Legislature. Read The Stand, our daily news service, and specifically its State Government stories. Also make sure you subscribe to the WSLC email list to receive that news in your Inbox, plus the WSLC's weekly Legislative Update newsletter. Here are the latest editions: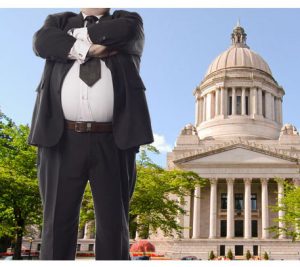 May 26 — Tell legislators: Stop this political nonsense! — State agencies have been instructed to plan for a partial government shutdown on July 1 because legislators are in a political standoff over the 2017-19 operating budget. This is the way Senate Republicans have played this budget negotiation game in the past, with complete disregard for the stress, uncertainty and cost associated with preparing for a shutdown.
Please send an urgent message to your Washington state legislators. Tell them to stop this political nonsense right now and stop the shutdown! Tell lawmakers to negotiate and adopt a budget NOW that values public services, preserves the safety net, and funds state employee contracts.
May 18 — Rally, picket May 20 to save Fircrest School from closure — Union members and advocates/caregivers for the developmentally disabled strongly oppose the idea of shutting down Fircrest School in Shoreline.
May 3 — Amid Boeing job cuts, legislators eye tax break accountability — The House Finance Committee heard two bipartisan bills that would add accountability measures to the state's lucrative aerospace tax incentives.
April 14 — Policy bills languish in divided Legislature — A status report on some key working family bills that have been previously described in the WSLC's Legislative Update newsletter and at The Stand.
April 5 — Budgets demonstrate party values — The House Democrats' budget plan funds public schools, protects critical services, and respects working families. The senate republican plan… doesn't.
March 21 — Short-changing state employees — The long-awaited Senate Republican budget proposal was released today, and just as it did two years ago, it short-changes state employees and ignores the state's collective bargaining laws.
March 13 — Hold Boeing accountable for tax breaks — Two new bills are a clear indication of concern — from both sides of the political aisle — the Washington's aerospace tax preferences are failing to achieve their intended purpose and need to be amended.
March 7 — Bills about fairness and family need votes — As the March 8 cutoff for floor action approaches, legislation on bills that discourage discriminatory pay and provide paid family and medical leave need votes. Plus, another status report.
Feb. 27 — What's alive, dead, and update after cutoff — A status report on working-family legislation following the Feb. 24 cutoff deadline for bills to pass committees in the house of origin.
Feb. 13 — Empowering inclusive elections — The Washington Voting Rights Act enables cities and counties to fix unfair, undemocratic voting systems, and avoid costly litigation.
Feb. 6 — An injury to one is an injury to all — In solidarity, unionists of all trades visit Capitol, urge legislators to do the right thing
Jan. 30 — Exempting I-1433 to death — GOP bill would deny new minimum wage and sick leave to teens, nonprofits, non-Kings
Jan. 23 — The time has come for paid leave — After 10 years, a bipartisan effort for family, medical and military leave
Jan. 17 — The consequences of low pay — State government's below-market wages have created recruitment, retention crisis
Jan. 9 — It's all about education funding — But the outcome of 2017 session's focus affects everything else, every one of us
---
WSLC 2017 Shared Prosperity Agenda
Download a printable (PDF) outline of the Washington State Labor Council's 2017 Shared Prosperity Agenda. It lists many of the key issues for the 2017 session of the State Legislature that are important to Washington's working families. In addition to the issues and positions listed there, the WSLC will support a range of issues that address economic opportunity and justice, as well as specific legislation championed by our affiliated unions.