One of the services the Washington State Labor Council, AFL-CIO provides to its affiliated unions is legislative education and advocacy. As with collective bargaining, by joining forces and speaking with a united voice on public policy issues affecting working families, labor has greater influence.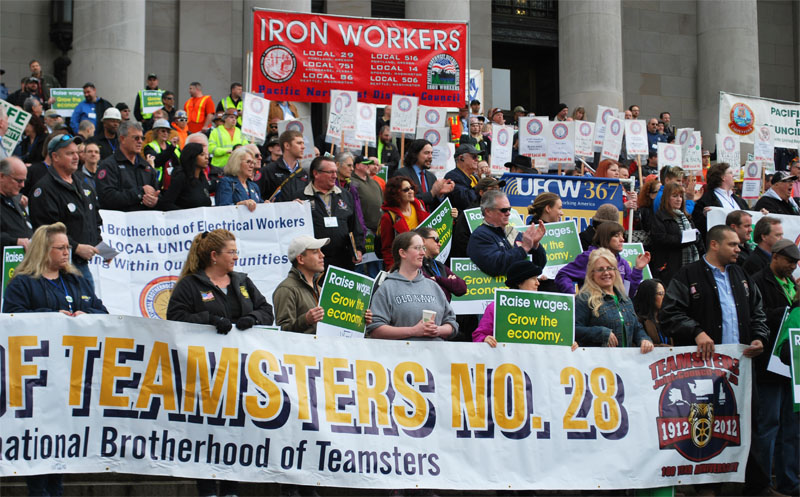 There are about 500,000 union members in Washington state — 16.8% of the non-agricultural workforce — ranking Washington as the 5th most unionized state in the nation. With few exceptions, the positions taken by the WSLC are on issues affecting ALL working people, not just union members. From the minimum wage to workers' compensation, from overtime pay to unemployment insurance — the WSLC is all too often the only voice in Olympia on behalf of everyday working people on these issues. That is unfortunate, given the number of corporate lobbyists who often fight to remove or roll back hard-earned workplace standards and rights. But it is a banner the WSLC and other labor organizations carry with pride.
See the State Government stories at The Stand for the latest news from Olympia on working family legislation.
---
2016 Legislative Report & Voting Record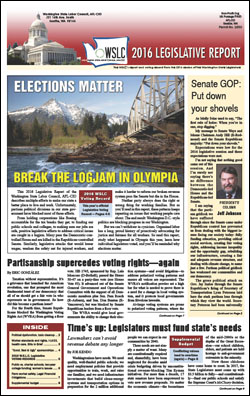 The 2016 edition of the Washington State Labor Council's Legislative Report is now available. This annual report summarizes the fate of legislation affecting Washington's working families in each year's State Legislature, and how each legislator voted on these issues (download the WSLC 2016 Voting Record only). Printed copies of the WSLC's 2016 Legislative Report are being mailed to all affiliated unions. Officers, staff and rank-and-file members of WSLC-affiliated unions can request additional copies. Call 206-281-8901 for more information.
Download previous years' Legislative Reports:
Download previous years' WSLC Voting Records:
2003 — 2004 — 2005 — 2006 — 2007 — 2008 — 2009 — 2010 — 2011 — 2012 — 2013 — 2014 — 2015
For earlier WSLC Voting Records, or for archived copies of previous years' WSLC Legislative Reports, email your request to David Groves.
---
The Washington State Labor Council, AFL-CIO — the state's largest union organization representing the interests of more than 600 labor organizations with more than 450,000 members — outlined its 2016 Shared Prosperity Agenda on Jan. 13 for the 60-day legislative session that began that week. Read more and download fact sheets on specific 2016 legislative issues.
---