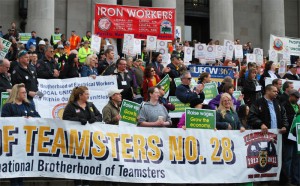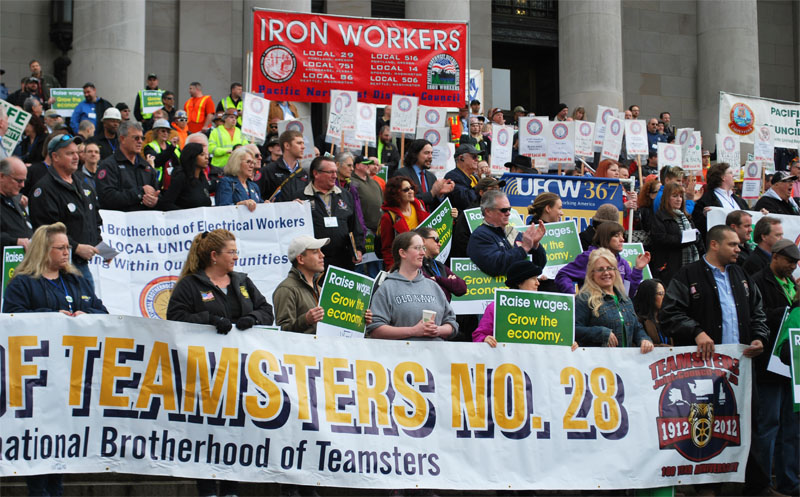 One of the services the Washington State Labor Council, AFL-CIO provides to its affiliated unions is legislative education and advocacy. As with collective bargaining, by joining forces and speaking with a united voice on public policy issues affecting working families, labor has greater influence. There are about 540,000 union members in Washington state — 17.4% of the non-agricultural workforce — ranking Washington as the 5th most unionized state in the nation. With few exceptions, the positions taken by the WSLC are on issues affecting ALL working people, not just union members. From the minimum wage to workers' compensation, from overtime pay to unemployment insurance, the WSLC and its affiliated unions are proud to advocate for their rank-and-file members and all working families.
---
2018 Legislative Updates
There are two ways to make sure you know the latest about the legislative issues affecting working families during the 2018 session of the Washington State Legislature that begins Monday, Jan. 8. Read The Stand, our daily news service, and specifically its State Government stories. (Also make sure you subscribe to the WSLC email list to receive that news in your Inbox.) Plus read the WSLC's weekly Legislative Update newsletter. Here are the latest editions:
Jan. 5 — Pro-worker bills will be heard! — The 2018 session of the Washington State Legislature will begin Monday, Jan. 8. It will mark a new day in the Senate thanks to Manka Dhingra's decisive victory in the 45th District special election in November. Democrats will now have a one-vote majority in the Senate, as well as a narrow majority in the House. That means the legislative logjam of pro-worker bills that passed the House in the past five years only to be killed without a vote in the Republican Senate may now break loose. The Senate Labor and Commerce Committee, now chaired by Sen. Karen Keiser (D-Kent), has already queued up some important bills for public hearings next week. (Download a printable PDF or read it online at The Stand.)
---
WSLC 2018 Shared Prosperity Agenda
Download a printable (PDF) outline of the Washington State Labor Council's 2018 Shared Prosperity Agenda. It lists many of the key issues for the 2018 session of the State Legislature that are important to Washington's working families. In addition to the issues and positions listed there, the WSLC will support a range of issues that address economic opportunity and justice, as well as specific legislation championed by our affiliated unions. (Also see The Stand's coverage of the agenda's release on Jan. 3.)
---
2017 Legislative Report & Voting Record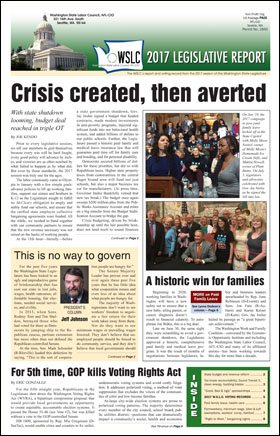 The 2017 edition of the Washington State Labor Council's Legislative Report is now available. This annual report summarizes the fate of legislation affecting Washington's working families in each year's State Legislature, and how each legislator voted on these issues (or you can download the WSLC 2017 Voting Record only). Printed copies of the WSLC's 2017 Legislative Report have been mailed to all affiliated unions. Officers, staff and rank-and-file members of WSLC-affiliated unions can request additional copies. Call 206-281-8901 for more information.
Download previous years' Legislative Reports:
Download previous years' WSLC Voting Records:
2003 — 2004 — 2005 — 2006 — 2007 — 2008 — 2009 — 2010 — 2011 — 2012 — 2013 — 2014 — 2015 — 2016
For earlier WSLC Voting Records, or for archived copies of previous years' WSLC Legislative Reports, email your request to David Groves.