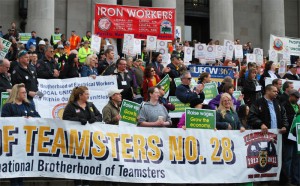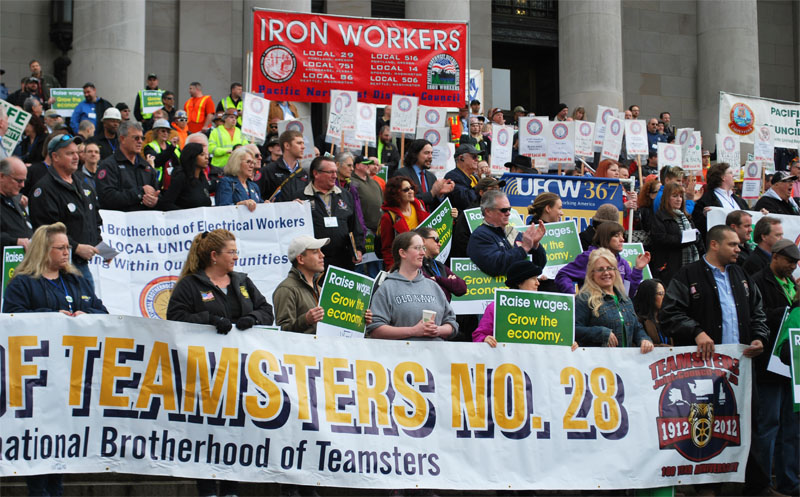 One of the services the Washington State Labor Council, AFL-CIO provides its affiliated unions is legislative education and advocacy. As with collective bargaining, by joining forces and speaking with a united voice on public policy issues affecting working families, labor has greater influence. There are about 584,000 union members in Washington — 18.8% of the non-agricultural workforce — ranking us as the 3rd most unionized state in the nation. With few exceptions, the positions taken by the WSLC are on issues affecting ALL working people, not just union members. From the equal pay to minimum wage to workers' compensation, the WSLC and its affiliated unions are proud to advocate for their rank-and-file members and all working families.
---
2018 Legislative Report & Voting Record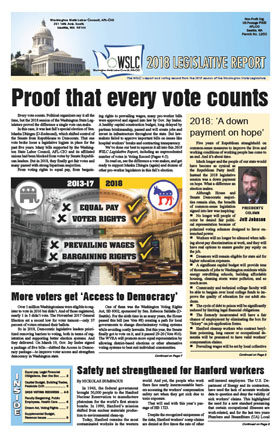 The 2018 edition of the Washington State Labor Council's Legislative Report is now available. (Download the PDF or read it online at The Stand.) This annual report summarizes the fate of legislation affecting Washington's working families in each year's State Legislature, and how each legislator voted on these issues (or you can download the WSLC 2018 Voting Record only). Printed copies of the WSLC's 2018 Legislative Report are being mailed to all affiliated unions. Officers, staff and rank-and-file members of WSLC-affiliated unions can request additional copies. Call 206-281-8901 for more information.
Download previous years' Legislative Reports:
2013 — 2014 — 2015 — 2016 — 2017
Download previous years' WSLC Voting Records:
2003 — 2004 — 2005 — 2006 — 2007 — 2008 — 2009 — 2010 — 2011 — 2012 — 2013 — 2014 — 2015 — 2016 — 2017
For earlier WSLC Voting Records, or for archived copies of previous years' WSLC Legislative Reports, email your request to David Groves.
---
2018 Legislative Updates
There are two ways to make sure you know the latest about the legislative issues affecting working families during the 2018 session of the Washington State Legislature that begins Monday, Jan. 8. Read The Stand, our daily news service, and specifically its State Government stories. (Also make sure you subscribe to the WSLC email list to receive that news in your Inbox.) Plus read the WSLC's weekly Legislative Update newsletter. Here are the latest editions:
March 2 — Full disclosure: Historic bills are passing! — While the commercial press has focused its attention (and advocacy) almost exclusively on the public disclosure bill (SB 6617), several truly historic pieces of legislation have passed in recent days that will improve state government and help working families. Progressive policy bills that for years have been killed by partisan obstruction are finally getting floor votes. And they are passing — often with bipartisan support. These historic bills will address gender-based pay discrimination, promote fairer local elections, improve voter participation, increase pay for faculty at community and technical colleges, improve prevailing wage accuracy and consistency, protect the state's Dreamers who are pursuing college educations, begin to address mass incarceration in our state, work to protect farmworkers and communities from exposure to pesticides, and more! (Read all about it at The Stand.)
Feb. 23 — State must attract, retain best college faculty — EHB 1237, which allows local funds such as tuition and fees to be accessible for community and technical college faculty to negotiate wage increases, is in the Senate Rules Committee and is expected to be voted off the full Senate floor soon. But the Freedom Foundation has joined certain college presidents and lobbyists for the State Board for Community and Technical Colleges (which has no official position on the bill) in a public effort to kill it. — Meanwhile, the Senate-approved Washington Voting Rights Act (SB 6002) should get a vote very soon in the House, where it has passed repeatedly in recent years. And city leaders are weighing in to express their strong support. (Download a printable PDF or read it online at The Stand.)
Feb. 16 — What's alive and what's dead(ish) in Olympia — Wednesday, Feb. 14 was the cutoff deadline for bills to advance from their houses of origin. If it didn't get a floor vote by the end of that day, it died. Kinda. Check out our roundup of some key working family bills and where they stand after Wednesday's cutoff. (Download a printable PDF or read it online at The Stand.)
Feb. 9 — 'Preemption' power grabs aim to usurp cities — Watching so many union members get elected scares right-wing conservatives and corporate lobbying groups in Olympia. They don't like to see cities enacting progressive policies so they are actively working to take away the power of local elected officials — and local voters — to do establish workplace standards. Legislative Republicans have introduced dozens of bills and amendments to "preempt" local governments from enacting their own innovative employment policies that go beyond the floor established in state law.  (Download a printable PDF or read it online at The Stand.)
Jan. 29 — A stronger safety net for Hanford workers — Rep. Larry Haler's (R-Richland) HB 1723 says that Hanford workers' illnesses should be presumed to be work-related when they see workers compensation coverage. After being blocked last year by Senate republicans, HB 1723 passed the House again on an even stronger bipartisan 76-22 vote, and with Democrats now in control, it easily passed the Senate 35-14. Meanwhile, legislators are considering needed restrictions on noncompetition agreements, which are proliferating and unfairly blocking people from working in their trades. (Download a printable PDF or read it online at The Stand.)
Jan. 19 — Finally! Action on capital budget, Washington Voting Rights Act — For nearly a year now, Senate Republicans have held hostage more than $4 billion worth of job-creating school construction and public infrastructure projects over an unrelated water-rights issue. There was never any question whether the capital budget has bipartisan support. When finally allowed a vote on Thursday, it passed the House 95-1 and the Senate 49-0. Similarly, for five years Senate Republicans refused to allow an up-or-down vote on the Washington Voting Rights Act. This week, it finally did, and the WVRA easily passed the Senate on a 29-19 vote. (Download a printable PDF or read it online at The Stand.)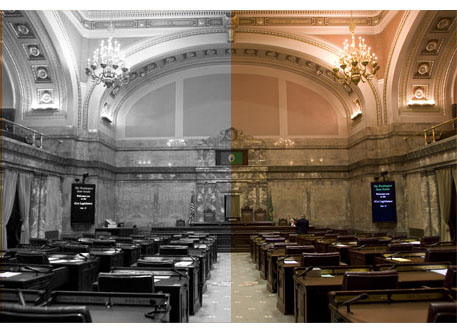 Jan. 12 — What a difference a year (and election) makes — With Democrats gaining control of the Senate, their party leaders in both houses have vowed to move quickly to end the capital budget hostage crisis. They've already begun to make good on that promise. Meanwhile, the Senate Labor and Commerce Committee — a panel that last year was holding hearings on right-to-work (for less) — held public hearings Wednesday on bills to promote equal pay, protect Hanford workers and their families, and to enact the Washington Fair Chance Act that gives people with criminal records an opportunity to find work. (Download a printable PDF or read it online at The Stand.)
Jan. 5 — Pro-worker bills will be heard! — The 2018 session of the Washington State Legislature will begin Monday, Jan. 8. It will mark a new day in the Senate thanks to Manka Dhingra's decisive victory in the 45th District special election in November. Democrats will now have a one-vote majority in the Senate, as well as a narrow majority in the House. That means the legislative logjam of pro-worker bills that passed the House in the past five years only to be killed without a vote in the Republican Senate may now break loose. The Senate Labor and Commerce Committee, now chaired by Sen. Karen Keiser (D-Kent), has already queued up some important bills for public hearings next week. (Download a printable PDF or read it online at The Stand.)
---
WSLC 2018 Shared Prosperity Agenda
Download a printable (PDF) outline of the Washington State Labor Council's 2018 Shared Prosperity Agenda. It lists many of the key issues for the 2018 session of the State Legislature that are important to Washington's working families. In addition to the issues and positions listed there, the WSLC will support a range of issues that address economic opportunity and justice, as well as specific legislation championed by our affiliated unions. (Also see The Stand's coverage of the agenda's release.)