Every election, delegates from the WSLC's affiliated unions vote on candidate endorsements. The WSLC then informs union members about which candidates earned endorsement, and why.
---
2019 Endorsements



The Washington State Labor Council, AFL-CIO only makes endorsements in races for Congress, statewide offices and judicial races, State Legislature, and statewide ballot measures. The WSLC holds a Political Endorsement convention on even-numbered years when most of those races occur. For 2019, the WSLC has made the following endorsements:
Referendum 88 – YES
If this measure qualifies for the statewide ballot, voters will be asked whether to approve or reject I-1000 as passed by the State Legislature. I-1000, which was unanimously endorsed by the WSLC, ends the state's ban on affirmative action programs that provide equal opportunity in education, employment and contracting. I-1000 will ensure fair opportunities for women, veterans, people with disabilities, and all people of color. Vote YES on Ref. 88.
Initiative 976 – NO
This Tim Eyman initiative would limit Motor Vehicle Excise Taxes (MVET) to $30. If approved, it will cut funding for transportation infrastructure in every corner of the state, including safety projects, road maintenance, transit service, expansion of light rail, ferry service, and even the Washington State Patrol. It would also cost many cities and towns across the state the local funds they spend to repair and maintain roads and transportation services. Vote NO on I-976.
Delegates will consider additional endorsement action at the WSLC's 2019 Convention on July 25-27 at the SeaTac Doubletree Hotel.
---
Don't Invest in More Excuses!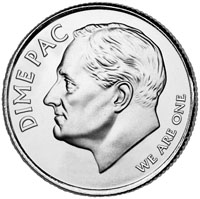 Only lawmakers who stand up for working families deserve organized labor's financial support. That's why the Washington State Labor Council created the "Don't Invest In More Excuses" Political Action Committee (DIME PAC). Its mission is to recruit and elect champions of Washington's working families. THAT'S how we will defend against attacks on workers' rights and it's how we will put government's focus on creating and maintaining good jobs. Click here for a DIME PAC contribution form so you can contribute to keep Washington a great place to live and work! Send your completed form, along with a check for your contribution payable to "DIME PAC," to the Washington State Labor Council, 321 16th Ave. South, Seattle, WA, 98144. For more information, contact the WSLC at 206-281-8901.
---
Join the 2019 President's Club
The Washington State Labor Council President's Club is an organization established to raise political action funds and promote labor's political action program. Members are invited to attend a special luncheon during the WSLC's annual convention that will feature a distinguished guest speaker discussing the coming election. President's Club membership is $150. You may contribute the entire amount or make quarterly contributions of $37.50. To join, please print this form (Word – PDF) and send it, along with your enclosed contribution, to: WSLC President's Club, 321 16th Ave. South, Seattle, WA, 98144. Thank you!
---
Labor Neighbor 2018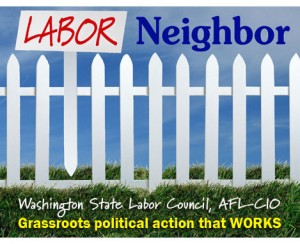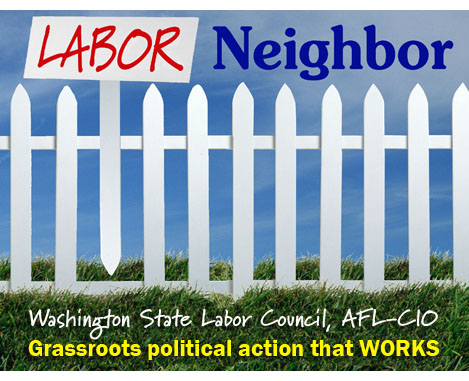 THANK YOU to the hundreds of union members who volunteered for Labor Neighbor, the Washington State Labor Council's grassroots member-to-member political action program in 2018. The work for accomplished engaging fellow union members to inform them and their families about the candidates and ballot measures that earned labor's endorsement made a big difference!
Now we need to stay engaged and hold all elected official accountable to working families. Subscribe to The Stand, the WSLC's daily news service, to stay apprised of the WSLC's legislative agenda for the 2019 session and to learn more about how to get involved. When we fight together, we win!