Every election year, delegates from the WSLC's affiliated unions vote on candidate endorsements. The WSLC then informs union members about who earned endorsement and why.
---
2017 Special Elections



The Washington State Labor Council, AFL-CIO will be making endorsements in special elections for the State Legislature this fall, including in the 45th Legislative District Senate race. See the candidate questionnaires in these races. (This page is password protected, and intended only for members of the WSLC political committee. Email Teresa Mosqueda for details.) For information about candidates for county, city or other municipal positions, check with your local Central Labor Council.
---
Historic 2016 wins for Washington workers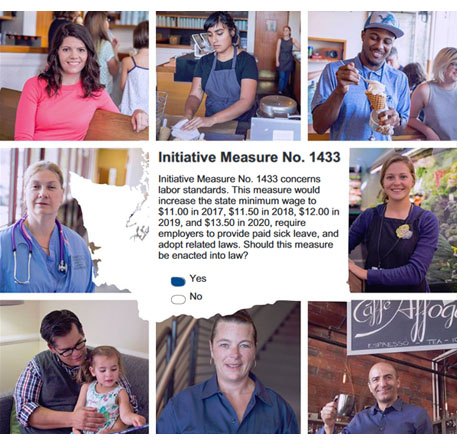 Washington state's labor movement led the charge for some historic victories on behalf of working families in the November 2016 election, but the stunning election of Donald Trump as President of the United States cast a dark cloud over local celebrations. Nevertheless, Washington state will once again lead the nation after raising its minimum wage to $13.50 over the next four years, will allow all workers to earn paid sick leave to care for themselves and their families, will establish groundbreaking new protections for hotel workers in Seattle, and will make major forward-thinking investments in its mass transit systems in Spokane and the Puget Sound region. These victories and others are all good news for working families and promise to boost our state economy now and for future generations. Read more at The Stand!
---
Don't Invest in More Excuses!
Only lawmakers who stand up for working families deserve organized labor's financial support. That's why the Washington State Labor Council created the "Don't Invest In More Excuses" Political Action Committee (DIME PAC). Its mission is to recruit and elect champions of Washington's working families. THAT'S how we will defend against attacks on workers' rights and it's how we will put government's focus on creating and maintaining good jobs. Click here for a DIME PAC contribution form so you can contribute to keep Washington a great place to live and work! Send your completed form, along with a check for your contribution payable to "DIME PAC," to the Washington State Labor Council, 321 16th Ave. South, Seattle, WA, 98144. For more information, contact the WSLC at 206-281-8901.
---
Join the 2017 President's Club
The Washington State Labor Council President's Club is an organization established to raise political action funds and promote labor's political action program. Members are invited to attend a special luncheon during the WSLC's annual convention that will feature a distinguished guest speaker discussing the coming election. President's Club membership is $150. You may contribute the entire amount or make quarterly contributions of $37.50. To join, please print this form (Word – PDF) and send it, along with your enclosed contribution, to: WSLC President's Club, 321 16th Ave. South, Seattle, WA, 98144. Thank you!