The 2016 Convention of the Washington State Labor Council, AFL-CIO was held July 19-21 at the Coast Wenatchee Hotel and Convention center. Delegates representing the WSLC's more than 500 affiliated labor organizations, with some 450,000 rank-and-file members, gathered to hear from distinguished labor and community leaders, and to set the course for the state's largest union organization in the coming year. Also see the 2016 WSLC Resolutions as approved by convention delegates.
Following is the 2015 Convention as it appeared at The Stand. You can watch video coverage of the plenary sessions, as covered by TVW, Washington state's public-affairs network: July 19 session — July 20 session.
---
Convention Day 1: WSLC tackling neglected race issues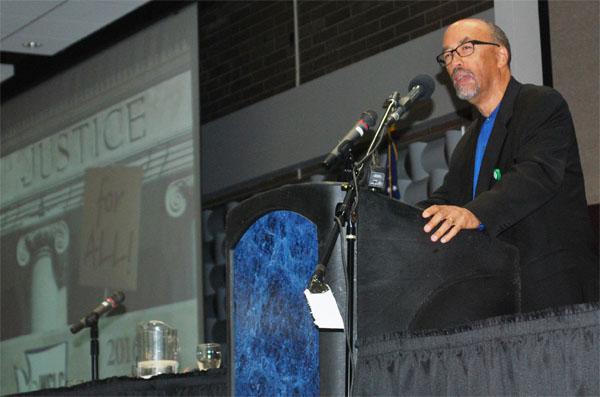 WENATCHEE (July 19, 2016) — Delegates representing unions from across Washington state were told that their state federation — the Washington State Labor Council, AFL-CIO — was taking a bold step by wading into issues of race and unions that historically have been ignored by organized labor.
So said author/commentator Bill Fletcher, Jr., the keynote speaker on Tuesday's opening session of the WSLC 2016 Constitutional Convention in Wenatchee. He said that the WSLC's passage of Resolution 12 last year and the subsequent efforts to openly discuss and address institutionalized racism within the labor movement are critically important at a time when ongoing violence between police and people of color have set the nation on edge.
"I grieve with everyone else for the loss of the lives of the police that were killed in Dallas and Baton Rouge," Fletcher said. "I was not surprised that it happened. There has been anger that's been bubbling up for a very very long time, and until society grapples with that, we are on a very very slippery slope."
Fletcher said the WSLC's efforts are like sailing through the Sargasso Sea, an area in the North Atlantic Ocean where, in centuries past, ships would often become bogged down by lack of wind and the presence of heavy Sargassum seaweed.
"Your federation must keep moving," Fletcher concluded. "Our members desperately wish to understand why their lives are collapsing and who is to blame. But in not charting the right course, they can become entangled in Sargassum weed, and therefore forever be lost. This I would argue is the mission of organized labor, the question is whether it is our destiny."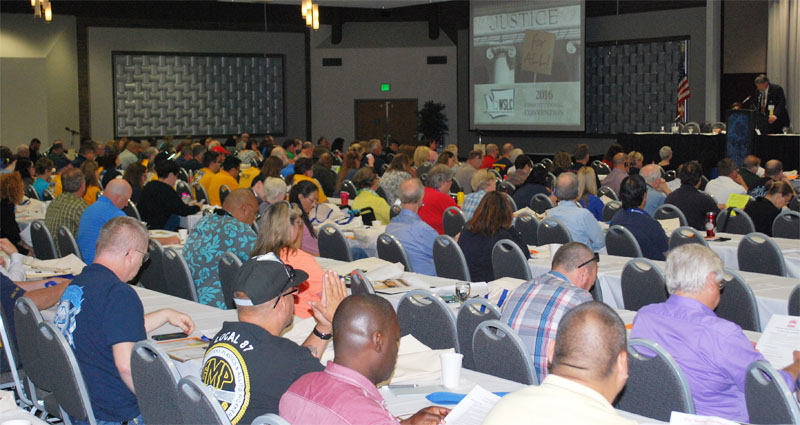 Delivering his opening address, WSLC President Jeff Johnson echoed that sentiment in discussing the convention theme of "Justice for All."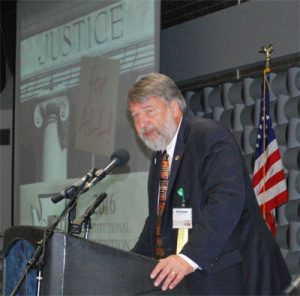 "The sad truth is that we don't have justice for all in America today," he said. "When black and brown men in America are not safe, there is no justice for all. When immigrant families live in fear of being separated by deportation, there is no justice for all. When workers' pensions and health caree benefits are taken away by greedy corporations, there is no justice for all. When workers lose their jobs to trade deals that centralize corporate power, there is no justice for all. When carbon pollution creates climate refugees, there is no justice for all."
But Johnson struck a hopeful note saying he was inspired by the energy and commitment of the union members and leaders in the room.
"For all the challenges we face, the one thing that encourages me is the labor movement," he said. "Leaders like you are leading the way towards a just transition and shared prosperity. Leading the way towards strong voices at work and in the community. Leading the way towards creating a society abundant with optimism, opportunity and justice for all."
Other convention highlights from Tuesday include:
● Infrastructure investment — A panel of labor and environmental leaders discussed the critical importance of investing in public infrastructure, including the passage of Sound Transit Phase 3. The panel included Monty Anderson of the Seattle Building Trades, Darcy Nonemacher of the Washington Environmental Council, Mo McBroom of The Nature Conservancy, Rob Harmon of the MEETS Coalition, and Bob Guenther of IBEW Local 77. Anderson echoed a common thread in the discussion when he said, "This is important. It's not only important for jobs, it's important for the environment."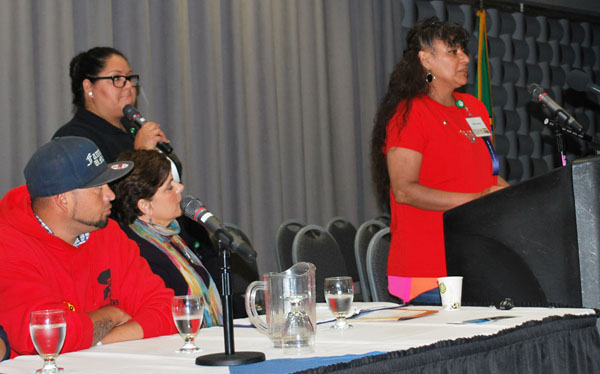 ● Farm workers' issues — Maria, a dairy worker in Washington state (pictured above), described the deplorable and unsafe working conditions at the state's dairies. The United Farm Workers have been leading a campaign to work with Darigold, the state's largest dairy cooperative, to improve working conditions at the dairies but Darigold is resisting such efforts. Ramon Torres (seated at left), President of Familias Unidas por la Justicia, delivered the great news that the Sakuma Brothers Farms in Skagit County, under pressure by Häagen-Dazs ice cream and other vendors subjected to a consumer boycott of Sakuma's Driscoll's berries, has agreed to work with the union to establish a framework for a union election among the workers. Torres said this is a big win but there is much work remaining to ensure Sakuma farm workers get a fair union contract.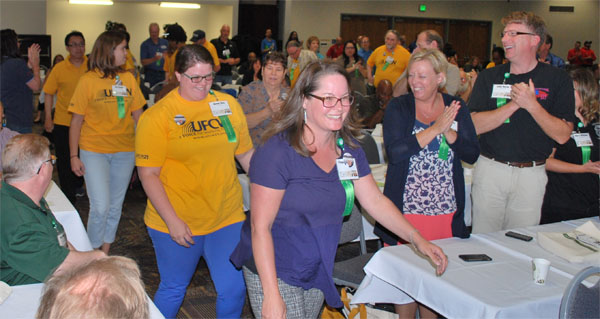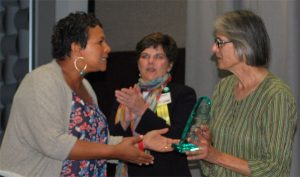 ● The 2016 Power to the People Awards for outstanding political activism were given to the individual and organization that collected the most signatures for Initiative 1433 to raise the state minimum wage to $13.50 by 2020 and allow all workers to earn paid sick days. The winners were volunteer petitioner extraordinaire Diane Jones of IBEW Local 77 who collected a remarkable 2,403 signatures and UFCW Local 21, which exceeded it's 45,000-signature goal to collect 52,373 signatures. (Above, the UFCW 21 delegation heads to the stage to accept their award. At right, Jones accepts the award from WSLC Field Mobilization Director April Sims.)
● Elsie Schrader Award — Jacqueline Jones-Walsh of the Washington Federation of State Employees Local 843 received the 2016 Elsie Schrader Award. The WSLC Women's Committee presents this annual award for the advancement of women in leadership roles and/or for activism on behalf of women within the labor movement. Jones-Walsh couldn't attend the convention this week because she is at the AFSCME national convention in Las Vegas, but sent delegates her appreciation and thanks for the honor.
Next up on Wednesday: AFL-CIO President Richard Trumka!
---
There were other important speakers and information delivered Tuesday, July 19 at the WSLC Convention not included in this summary. TVW, Washington's public-affairs network, recorded the plenary sessions of the WSLC Convention. Click here to watch the July 19 session in its entirety.

---
Trumka to Washington's unions: Keep leading the way
WENATCHEE (July 20, 2016) — The leader of America's labor movement delivered a clear message Wednesday to union members in Washington state: Keep doing what you're doing.
"Keep leading the way. Keep blazing a trail forward," AFL-CIO President Richard Trumka told hundreds of union members from across the state at the Washington State Labor Council 2016 Convention. "As a national movement, we've been under attack so long, it can be hard to get out of a defensive crouch. But Washington has always shown us how to be proactive."
TVW has posted its coverage of the WSLC convention. Apparently, their embed code doesn't work to share it here, so click here to watch Trumka's speech in its entirety. (He speaks about Initiative 1433 at 38:20; fair state employee contracts at 39:40; organizing Uber, Lyft and other app-based drivers at 40:50; and accountability for aerospace tax breaks at 42:26.)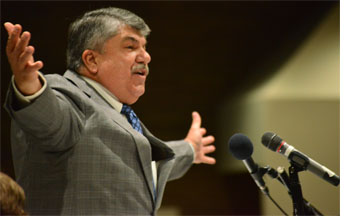 The leader of the 12.5 million-member labor federation congratulated Washington state's unions for fighting for good jobs and shared prosperity. Trumka earned greater and greater applause as he called out:
Initiative 1433: "A rank and file union member, Ariana Davis of UFCW Local 21, is the citizen petitioner who is fighting to guarantee all workers in Washington a living wage and seven paid sick days," he said. "You led the country with the highest minimum wage for close to 20 years and with this initiative you can get out in front again and set the pace."
State employee contract talks: "I know state employees in Washington are in the process of negotiating a contract with the governor's office. This is a big deal. You should get real wage increases. State workers could be making more money in the private sector, but you chose public service. That's powerful, and the entire AFL-CIO stands with you as you negotiate to win fair wages and good benefits."
On-demand drivers' rights: "You want workers at Uber and Lyft to have the freedom to form an association and negotiate together for a better life. Legal challenges remain, but our position is clear: all employees should have the right to bargain collectively, including the growing on-demand workforce. This is about a labor movement that touches more workers, and lifts up more lives."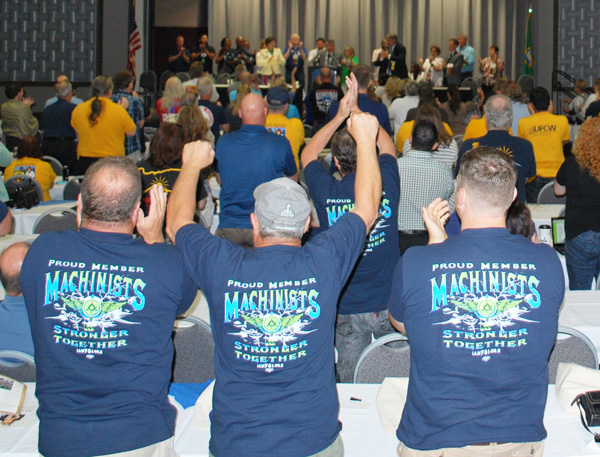 Tax break accountability: "Boeing executives act as if they have the right to take taxpayer money and run. They don't. The public has supported Boeing, because Boeing machinists and engineers play a huge role in the state and regional economy. Make no mistake: Boeing workers make it one of the most powerful and profitable corporations in the world. For greedy CEOs to pocket state tax incentives and then kill good Washington jobs, after the sacrifices you and your union members made, it's just shameful. It's wrong."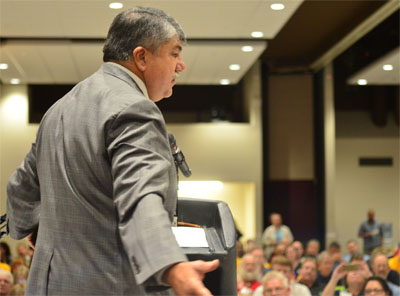 Of course, President Trumka also touched on several important national issues:
Trans-Pacific Partnership: "Because of your work, Congress does not have the votes to pass the TPP. Because of your work, the Democratic Party just officially adopted the strongest pro-worker trade position in history. And because of your work, Hillary Clinton not only opposes the TPP, she has called for an entirely new direction on trade. You did that! Give yourselves a hand."
Donald Trump: "Through his actions, his words and his ideas, Trump is profoundly unfit to be president… Seventy percent of Americans view Trump unfavorably. Is it any wonder? Name any core American value, and Donald Trump is against it. Freedom of religion. Freedom of the press. Responsibility. Equality. Unity. Integrity. He stands against everything we stand for!"
Hillary Clinton: "The choice is clear. Hillary Clinton is our champion and we are going to elect her the next president of the United States! Washington will show us the way! And we'll elect a Congress to work with her. Yet listen, we understand an election is a beginning, not an end. We will hold every one of our elected leaders accountable, from the statehouse to the White House."
So after congratulating Washington state for getting "a head start with your organizing to put Initiative 1433 on the ballot," Trumka urged all union leaders and members to get involved in the WSLC's Labor Neighbor program and participate in political education activities to win a worker-friendly State Legislature, Congress and White House.
"It's time to stand up strong, Brothers and Sisters. It's time to mobilize and organize," Trumka shouted. "This electoral season is all about raising wages. We'll hit the worksites. We'll talk to members. We'll walk the streets and knock the doors. This is what a unified labor movement does. This is what it looks like when working people stand together, union strong!"
---
Here is the official 2016 WSLC Convention Photo taken on Wednesday: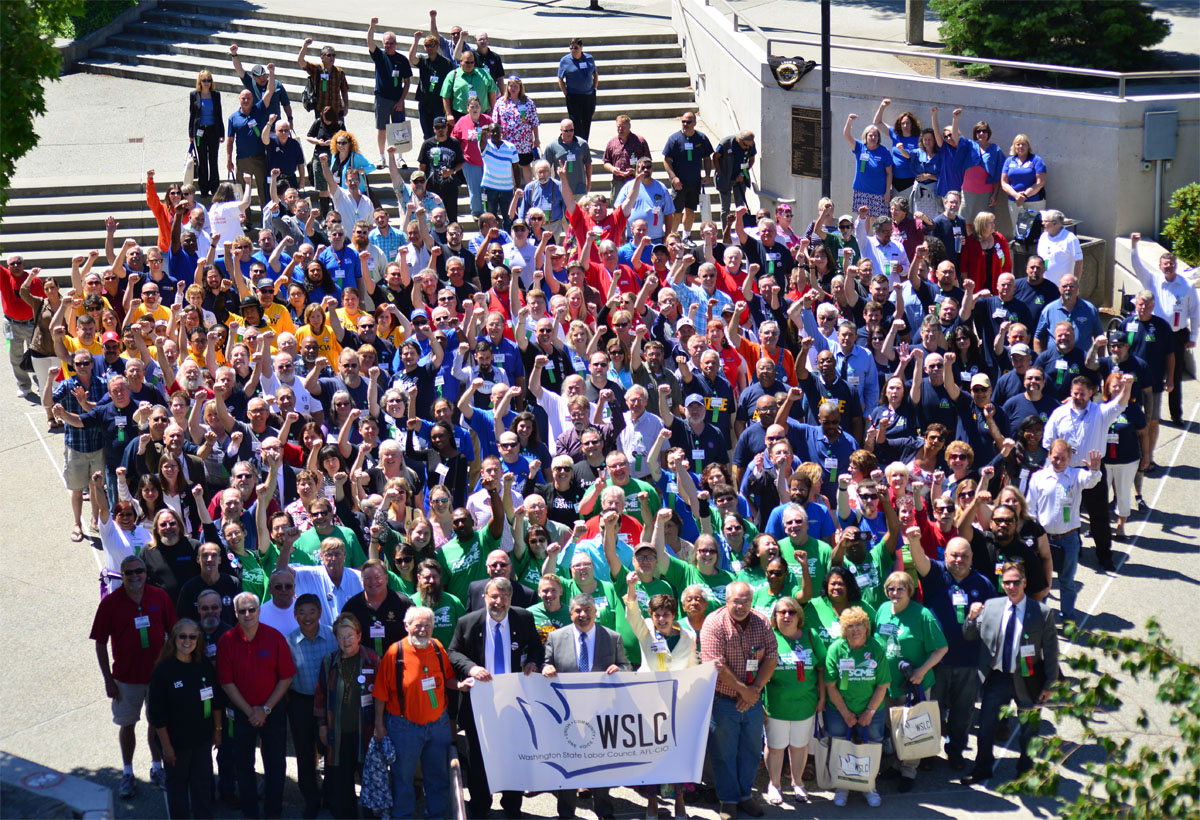 ---
Other convention highlights on Wednesday include: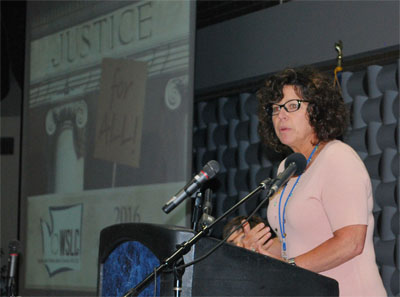 Education issues — Washington Education Association President Kim Mead addressed WSLC delegates to explain K-12 teachers' perspectives on the Supreme Court's McCleary decision, which found that the state government is not meeting it's paramount duty to adequately fund public education. She described how much has changed since she attended public schools and began her career teaching middle schoolers — staff cuts, larger class sizes, and pay that does not compete with the private sector.
"It's a tough thing to have people go into education anymore," Mead said. "It's not because they don't love teaching, it's because they can't afford to."
She added that the 85,000-member WEA is proud to have affiliated with the WSLC because "together we are stronger."
Making Retirement Security Real for Everyone — Economic justice educator Mark McDermott explained the people's movements that led to the creation of Social Security and Medicare, subsequent right-wing efforts to undermine confidence in the programs' sustainability, and the new momentum for not just maintaining but expanding Social Security and Medicare.
Ending Mass Incarceration — A panel on ending mass incarceration and helping released inmates find employment and re-enter society included Steven Petermann, TRAC Instructor at the Purdy Correctional Facility; IBEW 46's Chelsea Nelson of Civil Survival; journeylevel Ironworker and former inmate Heather Kurtenbach (check out her inspiring story!), and Seattle police officer Kim Bogucki of the IF Project (featured in the following video).
Mother Jones Awards — For decades, the WSLC Mother Jones Award has been the state labor movement's award recognizing our own members in the struggle for dignity and respect for all working men and women in our state. It is presented by the WSLC Economic Development and Transportation Committee.
The individual 2016 Mother Jones Award was presented to Kelley Woodward, President of the Wenatchee Aluminum Trades Council, for his outstanding advocacy on behalf of workers at the Alcoa Wenatchee Works aluminum smelter. Woodward worked tirelessly behind the scenes trying every possible idea to save that plant from closure. But when the company did shut it down and 428 workers lost their jobs, he has worked to make sure they get assistance with unemployment insurance, job placement and retraining services.
The organizational Mother Jones Award went to the United Faculty of Green River College (AFT/WEA), which responded to an increasingly hostile, virulently anti-union college administration with a creative campaign of actions and solidarity. That faculty opposition ultimately led to a strike, and the resignation of college President Eileen Ely.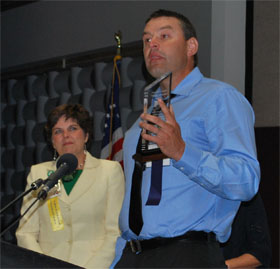 Bruce Brennan Award — Each year, the WSLC Education, Training and Apprenticeship Committee gives an annual "Bruce Brennan Memorial Award" to the individual who has contributed the most to further the cause of apprenticeship, education and training in Washington state. This year's honoree was Brady Hansen, an IBEW Local 77 Journeyman Lineman at Avista Utilities, for his dedication in researching and developing apprenticeship curriculum. It is from personal experience of seeing relationships with his union Brothers and Sisters come to a tragic end in this dangerous occupation that has fueled his commitment to safety. His "dirt boxes" are a model training tool built to demonstrate proper grounding principles and have been used throughout the U.S. and internationally.
Hansen is also a founding member of Electrical Workers Without Borders, co-founder of the American Bangladesh Linemen Brotherhood, and Recycling for Linemen, three initiatives that provide training and equipment to developing countries, striving to improve safety and working conditions for electrical workers around the world.
Union Organizing — Longtime union organizer Jonathan Rosenblum challenged union leaders to work toward the goal of committing at least 15 percent of their budgets to organizing new members. He said that inviting and encouraging non-union workers to join labor's ranks will lift them up out of poverty, and also strengthen existing members.
"The presence of poor working conditions everywhere — next door, in the South, in Asia — is a drag and threatens our members' standards," Rosenblum said. "So in the long run, if we really want to protect the gains of our members, the single most important thing we can do is to organize workers — everywhere — who are not currently in unions."
President's Award — WSLC President Jeff Johnson presented the 2016 President's Award to Casa Latina for its outstanding advocacy for immigrant workers' rights and against wage theft. In its 22 years of existence, Casa Latina has grown from a handful of people doing street outreach to day laborers into a 750-worker/member organization that's a national model. When it joined the WSLC, it became the first worker center in the nation to affiliate with an AFL-CIO state federation. The President's Award was accepted by Casa Latina's new Executive Director Marcos Martinez.
---
There were other important speakers and information delivered Wednesday, July 20 at the WSLC Convention not included in this summary. TVW, Washington's public-affairs network, recorded the plenary sessions of the WSLC Convention. Click here to watch the July 20 session in its entirety.
---
Thursday, July 21 convention action was primarily the consideration and adoption of resolutions, and was not filmed by TVW. The final WSLC 2016 Resolutions can be found here.