Check out these pages for news about: CONVENTIONS — RESOLUTIONS
---

WSLC makes history with new leadership team
The unions that comprise the Washington State Labor Council, AFL-CIO have made history with their election of a new leadership team of Black women for the state's largest union organization. Former WSLC President Larry Brown announced last year that he would not seek re-election for another term. April Sims, who previously served as WSLC Secretary Treasurer, is the first woman to be elected President of the WSLC and the first Black woman ever elected to the presidency of an AFL-CIO state federation. Former WSLC Political and Strategic Campaigns Director Cherika Carter is now Secretary Treasurer, creating the first leadership team of Black women ever to lead an AFL-CIO state federation. Sims and Carter were sworn into office and began their four-year terms on Jan. 5, 2023. Read all about the Sims-Carter leadership team at The Stand!
---
The latest Directory of Organizations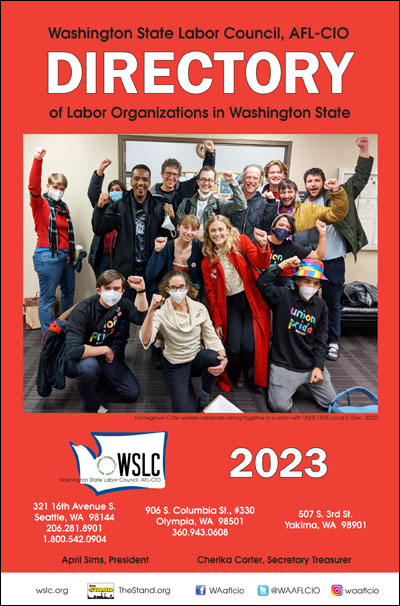 The 2023 edition of the WSLC Directory of Organizations has been published electronically. (Download it here.) Unions that would like to submit corrections/updates to their organization's listing in the WSLC Directory — principal officer, phone, address or contact information — should fill out and submit this form.
---
Join the President's Club!
The WSLC President's Club is a special organization of union leaders and activists who support the vision of the President to build power for Washington's labor movement. Members will receive a special gift and get regular updates from the WSLC. Click here to join the WSLC Presidents Club.
---
Immigrant and Worker Justice Toolkit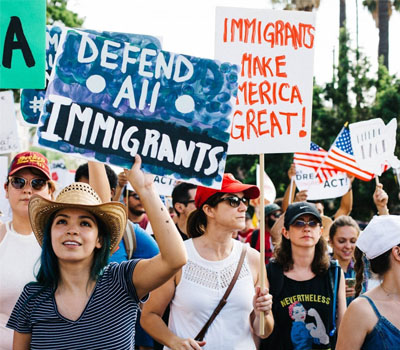 The WSLC's Labor Immigration Committee has launched a new Immigrant and Worker Justice Toolkit designed to provide documented and undocumented workers, worker advocates and union leaders with the resources and support they need to create a just and fair future for immigrants in the United States. Check it out! — Versión en Español aquí.
---
See DAILY NEWS and our CALENDAR at…

For daily news about organized labor, community allies, and progressive causes in Washington state, check out The Stand. This award-winning news service offers daily news about issues affecting working families via its website, email subscription (get on the list!), Facebook and Twitter. WSLC-affiliated unions and allied organizations should click here to submit news items and event announcements for The Stand and its Calendar.
---
Office space available at WSLC's Olympia building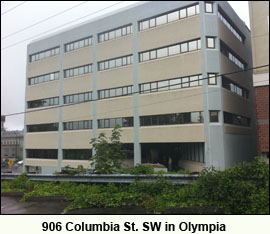 Your union or progressive organization has a unique opportunity to lease office space at Labor's own building in Olympia, owned and operated by the Washington State Labor Council, and maintained and serviced exclusively by union members.
The WSLC's Davis-Williams Building, a prime location just a couple of blocks from the State Capitol, is fast becoming the hub of organized labor and progressive activity in Olympia. This is your organization's chance to be where decisions are made, both in the labor movement and in state government.
Contact WSLC Secretary Treasurer April Sims for more information or call 206-281-8901.
---
Support union workers, get a 15% discount!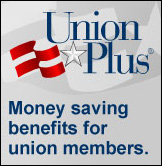 With the Union Plus AT&T Wireless Discount, labor union members save 15% off the regular monthly rate for individual and family wireless cell phone plans with AT&T, the nation's largest wireless network. Not only do you save 15% off the regular wireless service costs including phone and data plans, but labor union members also receive additional savings on cell phones and accessories. Plus, you'll be supporting union workers and their families. AT&T is the only wireless company that is completely unionized with some 40,000 AT&T Mobility employees are represented by the CWA. Learn more.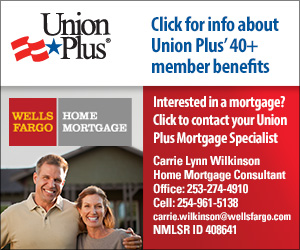 Also, learn more about the exclusive benefits available to active and retired union members through the Union Plus Mortgage Program by emailing Home Mortgage Consultant Carrie Lynn Wilkinson or calling her at 253-274-4910.
---
Workers' compensation attorneys
The Washington State Labor Council, AFL-CIO has received many inquiries from injured workers and others interested in contacting attorneys with experience in workers' compensation law, especially since the state has begun allowing "structured settlements" of workers' comp claims in certain cases. The WSLC has compiled a list of attorneys in Washington state with workers' compensation experience.
DISCLAIMER: The Washington State Labor Council, AFL-CIO (WSLC) assumes no responsibility or liability for the professional ability or reputation of, or the quality of services provided by, the following persons or firms. Inclusion on this list is in no way an endorsement by the WSLC. Names are listed alphabetically, by city, and the order in which they appear has no significance.