Every election, delegates from the WSLC's affiliated unions vote on candidate endorsements. The WSLC then informs union members about which candidates earned endorsement, and why.
---
2020

COPE Convention



The Washington State Labor Council's 2020 Committee on Political Education (COPE) Convention will be held on Saturday, May 16 at the Machinists District 751 Hall, 9125 15th Pl. S. in Seattle. Delegates representing WSLC-affiliated unions from across Washington state will gather that Saturday to vote on endorsements for congressional, statewide, state legislative and judicial candidates, plus state ballot measures. Stay tuned for details.
---
Don't Invest in More Excuses!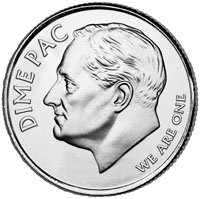 Only lawmakers who stand up for working families deserve organized labor's financial support. That's why the Washington State Labor Council created the "Don't Invest In More Excuses" Political Action Committee (DIME PAC). Its mission is to recruit and elect champions of Washington's working families. THAT'S how we will defend against attacks on workers' rights and it's how we will put government's focus on creating and maintaining good jobs. Click here for a DIME PAC contribution form so you can contribute to keep Washington a great place to live and work! Send your completed form, along with a check for your contribution payable to "DIME PAC," to the Washington State Labor Council, 321 16th Ave. South, Seattle, WA, 98144. For more information, contact the WSLC at 206-281-8901.
---
Join the 2020 President's Club
The Washington State Labor Council President's Club is an organization established to raise political action funds and promote labor's political action program. Members are invited to attend a special luncheon during the WSLC's annual convention that will feature a distinguished guest speaker discussing the coming election. President's Club membership is $150. You may contribute the entire amount or make quarterly contributions of $37.50. To join, please print this form (Word – PDF) and send it, along with your enclosed contribution, to: WSLC President's Club, 321 16th Ave. South, Seattle, WA, 98144. Thank you!
---
Subscribe to The Stand!

Stay engaged and hold all elected official accountable to working families. Subscribe to The Stand, the WSLC's daily news service, to stay apprised of the WSLC's pro-worker agenda and to learn more about how to get involved. When we fight together, we win!