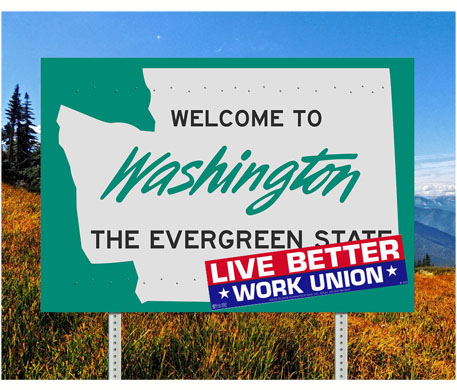 One of the services the Washington State Labor Council, AFL-CIO provides its affiliated unions is legislative education and advocacy. As with collective bargaining, by joining forces and speaking with a united voice on public policy issues affecting working families, labor has greater influence. There are about 550,000 union members in Washington — 19% of the non-agricultural workforce — ranking us as the 3rd most unionized state in the nation. With few exceptions, the positions taken by the WSLC are on issues affecting ALL working people, not just union members. From the equal pay to minimum wage to workers' compensation, the WSLC and its affiliated unions are proud to advocate for their rank-and-file members and all working families.
---
2022 Legislative Report & Voting Record
The 2022 edition of the Washington State Labor Council's Legislative Report is now available. (Read it online or download the full 8-page PDF.) This annual report summarizes the fate of legislation affecting working families in each year's session of the Washington State Legislature, and how each legislator voted on these issues. (You can also download the WSLC 2022 Voting Record only.) Printed copies of the WSLC's 2022 Legislative Report are being mailed to all affiliated unions. Officers, staff and rank-and-file members of WSLC-affiliated unions can request additional copies.

Previous years' Legislative Reports:
2013 — 2014 — 2015 — 2016 — 2017 — 2018 — 2019 — 2020 — 2021
Previous years' WSLC Voting Records:
2003 — 2004 — 2005 — 2006 — 2007 — 2008 — 2009 — 2010 — 2011 — 2012 — 2013 — 2014 — 2015 — 2016 — 2017 — 2018 — 2019 — 2020 — 2021
For earlier WSLC Voting Records and/or WSLC Legislative Reports, email your request to David Groves.
---
2022 Workers' Recovery Agenda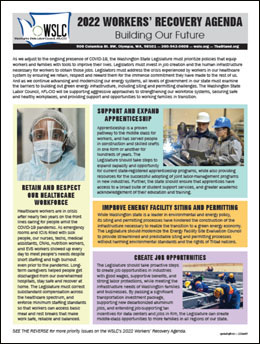 Here is the Washington State Labor Council's 2022 Workers' Recovery Agenda for this year's legislative session. (See more details at The Stand.) The WSLC's policy priorities include, follow links for printable PDF one-pagers:
Retain and Respect Our Healthcare Workforce — The Legislature should correct substandard compensation across the healthcare spectrum, and enforce minimum staffing standards so that workers can access basic meal and rest breaks that make work safe, reliable and balanced.
Support and Expand Apprenticeship Opportunities — The Legislature should take steps to expand capacity and opportunity for current state-registered apprenticeship programs, while also providing resources for the successful adopting of joint labor-management programs in new industries. Further, the state should ensure that apprentices have access to a broad suite of student support services, and greater academic acknowledgement of their education and training.
Improve Energy Facility Siting and Permitting — The Legislature should modernize the Energy Facility Site Evaluation Council to provide streamlined and predictable siting and permitting processes without harming environmental standards and the rights of Tribal nations.
Invest in Transportation — The Legislature should take proactive steps to create job opportunities in industries with good wages, supportive benefits, and strong labor protections, while meeting the transportation infrastructure needs of Washington families and businesses.
Raises for Essential Public Service Workers — The Legislature should invest in the workforce that has provided essential public services through-out the pandemic. It can do this by funding mid-contract MOUs for state employees, higher ed COLAs, and Corrections interest arbitration; correcting K-12 COLAs; and supporting behavioral health, child care, and home care workers.
To see more of the WSLC's priority legislative issues for 2022, see the full agenda. In addition, the WSLC will be supporting other legislation (not listed on the agenda) that is championed by its affiliated unions and a range of issues to address economic opportunity and justice. For updates about the status of these bills — and Action Alerts explaining how you can help support their passage — subscribe to The Stand. You can also see an archive of all the legislative news in its State Government section.