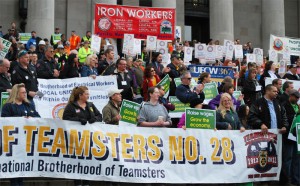 One of the services the Washington State Labor Council, AFL-CIO provides its affiliated unions is legislative education and advocacy. As with collective bargaining, by joining forces and speaking with a united voice on public policy issues affecting working families, labor has greater influence. There are about 584,000 union members in Washington — 18.8% of the non-agricultural workforce — ranking us as the 3rd most unionized state in the nation. With few exceptions, the positions taken by the WSLC are on issues affecting ALL working people, not just union members. From the equal pay to minimum wage to workers' compensation, the WSLC and its affiliated unions are proud to advocate for their rank-and-file members and all working families.
---
2019 Legislative Report & Voting Record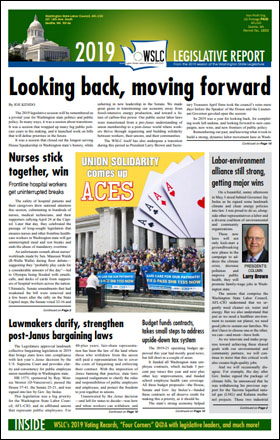 The 2019 edition of the Washington State Labor Council's Legislative Report is now available. (Download the PDF.) This annual report summarizes the fate of legislation affecting Washington's working families in each year's State Legislature, and how each legislator voted on these issues (or you can download the WSLC 2019 Voting Record only). Printed copies of the WSLC's 2019 Legislative Report are being mailed to all affiliated unions. Officers, staff and rank-and-file members of WSLC-affiliated unions can request additional copies. Call 206-281-8901 for more information.
Download previous years' Legislative Reports:
2013 — 2014 — 2015 — 2016 — 2017 — 2018
Download previous years' WSLC Voting Records:
2003 — 2004 — 2005 — 2006 — 2007 — 2008 — 2009 — 2010 — 2011 — 2012 — 2013 — 2014 — 2015 — 2016 — 2017 — 2018
For earlier WSLC Voting Records, or for archived copies of previous years' WSLC Legislative Reports, email your request to David Groves.
---
2019 Legislative Updates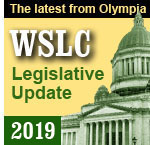 There are two ways to make sure you know the latest about the legislative issues affecting working families during the 2019 session of the Washington State Legislature that begins Monday, Jan. 14. Read The Stand, our daily news service, and specifically its State Government stories. (Also make sure you subscribe to the WSLC email list to receive that news in your Inbox.) Plus read the WSLC's weekly Legislative Update newsletter:
What passed and what didn't — order extra copies of WSLC Legislative Report (April 30) — The 2019 session of the Washington State Legislature — which featured some major twists and turns, great successes and disappointing failures — wrapped up at midnight on Sunday with the passage of the biennial budget. Here's a brief summary of how things turned out on items that appeared in the WSLC's pre-session 2019 Shared Prosperity Agenda.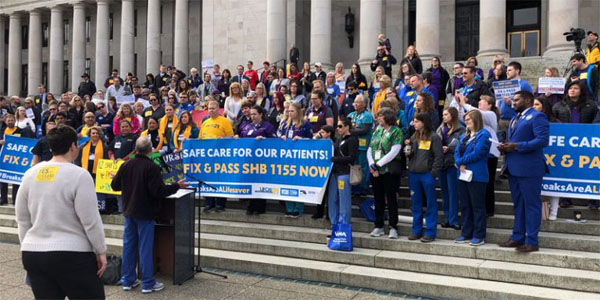 A major victory for hospital caregivers and for patient safety (April 25) — The safety of hospital patients and their frontline caregivers drew national attention in the past week, culminating in hundreds of nurses, medical technicians, and their supporters rallying at the State Capitol on Wednesday — and then celebrating.
Senate amends, OKs nurse break bill; long-term care bill passes (April 17) — The Washington State Senate on Tuesday approved important patient safety legislation designed to ensure nurses and other frontline healthcare workers receive uninterrupted meal and rest breaks, but not before weakening the bill with an amendment to exempt many hospitals in rural parts of the state and to exclude medical technicians.
Senate approves collective bargaining bill (April 15) — The Washington State Senate on Friday approved landmark collective bargaining legislation that brings state laws into compliance with last year's Janus decision by the U.S. Supreme Court and provides clarity and consistency for public employee union membership in Washington state.
Status report on some labor bills as Tuesday cutoff looms (April 8) — April 9 is the next bill cutoff deadline. Some important legislation has already cleared Tuesday's hurdle, including SHB 1155, patient safety legislation that would ensure frontline healthcare workers receive uninterrupted meal and rest breaks.
Both state budget proposals offer good news for working families (April 2) — Both houses of the Washington State Legislature have now released their budget proposals and they include good news for Washington's working families. But each budget has areas of emphasis that surpass the other.
Message to state senators: Breaks Are A Lifesaver (March 25) — SHB 1155 is patient safety legislation that would ensure nurses and frontline healthcare workers receive uninterrupted meal and rest breaks and close a dangerous loophole in the mandatory overtime law. visit BreaksAreALifesaver.org to send your state senator a message to vote YES.
Health care bills advance in Legislature on two fronts (March 18) — The WSLC believes it makes perfect sense to proceed on both fronts to protect working families and expand health care access in both the short and long terms.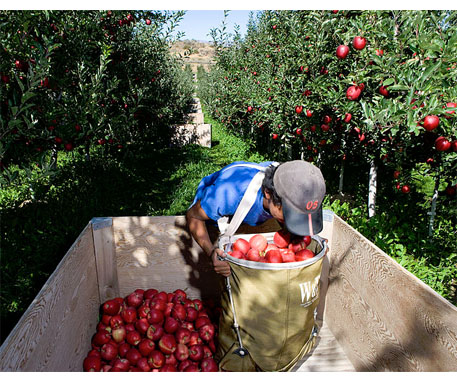 Senate votes to "Keep Washington Working" (March 11) — SB 5497 is the Keep Washington Working Act. It establishes a statewide policy supporting Washington state's economy and immigrants' role in the workplace, and ensures their access to state services. And last week, it passed the Senate, 30-16.
Job-creating 100% clean energy bill advances (March 4) — The Senate voted for labor-supported legislation to transition Washington to 100 percent clean electricity by 2045 on a 28-19 vote. "The Washington State Labor Council, AFL-CIO is committed to advancing good, equitable environmental policy that is also good labor policy," said WSLC President Larry Brown.
Where pro-worker bills stand in Olympia (Feb. 25) — The action in Olympia was fast and furious last week with the Friday, Feb 22 deadline for bills to pass out of policy (non-fiscal) committees in their houses of origin. This week promises to be the same, as the next cutoff date is this Friday, March 1.
Legislators are updating state bargaining laws (Feb. 18) — The Legislature this year has the task of updating 40-plus years of collective bargaining statutes to ensure that they are aligned with last year's Supreme Court Janus decision, while promoting clarity and consistency across public-sector bargaining relationships in our state.
Our time counts—at work and away from it (Feb. 8) — We should have the right to know when we're going to work, and how many hours we're going to be there so we can manage our lives. That's the principle behind HB 1491, a statewide "secure scheduling" proposal that would provide workers advance notice of schedules, access to additional hours, expanded flexibility, and more balanced lives.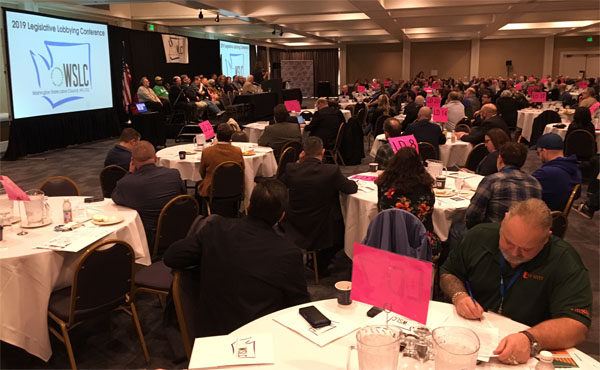 State's unions 'strong and getting stronger' (Feb. 1) — Hundreds of union leaders and rank-and-file members from across Washington state gathered Thursday in Olympia to attend the Washington State Labor Council, AFL-CIO's 2019 Legislative Lobbying Conference at Hotel RL in Olympia. They got quick briefings on some priority pro-worker legislation and then went to the State Capitol en masse to lobby their state senators and representatives on those and other bills.
Worker classification needs more clarity (Jan. 25) — Employers that misclassify workers as independent contractors — either intentionally or unintentionally — shift their labor costs onto other businesses, taxpayers, and the workers themselves. This harms businesses that pay proper employment taxes, it weakens the middle class by denying workers access to basic job protections and social safety nets, and it robs the state of much-needed revenue. The WSLC is strongly supporting legislation to simplify and clarify our state's employee classification system and those companion bills will get public hearings next week.
In 2019, let's start balancing the tax code (Jan. 16) — One of the priority issues on the WSLC's Shared Prosperity Agenda is the critical need to balance our state's upside-down tax code. Washington's tax code has the infamous distinction of being the most unfair and regressive in the nation, meaning that the poorest among us pay the most in taxes and the wealthiest don't pay their fair share. The WSLC will be supporting multiple legislative efforts to start balancing our tax code.
---
WSLC's 2019 Shared Prosperity Agenda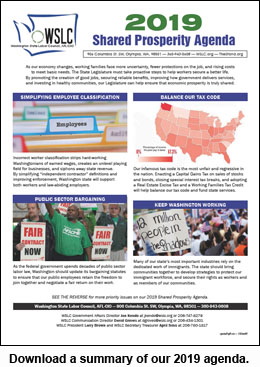 The Washington State Labor Council, AFL-CIO (WSLC), the state's largest union organization with more than 600 affiliated unions representing some 450,000 rank-and-file members, today announced its 2019 Shared Prosperity Agenda for the session of the Washington State Legislature that begin on Monday, Jan. 14.
"Last fall, voters elected and re-elected pro-labor candidates because, despite a relatively strong economy, working families are facing more uncertainty, fewer protections on the job, and rising costs to meet basic needs," said WSLC President Larry Brown. "With our 2019 legislative agenda we are urging the Legislature to take proactive steps to promote the creation of good jobs, secure reliable benefits, improve how government delivers services, and invest in healthy communities. That's how to ensure that our current economic prosperity is truly shared."
Download a printable PDF summary of the WSLC's 2019 Shared Prosperity Agenda or read all about it at The Stand.