One of the services the Washington State Labor Council, AFL-CIO provides its affiliated unions is legislative education and advocacy. As with collective bargaining, by joining forces and speaking with a united voice on public policy issues affecting working families, labor has greater influence. There are about 550,000 union members in Washington — 17.4% of the non-agricultural workforce — ranking us as the 5th most unionized state in the nation. With few exceptions, the positions taken by the WSLC are on issues affecting ALL working people, not just union members. From the equal pay to minimum wage to workers' compensation, the WSLC and its affiliated unions are proud to advocate for their rank-and-file members and all working families.
---
2022 Workers' Recovery Agenda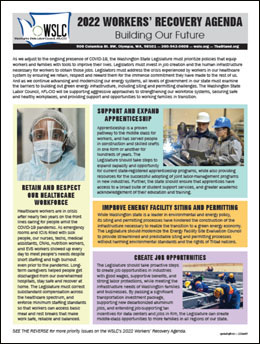 Here is the Washington State Labor Council's 2022 Workers' Recovery Agenda for this year's legislative session. (See more details at The Stand.) The WSLC's policy priorities include supporting and expanding apprenticeship programs, Retaining and respecting our healthcare workforce, improving energy facility siting and permitting, creating more family-wage job opportunities, and much more. In addition, the WSLC will be supporting other legislation (not listed on the agenda) that is championed by its affiliated unions and a range of issues to address economic opportunity and justice. For updates about the status of these bills — and Action Alerts explaining how you can help support their passage — subscribe to The Stand. You can also see an archive of all the legislative news in its State Government section.
---
2022 Legislative Conference
The Washington State Labor Council, AFL-CIO invites all leaders, staffers and rank-and-file members of its affiliated unions to register for the 2022 WSLC Legislative Conference to be held virtually via Zoom on FRIDAY, JANUARY 28 starting at 9 a.m. Under the theme "Building Our Future," the conference will explore and explain priority legislative issues and give participants the opportunity to engage with their legislators on those issues. Click here to register. The cost $30 per person. Get more details about the conference at The Stand.
---
2021 Legislative Report & Voting Record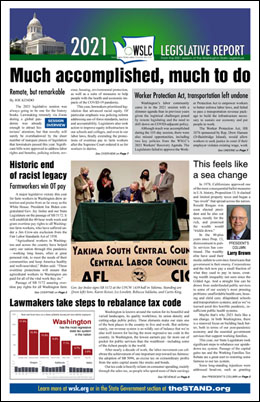 The 2021 edition of the Washington State Labor Council's Legislative Report is now available. (Read it online or download the full 8-page PDF.) This annual report summarizes the fate of legislation affecting working families in each year's session of the Washington State Legislature, and how each legislator voted on these issues. (You can also download the WSLC 2021 Voting Record only.) Printed copies of the WSLC's 2021 Legislative Report are being mailed to all affiliated unions. Officers, staff and rank-and-file members of WSLC-affiliated unions can request additional copies. Call 206-281-8901 for more information.
Download previous years' Legislative Reports:
2013 — 2014 — 2015 — 2016 — 2017 — 2018 — 2019 — 2020
Download previous years' WSLC Voting Records:
2003 — 2004 — 2005 — 2006 — 2007 — 2008 — 2009 — 2010 — 2011 — 2012 — 2013 — 2014 — 2015 — 2016 — 2017 — 2018 — 2019 — 2020
For earlier WSLC Voting Records, or for archived copies of previous years' WSLC Legislative Reports, email your request to David Groves.