We all have a role to play in building an anti-racist labor movement.
Sign-up today to get involved in this liberatory and transformative work.
---
WSLC's Race and Labor program
The WSLC continues its ground-breaking work on racial justice, equity, and the labor movement's responsibility to tackle racism. That work began in 2015, but was spurred forward when union delegates from across Washington state approved the Resolution on Race and the Labor Movement at the WSLC's 2017 Convention.

That resolution lays plain our history — that "race and the course of organized labor are inextricably bound and have been since workers made their first appearance on the shores of North America." It enumerates our current challenges — that "organized labor needs to develop a robust counter narrative to that offered by right-wing populism and has yet to do so." And it lays out the work we must take on — that "unions need to integrate racial justice into every area of their organization… to wholeheartedly combat the divide and conquer strategy of our enemies."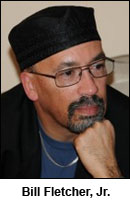 The WSLC has worked with community partners, nationally acclaimed labor educator and writer Bill Fletcher, Jr., and the Washington State Labor Education and Research Center to develop a Race and Labor workshop that has been presented to hundreds of union leaders and rank-and-file members throughout the state.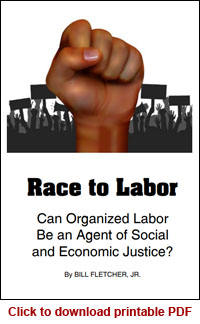 "Like much else in America, workers of color serve as the canaries in the coal mine when it comes to changes in the economy," writes Fletcher in Race to Labor: Can Organized Labor Be an Agent of Social and Economic Justice? (That important publication, produced by the Washington State Labor Council, AFL-CIO, can be downloaded here, or you can order a printed copy by calling 206-281-8901.)
If you and your union are interested in conducting a Race and Labor workshop to discuss these critical issues, or if you are interested in becoming a workshop trainer yourself, please fill out this form or contact Joaquín Rodríguez, WSLC's Director of Racial and Gender Justice, at jrodriguez@wslc.org.
---
WSLC Race and Labor resolutions
Resolution on WSLC Strategic Plan: Connecting Racial and Gender Justice (2023)
Resolution on Race and the Labor Movement 4.0 (2022)
Resolution Regarding Racial Justice, Diversity, Equity and Inclusion in Washington State (2021)
Resolution on Condemning Asian Pacific Islander Racism and Xenophobia during the COVID-19 Pandemic and Beyond (2020)
Resolution on Race and the Labor Movement 3.0  (2019)
Resolution on Race and the Labor Movement 2.0  (2017)
Resolution on Race and the Labor Movement  (2015)
---
Racial Equity & Policy Toolkit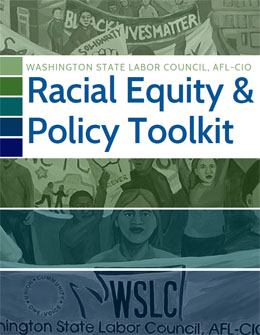 The WSLC's 2019 Resolution on Race and the Labor Movement 3.0 called on the WSLC to create additional and supplemental modules to further expand our Race and Labor work. The WSLC Racial Equity & Policy Toolkit is an expansion of the WSLC's Race & Labor program, made possible by the engagement and support of the WSLC's affiliated unions commitment to racial and economic justice and the growing necessity to examine labor's work in the legislative space. It will serve as a guide for the WSLC's legislative program as the council continues to build power for all working people and integrate racial equity into all that we do.
---
Immigrant and Worker Justice Toolkit
Race and immigration in the United States have a deep interconnected history. As a labor movement, our ability to address comprehensive immigration reform in our membership relies on our skill to create authentic relationships with our immigrant members, understand their needs, and honor their lived experiences through our everyday actions as a union. The WSLC's Labor Immigration Committee has launched a new Immigrant and Worker Justice Toolkit designed to provide documented and undocumented workers, worker advocates and union leaders with the resources and support they need to create a just and fair future for immigrants in the United States.  Check it out! — Versión en Español aquí.
---
AFL-CIO Constituency Groups
The AFL-CIO is a diverse and inclusive family of working people. We advocate for all workers. Our constituency groups address the challenges that workers from diverse backgrounds face. These groups reach out to the communities they serve, build solidarity, help out with organizing efforts and ensure full participation in our movement. Contact local representatives of these organizations and learn more about how you can help make connections between your community and the local labor movement.
A. Philip Randolph Institute — APRI's mission is to fight for racial equality and economic justice, working black trade unionists, the people best suited to serve as a bridge between labor and the black community.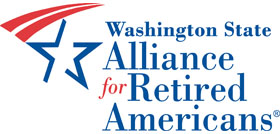 Alliance for Retired Americans — The mission of the Alliance for Retired Americans is to ensure social and economic justice and full civil rights for all citizens so that they may enjoy lives of dignity, personal and family fulfillment and security.
Asian Pacific American Labor Alliance — APALA is the first and only national organization of Asian Pacific American union members, dedicated to helping these workers, many of them immigrants, strive to achieve the American dream in the face of unsafe and exploitative workplace conditions.

Coalition of Black Trade Unionists — CBTU.org aims to be a catalyst for progressive social and political action by providing visitors with data and information relevant to the lives of African American workers and the unions and communities that they support.
Coalition of Labor Union Women — CLUW works to more effectively address the critical needs of millions of unorganized sisters and make their unions more responsive to the needs of all women.

Labor Council for Latin American Advancement — LCLAA advocates for the rights of all Latino workers and their families in all phases of the American trade union movement and the political process.
Pride at Work — An organization dedicated to mobilizing mutual support between the organized labor movement and the LGBT Community around organizing for social and economic justice. We see full equality for LGBT Workers in their workplaces and unions.
Washington Young Emerging Labor Leaders — WA YELL helps young union members learn how to navigate the union movement, gain leadership skills, get to know other union members, and educate each other on building and maintaining a strong labor movement. And fun is allowed!
---
Learn more at the STAND…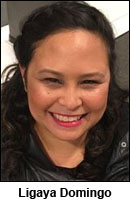 APALA builds AAPI solidarity, strength — National convention in Seattle adjourns after four incredible days of Asian American and Pacific Islander workers joining together to build a stronger APALA and a stronger labor movement. Washington's own Ligaya Domingo was elected to serve as APALA President. (Aug. 9, 2023)
WSLC proudly supports LELO, its leaders' extraordinary change (by Kasi Perreira) — Legacy of Equality, Leadership and Organizing (LELO), an organization dedicated to empowering low-income workers of color, recent immigrants and women workers, just celebrated its 50th anniversary at a June 3 event at South Seattle College. (June 7, 2023)
Anything dividing our solidarity is a threat — Thousands of union members have participated in the WSLC's Race & Labor training. You can help us reach thousands more by becoming a certified co-facilitator in the curriculum. (March 29, 2023)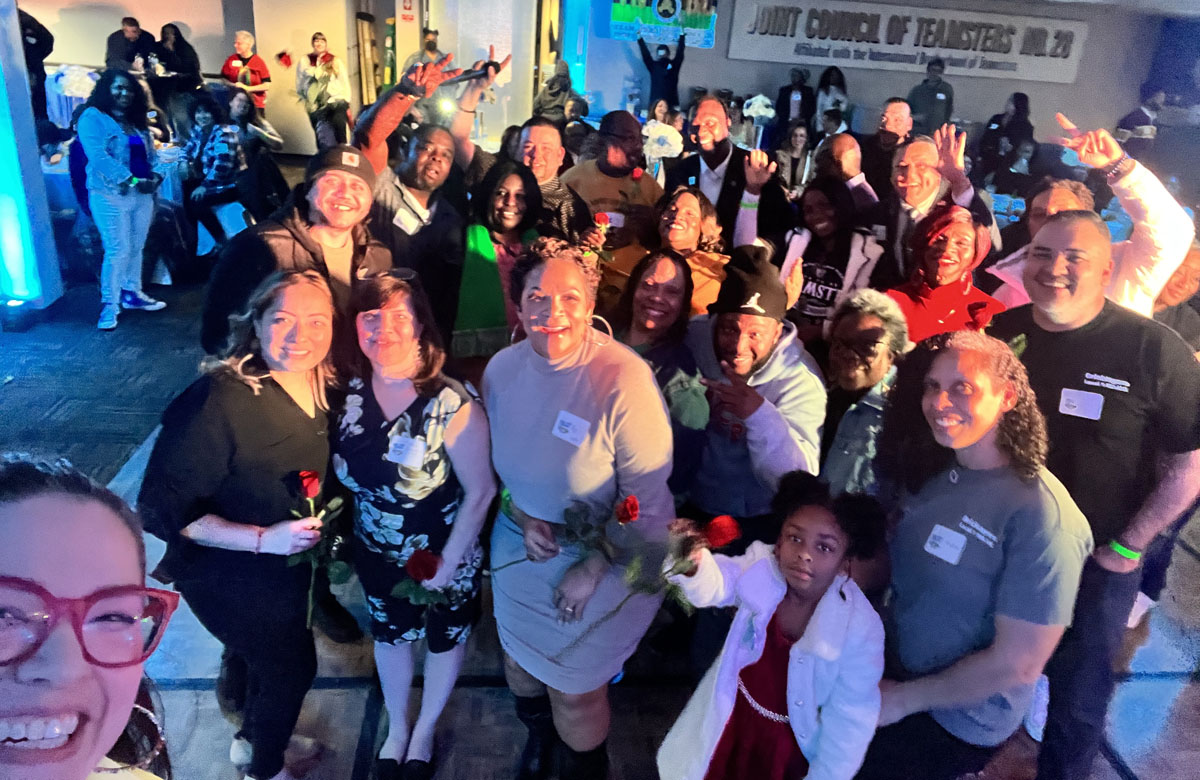 Celebrating our diverse labor leadership — At "We Out Here!" event, Washington's AFL-CIO constituency groups and unions offer a reminder: Joy and justice go hand in hand as we build power for all working people. (March 1, 2023)
My 20-year degree: Labor Studies come in many forms (by Kasi Perreira) — For every union member, worker leader, and student activist that is fighting for a better tomorrow: Yee tu yéi yatee ("You have the answers within you" – a Tlingit version of "Sí se puede"). (Oct. 17, 2022)
Help Wash. State Labor Council combat the forces of racism — The WSLC is recruiting interested folks who have been through the Race & Labor training to become certified trainers in the curriculum. (May 4, 2022)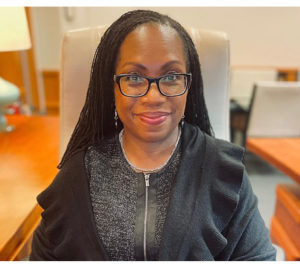 The beauty and burden of being first (by April Sims) — Organized labor celebrates Justice Ketanji Brown Jackson and the many other Black women leading us forward and giving us hope. (April 8, 2022)
Indigenous Peoples' Day 2021: Reflecting on Indigenous leadership in labor (by Kasi Perreira) — On Indigenous Peoples' Day — this year on Monday, Oct. 11 — we not only honor the people of the land that we live on, but the work that Indigenous people continue to contribute to our labor history throughout the region. (Oct. 8, 2021)
Confronting racism is organized labor's work (by April Sims) — One year after George Floyd's murder, we are making progress to reshape policing and engage our members on racism. (May 25, 2021)
It's a movement, not a month (by April Sims) — As we honor Black and women's history, I work toward a labor movement that supports and lifts up all workers, but particularly Black women. (April 1, 2021)
Celebrate Indigenous Peoples' Day by learning, taking action (by Kasi Marita Perreira) — As a mixed Tlingit, Chinese and white woman who grew up here in Seattle, my people and my culture are my medicine. As Indigenous people, we are still here despite generations of proclamations and policy meant to remove us, and it is this shared history that unites us. (Oct. 12, 2020)
"We are the ones we've been waiting on" (by Cherika Carter and Sybill Hyppolite) — Sending Love: A letter to Black workers, organizers, and labor leaders. (June 12, 2020)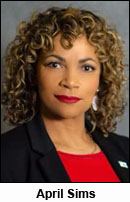 "We need you to fight for us to breathe" (by April Sims) — Organized labor is a direct threat to white supremacy. We need to put that threat into action. (June 4, 2020)
ARCHIVE OF LABOR STATEMENTS: Labor decries George Floyd's murder, urges action on racism — Union leaders' profound words calling out racial injustice are important and necessary. We must also act — now and in the future — to end police brutality… We offer a collection of local and national labor leaders' statements, and excerpts from each. Let this be an archive of organized labor's sense of resolve at this difficult time in our history. Let this also be a reminder of our anger and our calls to action that we can refer back to in the future, as we hold each other accountable for fighting systemic racism in our unions and our country. (June 3, 2020)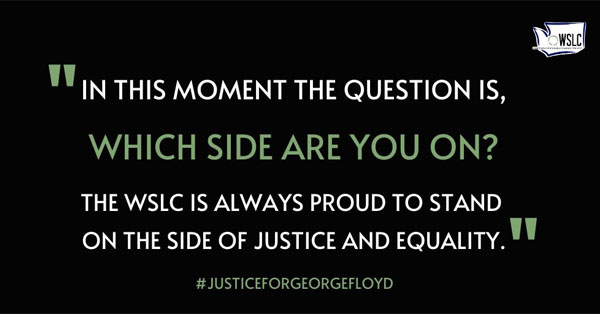 "WSLC is always proud to stand on the side of justice and equality" (statement by WSLC President Larry Brown and Secretary Treasurer April Sims) — We raise our voices in solidarity with our sisters, brothers, and siblings who are putting their bodies on the line, calling for justice for Breonna Taylor, Ahmaud Arbery, and George Floyd. (May 31, 2020)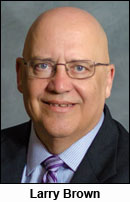 WSLC proudly backs racial equity bills, opportunities for all (by WSLC President Larry Brown) — Institutional racism and systemic policies that disadvantage people of color are such forces. I pledge to you that we will continue to combat them, both inside and outside the labor movement – including in Washington state government. (President's column in the WSLC's 2020 Legislative Report, May 12, 2020)
Washington state's unions recommit to combating racism — At the 2019 Convention of the Washington State Labor Council, AFL-CIO, delegates unanimously approved Resolution #30 — entitled "Resolution on Race and the Labor Movement 3.0" — the latest in a series of directives from grassroots rank-and-file union members to advance the WSLC's ground-breaking efforts to educate union members about the origins and consequences of racism. (Aug. 5, 2019)
Black history informs the future of organized labor (by WSLC Secretary Treasurer April Sims) — This is a pivotal moment for organized labor. Our economy is changing once more. Without the leadership of unions, workers will once again pay the price. Without leadership from workers of color, we cannot stand united against the billionaires and bosses who threaten our livelihoods and our future. (Feb. 26, 2019)
---
Labor celebrates Black History Month
During Black History Month in February 2021, the unions that comprise the Washington State Labor Council, AFL-CIO honored Black leaders, past and present. Check out the archive of Black History Month 2021 honorees. And even after February ends, feel free to continue sharing these graphics on social media as #LaborCelebratesBHM!