During Black History Month in February 2021, the unions that comprise the Washington State Labor Council, AFL-CIO honored Black leaders, past and present. Here are the Black History Month 2021 honorees. Feel free to continue sharing these graphics on social media — even after February ends — as #LaborCelebratesBHM!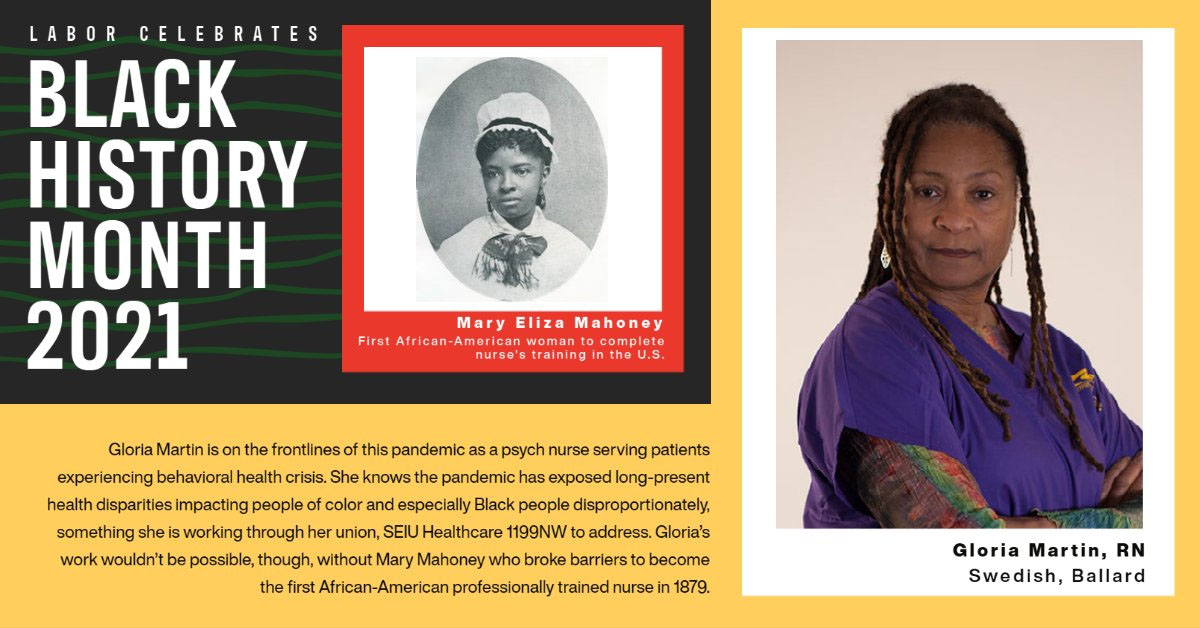 Gloria Martin is currently on the frontlines of this pandemic as a psych nurse serving patients experiencing behavioral health crisis. She knows the pandemic has exposed long-present health disparities disproportionately impacting people of color and especially Black people, something she is working through her union, SEIU Healthcare 1199NW, to address. Gloria's work wouldn't be possible, though, without Mary Eliza Mahoney who broke barriers to become the first African-American professionally trained nurse in 1879. — Share this image on Facebook, Twitter and Instagram as #LaborCelebratesBHM!
---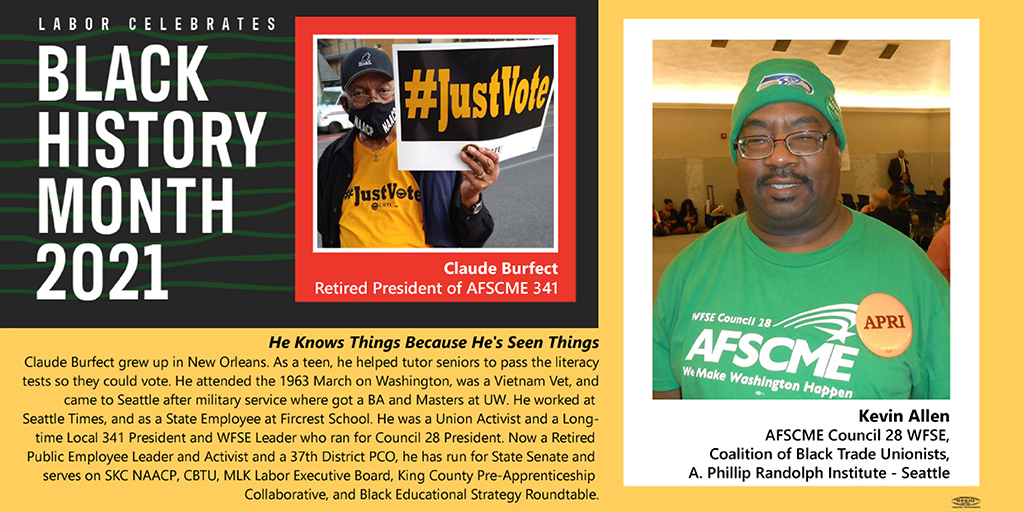 He Knows Things Because He's Seen Things — Claude Burfect grew up in New Orleans. As a teen, he helped tutor seniors to pass the literacy tests so they could vote. He attended the 1963 March on Washington, was a Vietnam Vet, and came to Seattle after military service where he got B.A. and Masters degrees at UW. He worked at the Seattle Times and as a State Employee at Fircrest School. He was a Union Activist, a longtime Local 341 President and WFSE Leader who ran for Council 28 President. Now a Retired Public Employee Leader and Activist, 37th District PCO, he has run for State Senate and serves on SKC NAACP, CBTU, MLK Labor Executive Board, King County Pre-Apprenticeship Collaborative, and Black Educational Strategy Roundtable. He was nominated by his WFSE/AFSCME Council 28 Brother Kevin Allen of CBTU and APRIL-Seattle. — Share this image on Facebook, Twitter and Instagram as #LaborCelebratesBHM!
---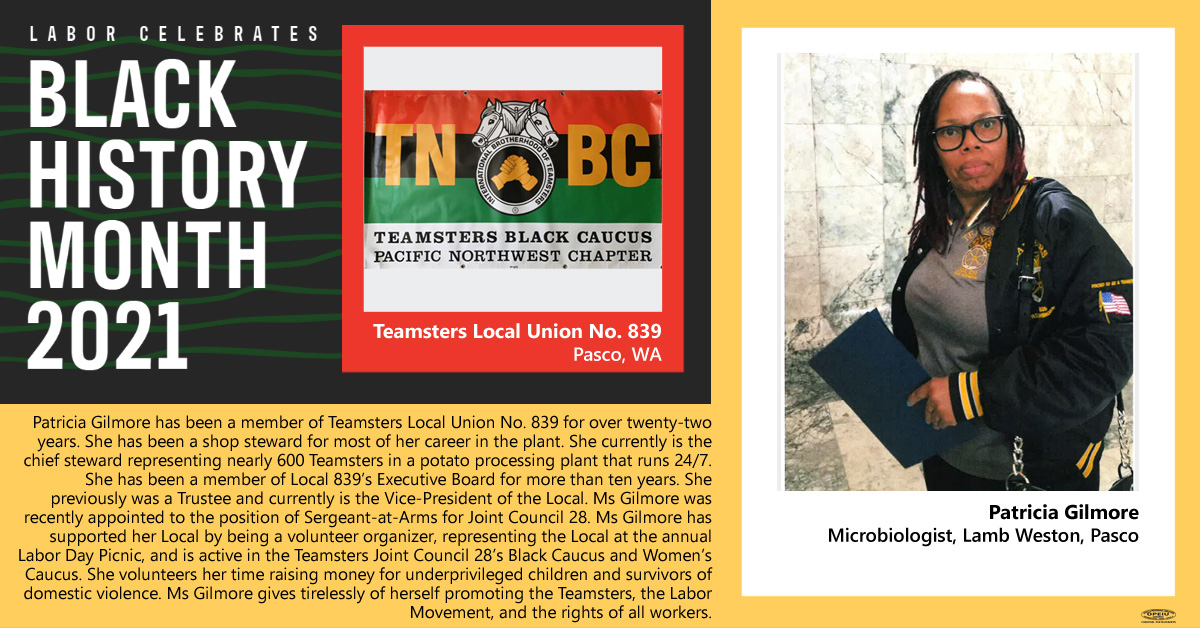 Patricia Gilmore has been a member of Teamsters Local Union No. 839 for more than 22 years. She has been a Shop Steward for most of her career in the plant. She currently is the Chief Steward representing nearly 600 Teamsters in a potato processing plant that runs 24/7. She has been a member of Local 839's Executive Board for more than 10 years. She previously was a Trustee and currently is the Vice-President of the Local. Gilmore was recently appointed to the position of Sergeant-at-Arms for Teamsters Joint Council 28. She has supported her Local by being a volunteer organizer, representing the Local at the annual Labor Day Picnic, and is active in the Teamsters Joint Council 28's Black Caucus and Women's Caucus. She volunteers her time raising money for underprivileged children and survivors of domestic violence. Gilmore gives tirelessly of herself promoting the Teamsters, the Labor Movement, and the rights of all workers. — Share this image on Facebook, Twitter and Instagram as #LaborCelebratesBHM!
---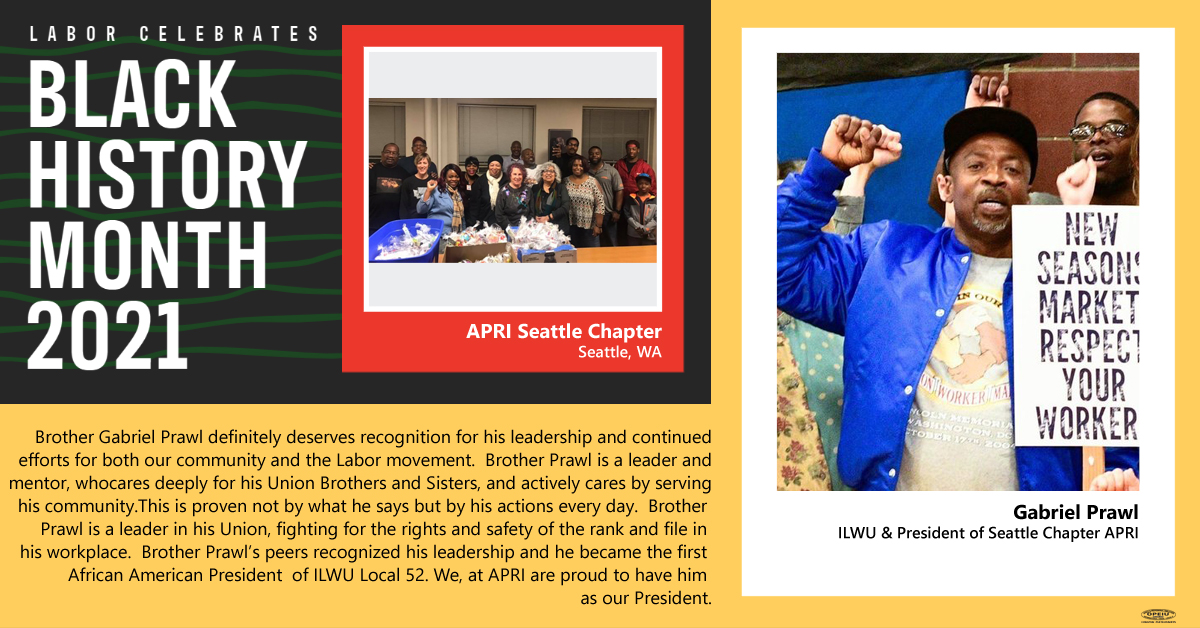 Brother Gabriel Prawl definitely deserves recognition for his leadership and continued efforts for both our community and the Labor Movement. Brother Prawl is a leader and mentor, who cares deeply for his Union Brothers and Sisters, and actively cares by serving his community. This is proven not by what he says, but by his actions every day. Brother Prawl is a leader in his Union, fighting for the rights and safety of the rank-and-file in his workplace. Brother Prawl's peers recognized his leadership and he became the first African American President of ILWU Local 52. We, at APRI are proud to have him as our President. — Share this image on Facebook, Twitter and Instagram as #LaborCelebratesBHM!
---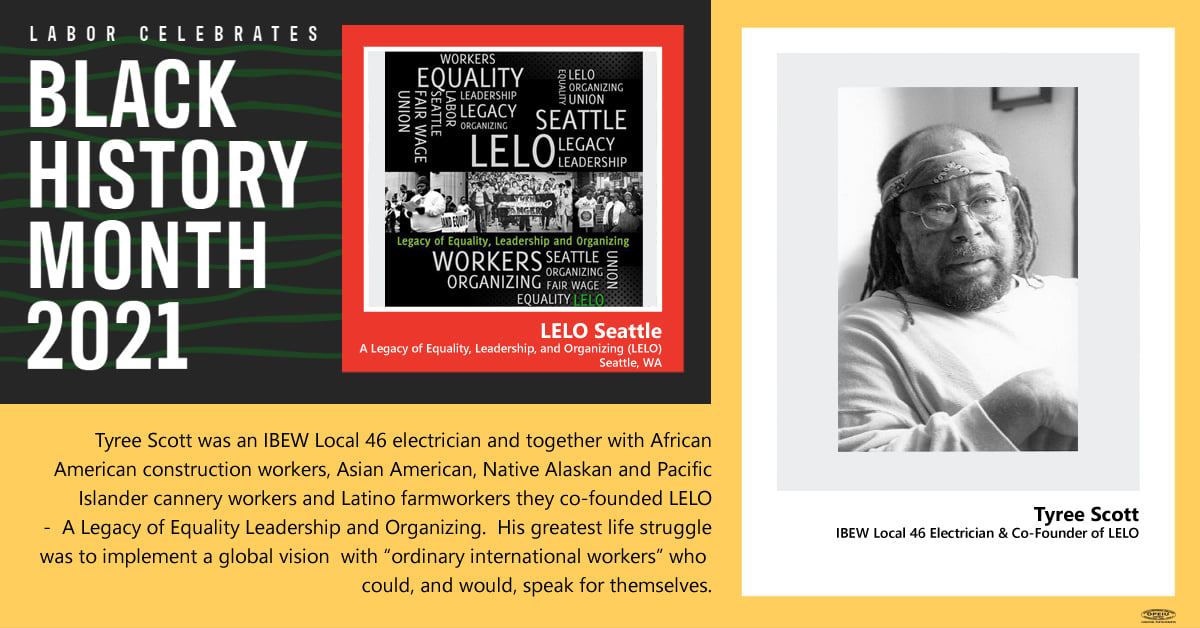 Tyree Scott was an IBEW Local 46 electrician and together with African American construction workers, Asian American, Native Alaskan and Pacific Islander cannery workers and Latino farmworkers, they co-founded LELO – A Legacy of Equality Leadership and Organizing. His greatest life struggle was to implement a global vision with "ordinary international workers" who could and would speak for themselves. — Share this image via Facebook, Twitter and Instagram as #LaborCelebratesBHM!
---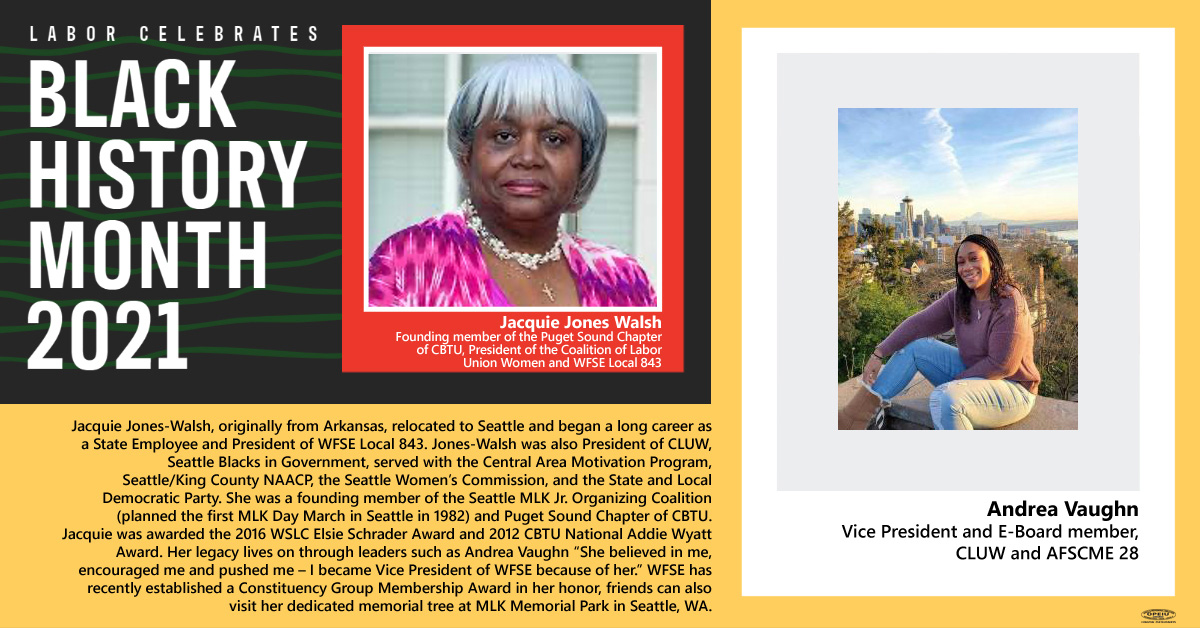 Jacquie Jones-Walsh was a Labor Rights, Civil Rights, Women's Rights, and Political Activist. Originally from Arkansas, she relocated to Seattle and began a long career as a State Employee where she became a union and community activist. A leader and mentor to many, Jones-Walsh was the president of the Coalition of Labor Union Women (CLUW), the Seattle BIG (Blacks in Government) Chapter, served on the board of directors of CAMP (Central Area Motivation Program). She was a founding member of the Seattle MLK Jr. Organizing Coalition, helping to plan the first Martin Luther King Day March in Seattle in 1982. She was a founding member of the Puget Sound Chapter of CBTU and held leadership positions at the Seattle/King County NAACP, the Seattle Women's Commission, and within the State and Local Democratic Party. She served several terms as WFSE Local 843 President.
Jacquie always knew "how to do, where to go, and whom to contact, and made herself available to serve, mentor, or lead," according to Kevin Allen, a leader with CLUW, CBTU, APRI and WFSE 843. Jones-Walsh inspired others with her dedication to unionism and social justice. Her legacy lives on through leaders such as Andrea Vaughn who shares: "She believed in me, encouraged me and pushed me – I became Vice President of WFSE because of her." Jacquie was awarded the 2016 WSLC Elsie Schrader Award and was the 2012 CBTU National Addie Wyatt Award winner. Because of her lifelong service to both labor and the community, there is a plaque and a tree planted in her memory in the MLK Memorial Park in Seattle. WFSE has recently established a Constituency Group Membership Award in her name as well. — Share this image via Facebook, Twitter and Instagram as #LaborCelebratesBHM!
---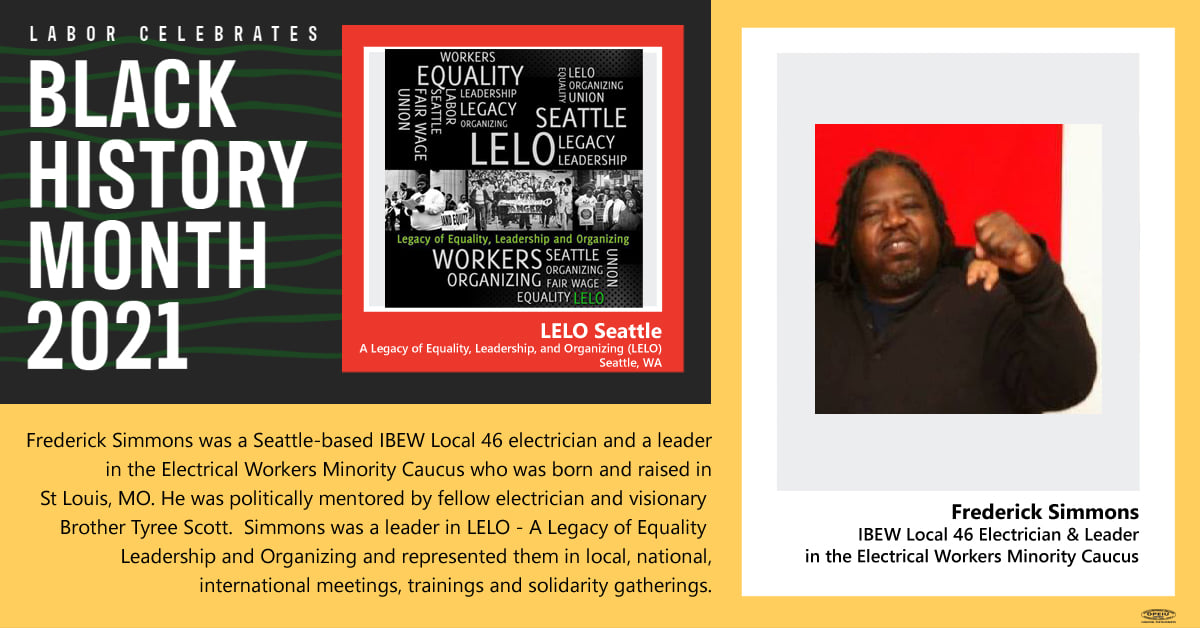 Frederick Simmons was a Seattle-based IBEW Local 46 electrician and a leader in the Electrical Workers Minority Caucus who was born and raised in St Louis, MO. He was politically mentored by fellow electrician and visionary Brother Tyree Scott. Simmons was a leader in LELO – A Legacy of Equality Leadership and Organizing, and represented them in local, national, international meetings, trainings and solidarity gatherings. — Share this image via Facebook and Twitter as #LaborCelebratesBHM!
---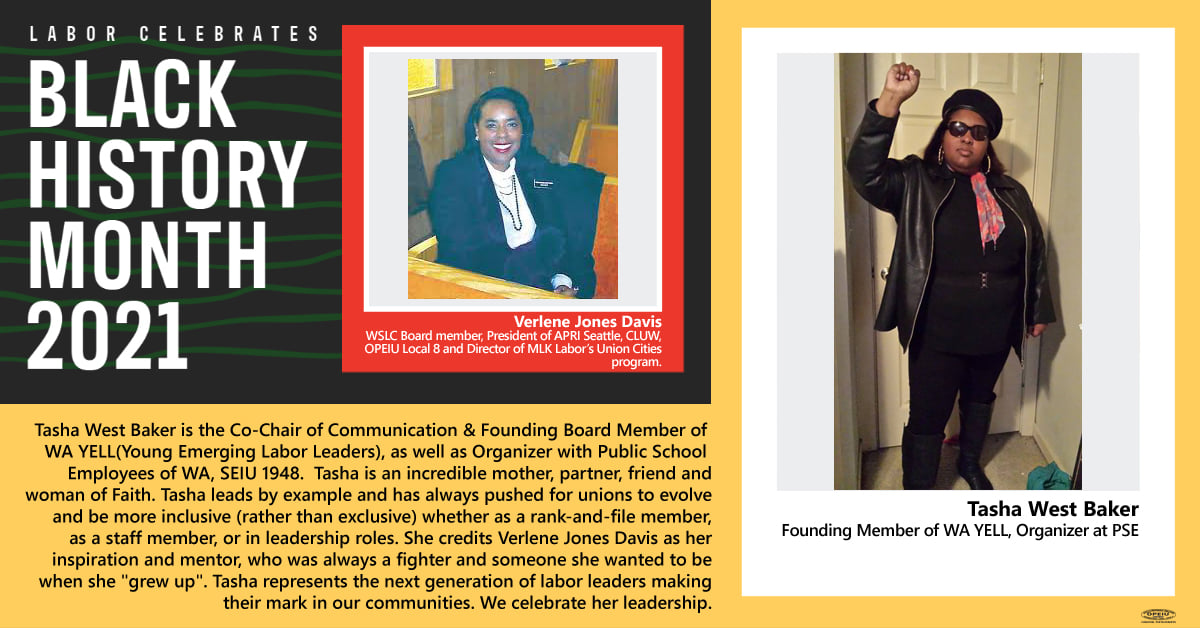 Tasha West Baker is the Co-Chair of Communication and Founding Board Member of WA YELL (Young Emerging Labor Leaders), as well as Organizer with Public School Employees of Washington, SEIU 1948. Tasha is an incredible mother, partner, friend and woman of Faith. Tasha leads by example and has always pushed for unions to evolve and be more inclusive (rather than exclusive) whether as a rank-and-file member, staff or in leadership roles. She credits Verlene Jones Davis as her inspiration and mentor, who was always a fighter and someone she wanted to be when she "grew up." Tasha represents the next generation of labor leaders making their mark in our communities, we celebrate her leadership. — Share this image via Facebook, Twitter and Instagram as #LaborCelebratesBHM!
---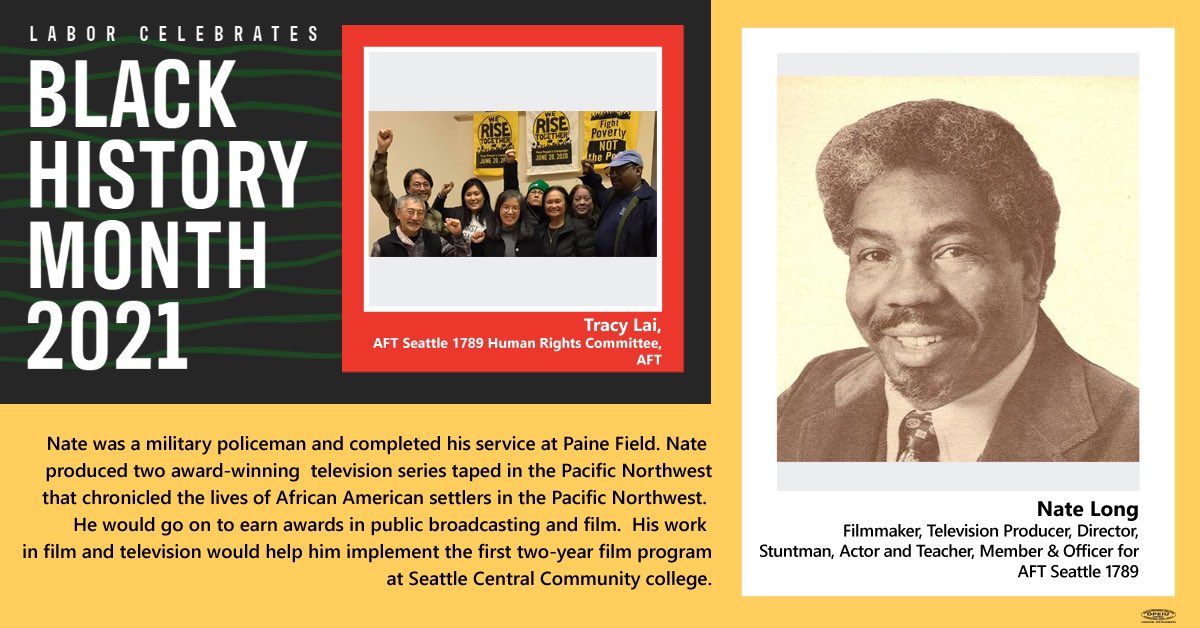 Nate Long was a military policeman and completed his service at Paine Field. Nate produced two award-winning television series taped in the Pacific Northwest that chronicled the lives of African Americans settlers in the Pacific Northwest. He would go on to earn awards in public broadcasting and film. His work in film and television would help him implement the first two-year film program at Seattle Central Community College. He was a member and officer for AFT Seattle 1789, and was nominated by Tracy Lai of the AFT Seattle 1789 Human Rights Committee. — Share this image via Facebook, Twitter and Instagram as #LaborCelebratesBHM!
---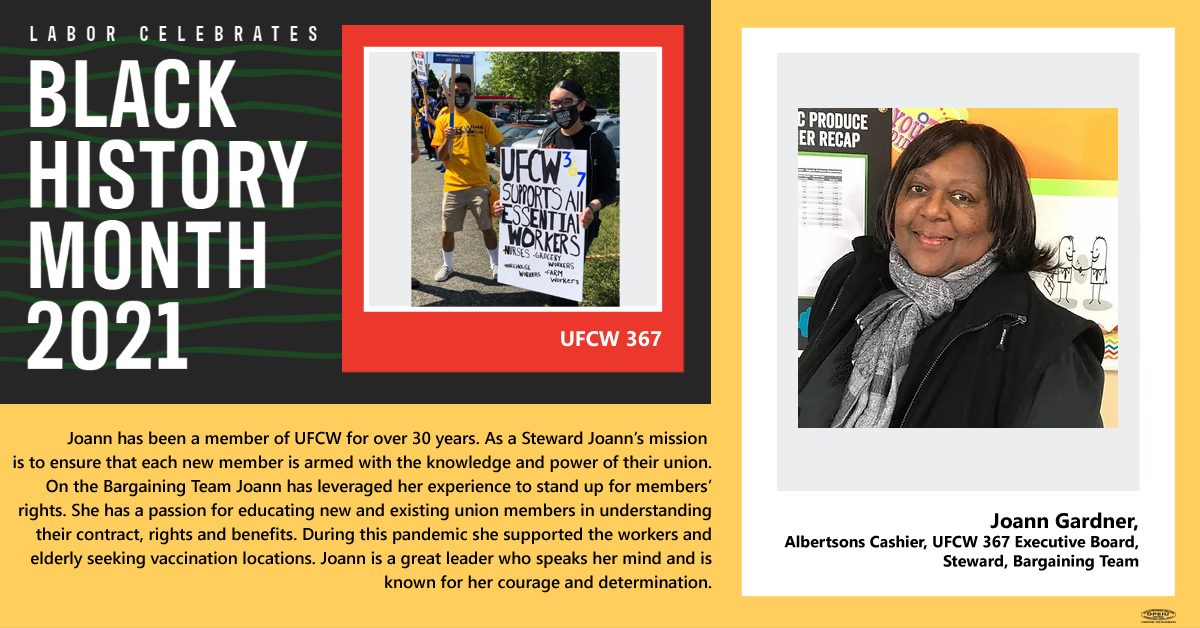 Joann Gardner, an Albertsons cashier and member of the UFCW 367 Executive Board, has been a member of UFCW for more than 30 years. As a Steward, Joann's mission is to ensure that each new member is armed with the knowledge and power of their union. On the Bargaining Team, Joann has leveraged her experience to stand up for members' rights. She has a passion for educating new and existing union members in understanding their contract, rights and benefits. During this pandemic she supported the workers and elderly seeking vaccination locations. Joann is a great leader who speaks her mind and is known for her courage and determination. — Share this image via Facebook and Twitter as #LaborCelebratesBHM!
---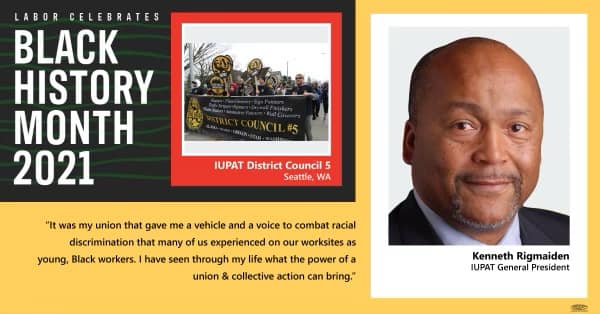 Kenneth Rigmaiden began his career with the International Union of Painters and Allied Trades (IUPAT) in 1977 when he enrolled in the floor covering apprenticeship training program of Local Union 1288 in San Jose, Calif. He rose from active membership, to local union leader, to national executive board member, to IUPAT General President. "It was my union that gave me a vehicle and a voice to combat racial discrimination that many of us experienced on our worksites as young, Black workers," Rigmaiden said. "I have seen through my life what the power of a union and collective action can bring." — Share this image via Facebook and Twitter as #LaborCelebratesBHM!
---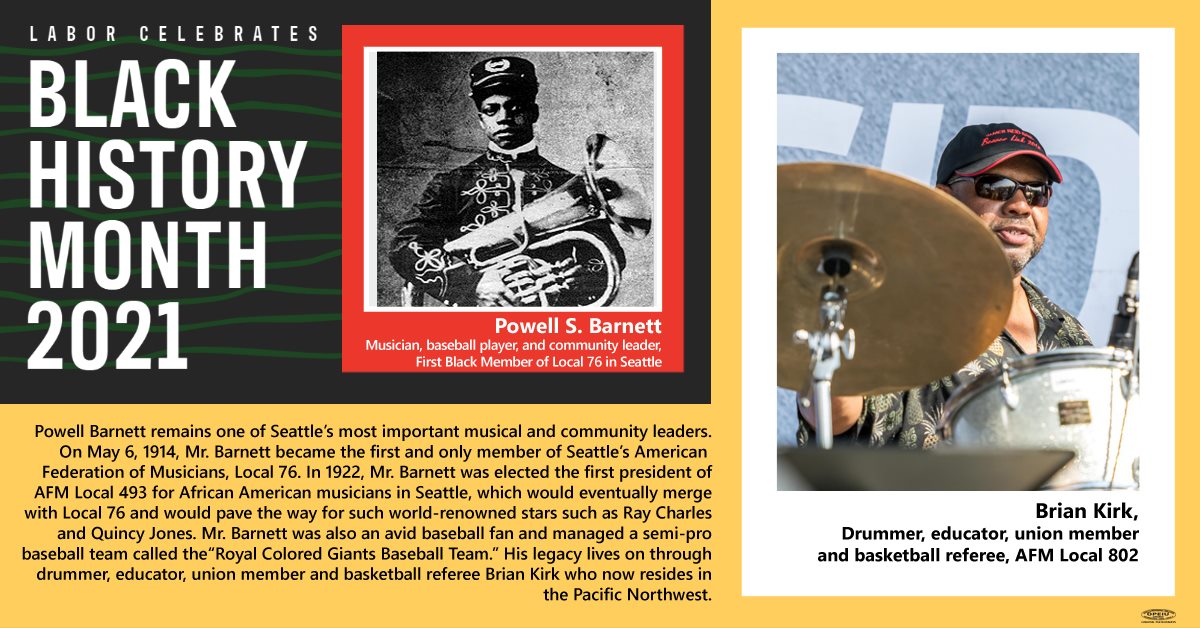 Powell Barnett remains one of Seattle's most important musical and community leaders. On May 6, 1914, Barnett became the first and only member of Seattle's American Federation of Musicians, Local 76. In 1922, he was elected the first president of AFM Local 493 for African American musicians in Seattle, which would eventually merge with Local 76 and would pave the way for such world-renowned stars such as Ray Charles and Quincy Jones. Barnett was also an avid baseball fan and managed a semi-pro baseball team called the "Royal Colored Giants Baseball Team." His legacy lives on through drummer, educator, union member and basketball referee Brian Kirk, who now resides in the Pacific Northwest. — Share this image via Facebook and Twitter as #LaborCelebratesBHM!
---
Terri Warren is a 20-year member of UFCW 367 who is passionate about all workers having a voice at work. She has been involved with many struggles for worker justice both at Macy's and improving state laws for workers at the Washington State Legislature. As a Steward and Bargaining Team member, Terri has shown great courage in her fight for workers' rights. She stood up for all workers speaking up for Paid Family Leave at a legislative hearing in Olympia. Terri is a relentless leader in her fight for justice for all workers.
---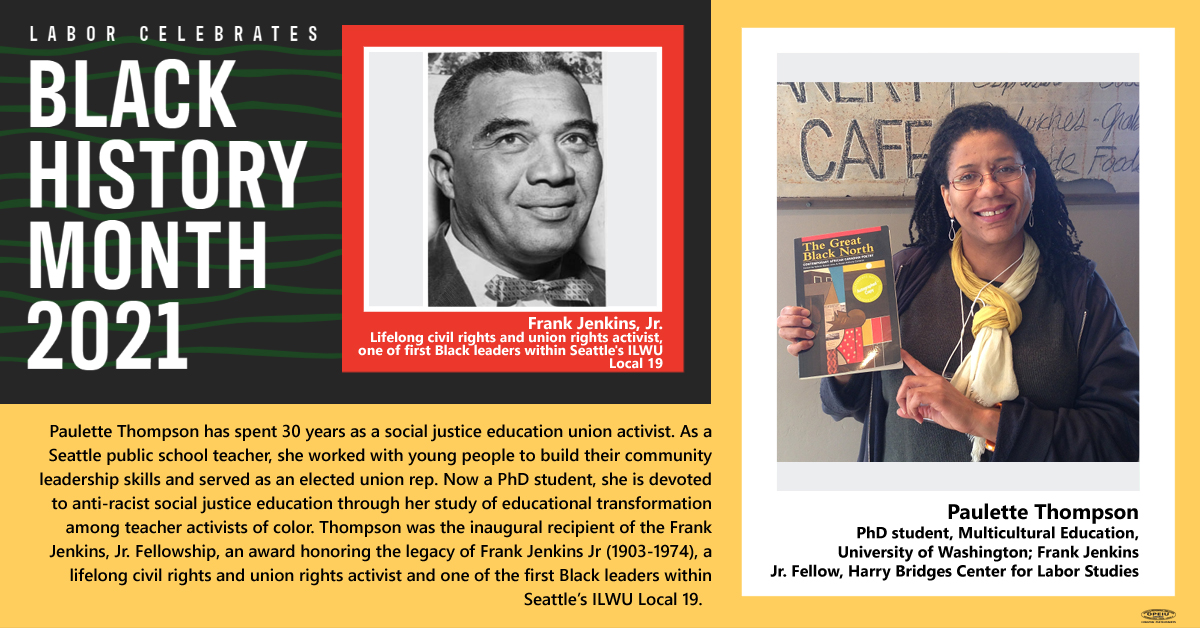 Paulette Thompson has spent 30 years as a social justice education union activist. As a Seattle public school teacher, she worked with young people to build their community leadership skills and served as an elected union rep. Now a PhD student, she is devoted to anti-racist social justice education through her study of educational transformation among teacher activists of color. Thompson was the inaugural recipient of the Frank Jenkins, Jr. Fellowship, an award honoring the legacy of Frank Jenkins, Jr. (1903-1974), a lifelong civil rights and union rights activist and one of the first Black leaders within Seattle's ILWU Local 19.
---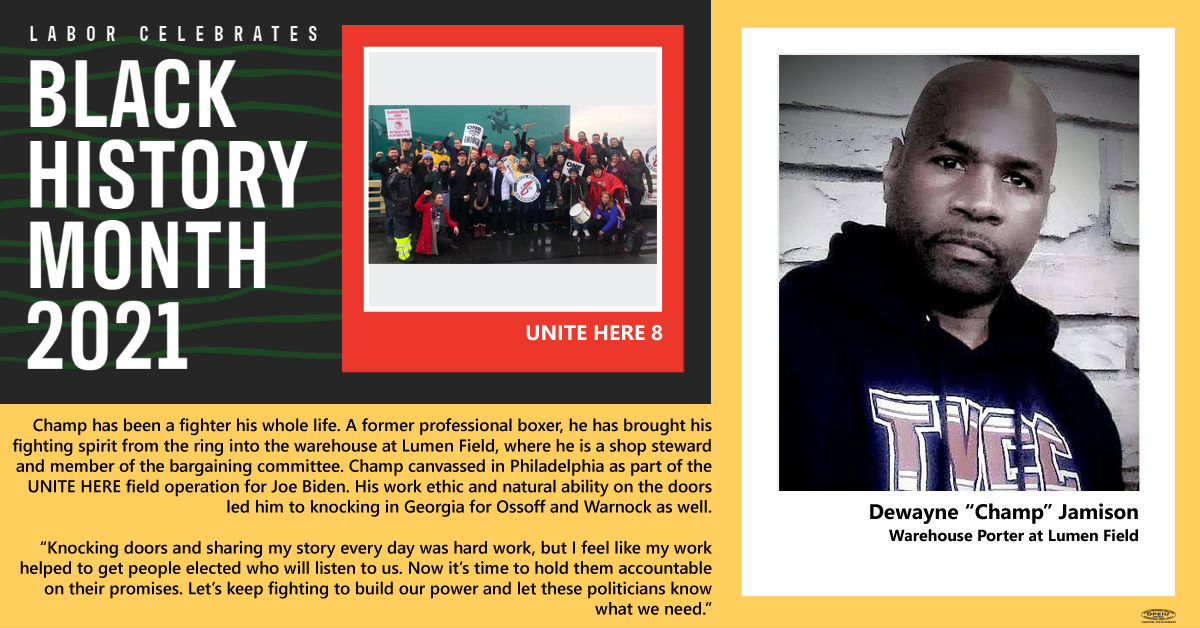 Dewayne "Champ" Jamison has been a fighter his whole life. A former professional boxer, he has brought his fighting spirit from the ring into the warehouse at Lumen Field, where he is a UNITE HERE Local 8 shop steward and member of the bargaining committee. Champ canvassed in Philadelphia as part of the UNITE HERE field operation for Joe Biden. His work ethic and natural ability on the doors led him to knocking in Georgia for Ossoff and Warnock as well. "Knocking doors and sharing my story every day was hard work, but I feel like my work helped to get people elected who will listen to us," Champ said. "Now it's time to hold them accountable on their promises. Let's keep fighting to build our power and let these politicians know what we need."
---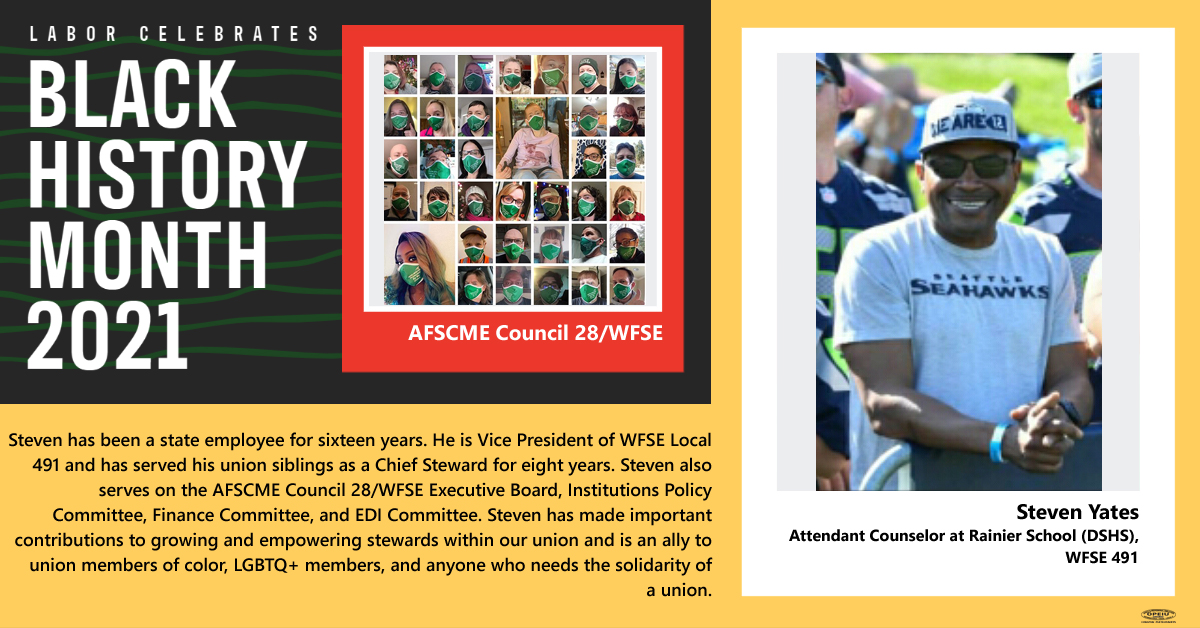 Steven Yates, an Attendant Counselor at Rainier School (DHSH), has been a Washington state employee for 17 years. He is Vice President of WFSE Local 491 and has served his union siblings as a Chief Steward for eight years. Steven also serves on the WFSE/AFSCME Council 28 Executive Board, Institutions Policy Committee, Finance Committee, and EDI Committee. Steven has made important contributions to growing and empowering stewards within our union and is an ally to union members of color, LGBTQ+ members, and anyone who needs the solidarity of a union.
---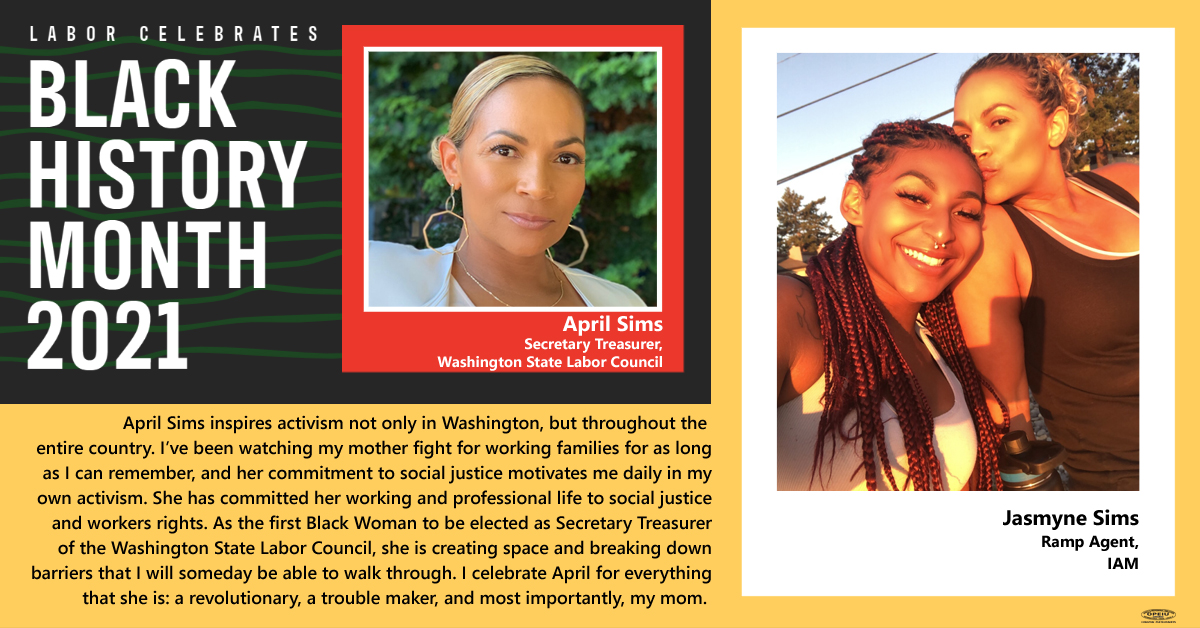 "April Sims inspires activism not only in Washington, but throughout the entire country. I've been watching my mother fight for working families for as long as I can remember, and her commitment to social justice motivates me daily in my own activism. She has committed her working and professional life to social justice and workers' rights. As the first Black Woman to be elected as Secretary Treasurer of the Washington State Labor Council, she is creating space and breaking down barriers that I will someday be able to walk through. I celebrate April for everything that she is: a revolutionary, a trouble maker, and most importantly, my mom." — Jasmyne Sims, Ramp Agent (IAM)
Share this image via Facebook, Twitter and Instagram as #LaborCelebratesBHM!