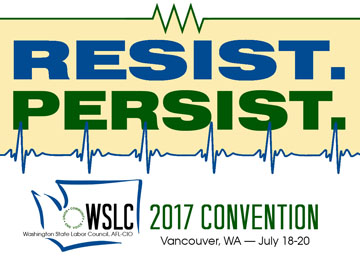 Hundreds of delegates representing unions across the state gathered July 18-20 in Vancouver for the 2017 Convention of the Washington State Labor Council, AFL-CIO. Under the theme "Resist and Persist," the convention featured distinguished guest speakers and educational workshops focused on organized labor's efforts to resist the Trump administration's anti-working family agenda and persist with successful efforts in Washington state to achieve social justice and more broadly shared prosperity.
See the 2017 WSLC Resolutions approved by convention delegates.
Check out The Stand's summary of the July 18 and July 19 plenary sessions. Also, click on the following links to see TVW clips of some of the key presentations of those days' plenary sessions.
---
TUESDAY, JULY 18, 2017
WSLC President Jeff Johnson's opening address
---
AFL-CIO Secretary Treasurer Liz Shuler's keynote address
---
---
---
Jorge Barón, Executive Director, Northwest Immigrant Rights Project
---
Manka Dhingra, State Senate candidate (45th Legislative District)
---
---
WEDNESDAY, JULY 19, 2017

Author/commentator Bill Fletcher, Jr.
---
Mother Jones Award (individual) — Jason Holland, WPEA/UFCW
---
Mother Jones Award (organization) — AWPPW Local 155, Port Angeles
---
WSLC Legislative and Policy Director Eric Gonzalez on Rep. Newhouse's amendment to expand H-2A "guest worker" visas. Learn more here.
---
MaryBe McMillan of the North Carolina AFL-CIO
---
Alliance for Jobs and Clean Energy presentation (WSLC's April Sims, UAW 4121's Judy Twedt and IBEW's Matthew Hepner). Learn more here.
---
Washington State Labor Education and Research Center (Kelly Coogan-Gehr) and the Labor Archives of Washington State (Conor Casey)
---
Nancy Altman, Social Security Works
---
Air Line Pilots Association presentation
---
Familias Unidas por la Justicia regarding new union contract with Sakuma Brothers berry farms