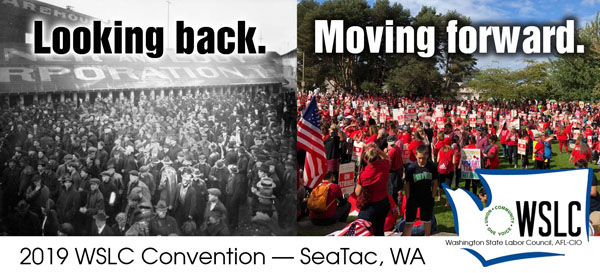 Hundreds of delegates representing unions across the state gathered July 25-27 in SeaTac for the 2019 Convention of the Washington State Labor Council, AFL-CIO. Under the theme "Looking Back. Moving Forward." the convention commemorated the 100th anniversary of the 1919 Seattle General Strike and the Centralia Tragedy, and examined the issues and challenges facing today's workers who want to join together in unions to negotiate a fair return on their work.
See the 2019 WSLC Resolutions approved by convention delegates.
Check out The Stand's summary of the July 25 and July 26 plenary sessions. Also, click on the following links to see TVW clips of some of the key speakers and presentations of those days' plenary sessions.
---
THURSDAY, JULY 25, 2019
---
---
---
AFL-CIO President Richard Trumka's keynote address:
---
— Jim Gregory of the University of Washington's Harry Bridges Center for Labor Studies
— Peter Lahmann of the Thurston Lewis Mason Central Labor Council
— Conor Casey of the Labor Archives of Washington
— Leonard Smith, Director of Organizing for Teamsters 117
---
2019 Power to the People Award:
— Presented to Teamsters Local 117 President John Scearcy
---
Current Campaigns for Social Justice panel:
— Monserrat Padilla of the Washington Immigrant Solidarity Network
— Heather Villanueva of the Washington Census Alliance
— Tarra Simmons of Civil Survival
---
State Attorney General Bob Ferguson
---
---
FRIDAY, JULY 26, 2019
WSLC Secretary Treasurer April Sims
---
WSLC 2019 Convention video:
---
Sioux Falls CLC President Kooper Caraway:
---
Intergenerational Communication panel:
— Maxwell Turner, Union Summer intern with the WSLC
— Shaunie Wheeler James of Teamsters Joint Council 28
— Jon Holden of Machinists District Council 751
— Leanne Guier of UA Local 32 (and Mayor of Pacific, Wash.)
— Claude Burfect of the Washington Federation of State Employees/AFSCME and the Retired Public Employees Council
---
— Presented to Theresa Purtell of IAFF 27 and the Washington State Council of Fire Fighters
---
— Ali Anderson, State Legislative Director for the Teamsters union
— Becky Smith, Director of Work Structures for the National Employment Law Project
— Chelsea Mason, Legislative and Political Director of the International Association of Machinists District 751
---
State Lands Commissioner Hilary Franz
---
King County Executive Dow Constantine
---
---
ALSO
At Friday night's 2019 WSLC Convention Banquet, the following awards were presented. (The banquet was not filmed by TVW.)
2019 Bruce Brennan Award:
— Presented to Chris Winters of Painters Local 1964
2019 Mother Jones Awards:
— Individual award: Mike Elliott of the Brotherhood of Locomotive Engineers
— Organizational award: Washington State Nurses Association, SEIU Healthcare 1199NW, and UFCW 21, the unions that have fought for 10 years, and in 2019 finally won, legislation to promote hospital patient safety by guaranteeing uninterrupted breaks for nurses and frontline healthcare workers in Washington state
2019 President's Award:
Presented to Frank Fennerty, a longtime labor leader and recent retiree from the Washington State Board of Industrial Insurance Appeals