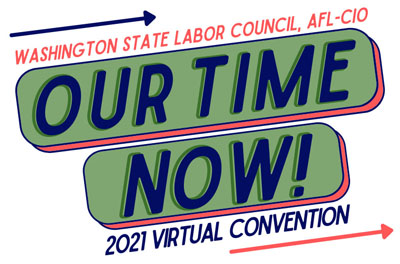 As the COVID-19 pandemic continues, hundreds of delegates representing unions across the state gathered virtually via Zoom on July 21-23 for the WSLC's 2021 Convention. With the theme "Our Time Now," convention speakers and workshops addressed the challenges and opportunities before the Washington state and national labor movement, with a focus on passing the Protecting the Right to Organize (PRO) Act.
See the 2021 WSLC Resolutions (PDF) approved by convention delegates.
Check out The Stand's summary of the plenary sessions on July 21, which featured AFL-CIO President Richard Trumka, and on July 22. Here are some of the highlights from each day (follow the links to the Facebook Live archives):
● WSLC President Larry Brown (at 24:27)
● AFL-CIO President Richard Trumka (at 44:56)
● Panel on Organizing Victories in Washington State (58:35)
● WSLC Secretary Treasurer April Sims (at 11:40)
● Vonda McDaniel, President of the CLC of Nashville and Middle Tennessee (at 26:20)
● U.S. Sen. Patty Murray (at 37:54)
● U.S. Rep. Derek Kilmer (at 41:55)
● King County Executive Dow Constantine (at 46:29)
● Panel on Apprenticeship (at 50:07)
2021 WSLC Award recipients
Each year at convention, the Washington State Labor Council, AFL-CIO presents awards recognizing the efforts and accomplishments of specific union organizations and individual union members. Here are the award winners for 2021:
BRUCE BRENNAN AWARD — Chris Rotter of IAFF Local 437 won this award recognizing individuals who have contributed the most to further the cause of apprenticeship, education and training in Washington state.
ELSIE SCHRADER AWARD — Connie Rodriguez of Laborers Local 242 won this award from the WSLC Women's Committee for the advancement of women in leadership roles and/or for activism on behalf of women within the labor movement.
MOTHER JONES AWARD — This award has been recognized for decades as the state labor movement's award that recognizes our own members in their struggle for dignity and respect for all working men and women in our state. In 2021, the winner was Bill Messenger, who recently retired from the WSLC where he served as Workforce Development Director and staffed the WSLC's Economic Development and Transportation Committee for many years.
POWER TO THE PEOPLE AWARD — Shahraim Allen (1976-2021), Legislative Chair of the Brotherhood of Locomotive Engineers and Trainsmen, for his outstanding political activism advancing the labor movement's fight for the dignity of all workers.
PRESIDENT'S AWARDS — The President of the Washington State Labor Council, AFL-CIO honors specific individuals/organizations for outstanding service to Washington's labor movement and to all workers. This year, WSLC President Larry Brown presented the awards to Viona Latschaw, the recently retired Director of the WSLC's Project Help program, and Bill Messenger (see above).