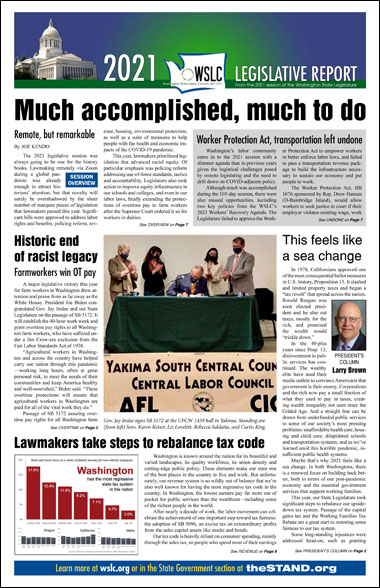 The 2021 Legislative Report of the Washington State Labor Council, AFL-CIO is now available. (Download the PDF.) This annual report summarizes action on legislation affecting Washington's working families in the State Legislature and how each State Representative and Senator voted on these issues (you can also download the WSLC 2021 Voting Record only). Printed copies of the 2021 Legislative Report are being mailed to all affiliated unions. To see previous years' reports, visit the Legislative Advocacy page.
Here is a story list with links to scroll down this page to individual stories in the 2021 Legislative Report:
---
Much accomplished, much to do
SESSION OVERVIEW
by Joe Kendo, Government Affairs Director
The 2021 legislative session was always going to be one for the history books. Lawmaking remotely via Zoom during a global pandemic was already enough to attract historians' attention, but that novelty will surely be overshadowed by the sheer number of marquee pieces of legislation that lawmakers passed this year. Significant bills were approved to address labor rights and benefits, policing reform, revenue, housing, environmental protection, as well as a suite of measures to help people with the health and economic impacts of the COVID-19 pandemic.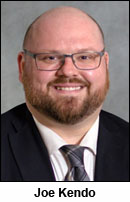 This year, lawmakers prioritized legislation that advanced racial equity. Of particular emphasis was policing reform addressing use-of-force standards, tactics and accountability. Legislators also took action to improve equity infrastructure in our schools and colleges, and even in our labor laws, finally extending the protections of overtime pay to farm workers after the Supreme Court ordered it so for workers in dairies.
Health and safety improvements were also elevated this session as it became clear that existing protections failed to meet the needs of those unable to work remotely. A robust set of health emergency labor standards were adopted for frontline workers to better secure the promise of workers' compensation benefits, protect them from retaliation, and to ensure that COVID outbreaks on the job are reported to the state Department of Labor and Industries so proper safety measures can be better established.
Several bills also passed to improve social insurance programs, including two to improve access to our Paid Family and Medical Leave Insurance program, and several that improved unemployment insurance benefits—as well as access to those benefits for job-seekers stuck waiting for them.
But not every advancement was a function of the pandemic. Collective bargaining rights were secured for an additional group of workers at the Attorney General's Office who sought the right to organize a union. It marks the fourth straight year that bargaining rights have been expanded for public workers in Washington. Plus, hospitals and other elements of our healthcare system were required to provide more transparency for how they spend money.
Important advancements toward a more equitable society were also achieved. The HEAL Act was approved to provide a more robust framework for environmental justice and to include the voices of communities of color in policy decision making. And a litany of bills geared toward holding our policing agencies and officers more accountable were also adopted, touching on police certification, use of force, tactics, peer accountability, and data collection.
The State Legislature approved a $59 billion operating budget for 2021-23 that was bolstered by $10 billion in federal assistance via the American Rescue Plan Act. Lawmakers passed a historic $6.3 billion capital construction budget to expand broadband access across the state, grow affordable housing, invest in state parks, and put people to work constructing buildings on our university and community college campuses and for our K-12 schools.
These investments were possible in large part due to a sharp fiscal recovery as our economy began to restart after nearly a year of closed businesses and suppressed consumer spending. But credit is also due to a mindset more interested in meeting the needs of people, than falling into failed patterns of austerity and slashing budgets. The passage of an excise tax on extraordinary capital gains—the sales of stocks and bonds over $250,000 per year—coupled with the Working Families Tax Rebate, raised more money for schools, while also putting more cash back in the pockets of the Washington families who need it the most.
However, despite all these advances, issues important to the labor community were left on the table. Of particular concern was the failure to pass a transportation investment package. With significantly reduced gas tax and toll collections, the long-term viability of much needed transportation infrastructure is at risk. While the biennial transportation budget was buoyed by $1 billion in federal aid, significant investments are necessary to meet project commitments from previous years, to invest in transit options, and to replace and maintain core elements of our transportation infrastructure like the I-5 bridge over the Columbia River.
Finally, the failure of the Senate to advance the Worker Protection Act, which would allow workers and their advocates to enforce certain labor laws, was deeply disappointing. Significant effort was made to address the stated concerns of skeptics and opponents. But even so, the Senate Ways and Means Committee failed to advance it. The labor community will return to the 2022 Legislature with this bill as a priority, and will spend the interim laying the groundwork for its passage.
---
This feels like a sea change
PRESIDENT'S COLUMN by Larry Brown
In 1978, Californians approved one of the most consequential ballot measures in U.S. history, Proposition 13. It slashed and limited property taxes and began a "tax revolt" that spread across the nation. Ronald Reagan was soon elected president and he also cut taxes, mostly for the rich, and promised the wealth would "trickle down."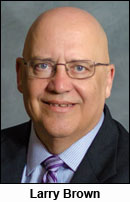 In the 40-plus years since Prop. 13, disinvestment in public services has continued. The wealthy elite have used their media outlets to convince Americans that government is their enemy. Corporations and the rich now pay a small fraction of what they used to pay in taxes, creating wealth inequality not seen since the Gilded Age. And a straight line can be drawn from underfunded public services to some of our society's most pressing problems: unaffordable health care, housing and child care; dilapidated schools and transportation systems; and as we've learned amid this horrible pandemic, insufficient public health systems.
Maybe that's why 2021 feels like a sea change. In both Washingtons, there is a renewed focus on building back better, both in terms of our post-pandemic economy and the essential government services that support working families.
This year, our State Legislature took significant steps to rebalance our upside-down tax system. Passage of the capital gains tax and the Working Families Tax Rebate are a great start to restoring some fairness to our tax system.
Some long-standing injustices were addressed head-on, such as granting overtime pay rights to agricultural workers and reforming policing to promote accountability and discourage the unnecessary use of force. A state operating budget was approved that makes significant investments in child care, our community and technical colleges, and other essential public services.
Although there is still work to be done to protect workers' rights and to repair and build Washington's transportation infrastructure, the 2021 session felt like more than simply productive. It felt like a new day. Perhaps that's because it came on the heels of Joe Biden's election as president. The timely passage of his American Rescue Plan brought desperately needed economic relief for people and governments amid this pandemic.
And for the first time in our lifetimes, we have a president who strongly supports unions and labor law reform (the PRO Act) that will restore workers' freedom to join together and negotiate for better wages and working conditions.
Most media coverage focuses on Americans' stark political differences. It fans the flames of daily outrages from the worst attention-seeking politicians. But this year's legislative session tells a different story. As you'll read in this 2021 Legislative Report, our state's elected officials faced the unprecedented logistical and policy challenges of a pandemic and made significant progress tackling some of our most pressing issues.
As the song goes, "there's something happening here, what it is ain't exactly clear." To me, it feels like a sea change. It feels like an opportunity to set aside cynicism and reflexive distrust of government, and to realize we're all in this together. After COVID, we don't have to settle for returning to "normal." We can truly build back better for all of us.
---
Prioritizing workers, now and in the future
SECRETARY TREASURER'S COLUMN by April Sims

The COVID-19 pandemic—and the initial failed federal government response—put working people in a precarious position. Entering the 2021 legislative session, we knew fighting for our priorities would be an unprecedented challenge, navigating the first virtual session and ensuring policies that build power for working people were not ignored. But Labor is built for challenging moments, and we drew from the lessons we've learned on strike lines, at the bargaining table, and in our communities: build coalitions, develop a strategy, and get it done.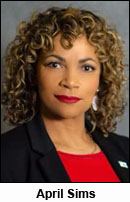 Our strategy focused on the immediate needs of working people to ensure we are made whole in pandemic response and recovery, like emergency labor standards for protecting working people's health on the job (SB 5115 and 5190) and extending the eviction moratorium (SB 5160). We worked with labor and community partners to support economic justice legislation, like finally funding a tax rebate for working families (HB 1297) and establishing an unemployment relief fund for undocumented immigrants.
We added our power and voice to community-driven legislation that matters to working people. We worked with labor allies to bring support to community partners' priorities, like the slate of police reform and accountability measures recently signed into law or "just cause" eviction legislation (HB 1236) that will affirm tenant rights and help keep folks housed.
These wins are made possible by coalition efforts to tackle our upside-down tax structure—moving towards the wealthy paying their fair share with a capital gains tax (SB 5096), for example—and by sourcing and supporting legislative priorities from impacted communities.
The hard-won successes of this session are game changers for working people. These wins will help workers in this moment, and they'll better prepare us for a future crisis. It's clear that access to affordable housing and safe neighborhoods are public health issues, that our economic prosperity depends on working people, and that we have the power to create a safety net in Washington that benefits all of us.
But we know how power works. The push to get back to "business as usual" and revoke the gains we've made for working people this past year has already begun. Corporate CEOs and their political allies want to go back to devaluing working people and attacking our power—until the next crisis, when our work will be deemed "essential" once again. But we know that our labor, and working people, are always essential.
We know what we need: heightened health and safety protections, economic support for working people, regardless of status, and a focus on making our communities safe and affordable. These are evergreen priorities that we are committed to enshrining moving forward. The WSLC will fight to ensure that the protections and rights won for workers this past session are there to provide support now, and in the next crisis.
---
Worker Protection Act, transportation left undone
Washington's labor community came in to the 2021 session with a slimmer agenda than in previous years given the logistical challenges posed by remote legislating and the need to drill down on COVID-adjacent policy.
Although much was accomplished during the 105-day session, there were also missed opportunities, including two key policies from the WSLC's 2021 Workers' Recovery Agenda. The Legislature failed to approve the Worker Protection Act to empower workers to better enforce labor laws, and failed to pass a transportation revenue package to build the infrastructure necessary to sustain our economy and put people to work.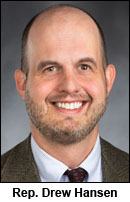 The Worker Protection Act, HB 1076 sponsored by Rep. Drew Hansen (D-Bainbridge Island), would allow workers to seek justice in court if their employer violates existing wage, work safety and discrimination laws. It passed the House of Representatives 53-44 and the Senate Committee on Labor, Commerce & Tribal Affairs. But it failed to clear the Senate Ways and Means Committee despite a broad swath of labor and community organizations supporting its passage.
HB 1076 would have allowed workers in Washington to blow the whistle in court if their employers violate wage, work safety and discrimination laws but state agencies are unable or have declined to investigate. Withheld wages, dangerous workplaces, and racial and gender discrimination—although illegal under current law—are real problems that are hurting workers in Washington, particularly Black and Indigenous folks and people of color. Legislators heard compelling testimony from workers on why HB 1076 is needed.
"I have personally experienced working conditions that do not comply with labor laws," said Agustin Lopez, who works in a Yakima Valley fruit-packing warehouse. "It is very sad but many of my coworkers are too fearful to make formal complaints. They do not want to lose their job and income. … I think (HB 1076) will be a major step in the right direction for workers at my place of work and for others who work in the agricultural industry."
The WSLC will continue to take up HB 1076 with senators who wouldn't support the bill this year.
"The Worker Protection Act will continue to be one of our top legislative priorities until it is signed into law," said WSLC President Larry Brown. "Workers must be given an opportunity to seek justice and fairness in court. This has worked elsewhere to protect workers and improve employer compliance, and one day, it will work here in Washington."
A failure to fund transportation needs
Another major disappointment in an otherwise productive session was the Legislature's failure to adopt a transportation investment package. Substantial underfunding of transit and road maintenance predates the COVID-19 recession, but the revenue hits that transportation has experienced over the past year—more severe than the other budgets Washington enacts biennially—make investment urgent.
A new report found that the state would need to spend $14.8 billion over the coming decade just to maintain in "minimally acceptable condition" the roads, ferries and bridges faster than they crumble. That's twice the current spending on preservation. But we also must fund marquee projects like the I-5 bridge across the Columbia River, the US-2 trestle, the West Seattle bridge, and more. There are also legal and moral obligations to tribal nations to address fish passage concerns by repairing and replacing culverts.
This session, the House Democrats' Miles Ahead package, led by Rep. Jake Fey (D-Tacoma), was a $22 billion proposal with around $7 billion dedicated to decarbonization, including transit and electrification, and the balance to culverts and road projects. The Senate Democrats' Forward Washington package, led by Sen. Steve Hobbs (D-Lake Stevens), proposed an $18 billion suite with a somewhat greater emphasis on roads and lower gas-tax levels. Both proposals included funding for the aforementioned marquee projects. But neither of these proposals saw a full vote on the floor of their chambers.
The Legislature did pass an $11 billion biennial transportation budget, supplemented by $1 billion worth of federal aid, with $400 million dedicated to meeting this biennium's culvert obligation and the balance to a variety of transportation backfills. But that won't cover existing preservation needs, much less major projects and other mounting obligations.
Wide support from labor, environmental, and business stakeholders proved insufficient to dislodge an investment package this session, but the need is only increasing. Legislators say they're still working on a solution this interim. Gov. Jay Inslee's controversial vetoes (see story above) must not be used as excuses to avoid making this investment this year.
---
Historic end of a racist legacy: Farmworkers win overtime pay
A major legislative victory this year for farm workers in Washington drew attention and praise from as far away as the White House. President Joe Biden congratulated Gov. Jay Inslee and our State Legislature on the passage of SB 5172. It will establish the 40-hour work week and grant overtime pay rights to all Washington farm workers, who have suffered under a Jim Crow-era exclusion from the Fair Labor Standards Act of 1938.
"Agricultural workers in Washington and across the country have helped carry our nation through this pandemic — working long hours, often at great personal risk, to meet the needs of their communities and keep America healthy and well-nourished," Biden said. "These overtime protections will ensure that agricultural workers in Washington are paid for all of the vital work they do."
Passage of SB 5172 assuring overtime pay rights for all Washington farm workers was a priority for the WSLC, the United Farm Workers (UFW) and Familias Unidas por la Justicia (FUJ). SB 5172 establishes a three-year phase-in period for the new requirement. Beginning in January 2022, overtime will be due after 55 hours of work in a week; in January 2023, after 48 hours; and in January 2024, after 40 hours. Dairy workers, unlike other agricultural workers, will immediately be due overtime pay after 40 hours, in keeping with the Supreme Court's decision in Martinez-Cuevas v. DeRuyter Brothers Dairy.
"SB 5172 will end a racist legacy and correct an injustice that has existed for too long," said WSLC President Larry Brown. "Washington's labor movement thanks Governor Inslee, all the legislators who voted to approve this bill, and the hundreds of supporters who contacted their legislators urging them to do so."
In 1938, Congress passed the FLSA, which established the minimum wage and other protections for workers. But the Roosevelt administration struck a Faustian bargain with Southern Democratic segregationists to exclude agricultural and domestic workers, denying a primarily Black workforce these protections.
In 1959, when establishing its own wage and overtime standards, Washington's Legislature adopted the same blueprint, denying farm workers—the vast majority of whom are now Latinx—decent wages and work hour protections. Slowly, over the ensuing decades, farm workers in Washington won minimum wage and rest break equity, but overtime remained out of reach.
Out of reach, that is, until two heroic workers at the DeRuyter Brothers Dairy—Jose Martinez-Cuevas and Patricia Aguilar—put their names to a class-action lawsuit challenging, among other things, the constitutionality of denying dairy workers these rights. And they were right, as the state Supreme Court ruled in their favor in 2020.
So this year, Sen. Curtis King (R-Yakima) introduced SB 5172 in an attempt to restrict a court's ability to award back wages in such claims. Due to pressure exerted by FUJ, UFW and the labor community, and shrewd negotiation skills by Sens. Karen Keiser (D-Des Moines) and Rebecca Saldaña (D-Seattle), a bipartisan Senate majority passed SB 5172 to extend overtime protections to all farm workers—not just those in dairies—while providing employers with a phased-in process and some liability protections.
In the House, efforts were made to let employers deny overtime pay during the harvest season, but a rock-ribbed defense of the bill by Reps. Mike Sells (D-Everett) and Lillian Ortiz-Self (D-Mukilteo) kept the bill intact. Washington will now be the first state in the nation to deliver equitable overtime protections for all agricultural workers. (It will be fully implemented in 2024, beating California's phase-in by one year.)
Overtime protections are fundamentally health and safety policies. Excessive work hours, particularly in physically demanding jobs, lead to fatigue and fatigue leads to injuries, illness and even death. Exposure to heat, pesticides and repetitive motion erodes farm workers' health and wellbeing. Overtime protections incentivize employers to balance employees' work obligations and to better compensate them for that risk.
---
Lawmakers take steps to rebalance the tax code
Washington is known around the nation for its beautiful and varied landscapes, its quality workforce, its union density and cutting-edge public policy. These elements make our state one of the best places in the country to live and work. But unfortunately, our revenue system is so wildly out of balance that we're also well known for having the most regressive tax code in the country. In Washington, the lowest earners pay far more out of pocket for public services than the wealthiest—including some of the richest people in the world.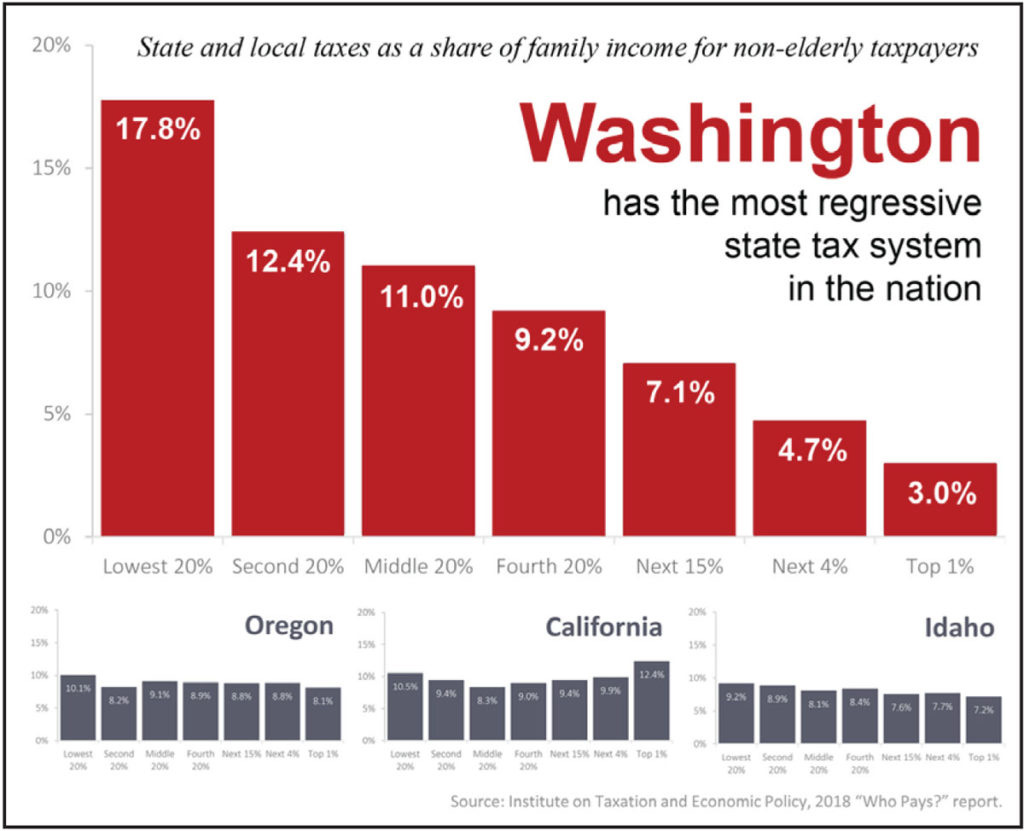 After nearly a decade of work, the labor movement can celebrate the achievement of one important step toward tax fairness: the adoption of SB 5096, an excise tax on extraordinary profits from the sales capital assets like stocks and bonds.
Our tax code is heavily reliant on consumer spending, mainly through the sales tax, so people who spend most of their earnings just to get by pay a greater percentage in taxes. Wealthier people contribute a far, far lower percentage of their income. The lowest 20% of earners pay nearly 18% of their incomes in state and local taxes, while the top 1% pays 3% or less.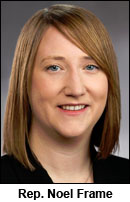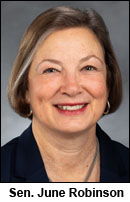 With the adoption of the capital gains tax, the state now has a tool to strike a better balance. SB 5096, sponsored by Sen. June Robinson (D-Everett), creates a 7% tax on more than $250,000 per year in profits from the sale of certain capital assets—like stocks—while exempting the sale of homes and other real estate, timber, and small businesses. Forty three other states have similar taxes on the super wealthy. Amendments by Rep. Noel Frame (D-Seattle) ensured that the revenues collected from this new resource will be directed to the Educational Legacy Trust Account, which supports K-12 schools and early learning initiatives. Importantly, it finally creates a revenue option that does not ask more of working families and wage earners.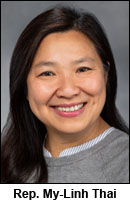 Meanwhile, legislators also approved funding for the Working Families Tax Rebate—more than a dozen years after it was initially passed. Modeled after the federal Earned Income Tax Credit, the state program will provide tax rebates of between $300 and $1,200 to some 420,000 households starting in 2023. HB 1297, sponsored by Rep. My-Linh Thai (D-Newcastle), passed with near-unanimous support.
With these two bills, the Legislature has moved the needle toward tax fairness. It took nearly 10 years of hard work by unions, progressive think tanks, faith organizations, communities of color, and thoughtful legislators. Now Washington is better poised to fund the services the people of our state want, while ensuring that the wealthiest pay their fair share.
---
Worker safety and health are prioritized
The pandemic exposed gaps in our worker safety net, particularly for healthcare, grocery, agriculture, transit, restaurant, corrections and other frontline workers who could not work remotely. These workers' COVID-19 exposure is extremely hard to mitigate given the sheer volume of public interactions their jobs require. If they get sick, it's nearly impossible to prove it was a result of a specific occupational exposure. Plus, they may face retaliation from employers for reporting infections and safety lapses.
Fortunately, Sens. Karen Keiser (D-Des Moines) and Jeff Holy (R-Cheney) and Rep. Mike Sells (D-Everett) delivered a slate of pandemic-oriented protections for essential workers.
Keiser's SB 5115, the Health Emergency Labor Standards Act (HELSA), establishes worker protections during any health emergency, not just COVID, to ensure workers' compensation presumption in the event frontline workers get infected and cannot work. Unless contrary evidence is provided, Labor and Industries would presume the condition was a result of their work and approve the claim, pay time-loss benefits and cover medical costs. HELSA also requires employers to report infection outbreaks, requires the disclosure of infections to other workers on the job, and protects workers who are at a high risk for severe reactions or death due to the health emergency to ensure that they are not discharged or discriminated against.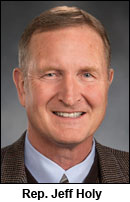 Given the critical role of nurses and healthcare employees amid a pandemic, the Legislature gave them some special consideration by approving Holy's SB 5190. It creates a workers' compensation presumption for healthcare workers and expands unemployment insurance eligibility for them when they can't work due to a COVID exposure.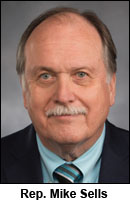 Sells carried HB 1097, which protects workers from retaliation by authorizing L&I to impose a civil penalty against employers who retaliate against workers for filing a health-and-safety complaint; extends the number of days a worker has to file a complaint from 30 days to 90 days after a violation occurs; and offers small business grants for employers who need assistance with safety equipment necessary to comply with L&I orders.
Unfortunately, not every worthy health-and-safety bill was passed. Sen. Derek Stanford's (D-Bothell) SB 5102 would have advanced reforms started in 2020 for workers subjected to intrusive Independent Medical Examinations in the workers' compensation system. The Senate labor committee heard compelling testimony, including from IBEW 984 member Mario Diaz who spoke to his experience with perfunctory IMEs, and the 8-hour round trip it required. SB 5102 passed the Senate Labor, Commerce & Tribal Affairs Committee, but failed to advance from Ways and Means.
---
Major climate action, but Inslee vetoes draw ire
In addition to urgent pandemic-related legislation, the 2021 Legislature also set out to address the mounting threat of climate change. The WSLC's affiliated unions have repeatedly passed resolutions in support of climate action.
Two climate policies of particular significance were the Climate Commitment Act, SB 5216 sponsored by Sen. Reuven Carlyle (D-Seattle), and the Clean Fuel Standard, HB 1091 by Rep. Joe Fitzgibbon (D-Burien). With their passage and past policies enacted, Washington now has one of the nation's most ambitious suite of policies to tackle climate pollution. The coalitions that supported these policies were expansive, including equity and environmental justice voices, a number of unions, energy businesses, utilities, and others.
But it did not happen without controversy. Selective vetoes by Gov. Jay Inslee have angered legislative leaders of both parties, and advocates for passage of a robust transportation package.
The Climate Commitment Act (CCA) adopts economy-wide carbon pricing. It imposes a firm and declining cap on approximately 80 percent of the state's greenhouse gas emissions, covering emissions from natural gas, electricity, transportation, industry, and more. The bill extends protections to emissions intensive and trade exposed industries like aluminum, aviation, and pulp and paper through at least 2035.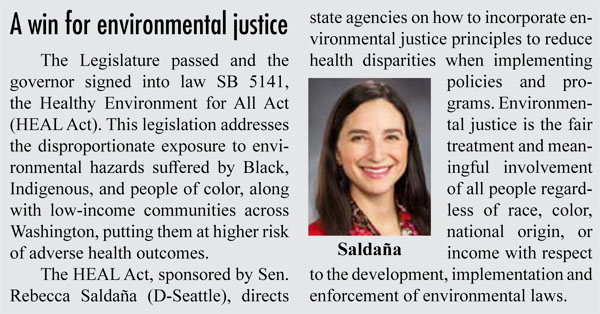 The CCA will invest a minimum of $7 billion by 2037 (and more after), with $5.2 billion dedicated to transportation projects that reduce carbon, and the balance dedicated to carbon reduction in other sectors, forest management and wildfire reduction, and more. Investments funded under CCA are restricted to projects that meet high labor standards.
The Clean Fuel Standard (CFS) will require reductions in the carbon intensity of transportation fuels by 20 percent by 2038. It will reduce greenhouse gas emissions in oil refining and extraction and promote alternatives like biofuels, electricity, hydrogen and renewable natural gas. Utilities will invest nearly $1.5 billion in alternative fuel deployment by 2030, including electrification projects and electric vehicle incentives.
In both bills, a third of the funds must benefit communities disproportionately burdened by climate change and fossil fuel pollution—overwhelmingly communities of color and tribal nations.
As approved by the Legislature, both policies were to take effect after the passage of a transportation package that included a 5-cent gas tax increase. Calling it a "grand bargain," legislative leaders said that linkage was needed to secure enough votes for passage. Although a transportation package did not pass by the session's end, most anticipated a special session later this year to do so.
However, in signing the CFS and CCA, Inslee vetoed the sections making them contingent on passage of the gas-tax increase, saying the provision "unnecessarily hinders our state's ability to combat climate change." He also vetoed guarantees of tribal consultation and protections in the CCA. Legislative leaders of both parties consider the selective vetoes to be illegal and are suing to have them overturned. In the meantime, all say they remain committed to passage of a transportation revenue package.
---
Labor backs multiple police reform bills
By JOE KENDO
At the 2020 Convention of the Washington State Labor Council, AFL-CIO, delegates approved Resolution 18 in support of policing reform, and for good reason. The resolution quotes WSLC Secretary Treasurer April Sims, who said:
Policing in America is too often violence, disproportionately directed at Black communities. There are clear, systemic causes leading to the hyper-policing of Black bodies. We are not
experiencing mass psychosis affecting police departments across the U.S. Rather, this police violence, primarily targeting Black Americans, is the system of policing operating as designed."
The resolution tasks the WSLC with supporting reforms to policing that make the system accountable to the communities it is supposed to serve, while also upholding core labor values like collective bargaining. While the work is incomplete, the 2021 session was largely successful with several significant reforms that the WSLC supported being signed into law.
This work would not have been accomplished had it not been for the families of victims of police violence who led community organizations in the Coalition for Police Accountability. They challenged legislators, police departments, and the labor movement to face the real harm many of our laws cause by perpetuating a system of policing that is racist, and is rarely held accountable for any but the most egregious violations of people's rights, particularly those of Black people.
Gov. Jay Inslee signed 13 bills to reform these systems, addressing use of force and tactics, data tracking and records coordination, independent investigations of excessive use of force, and a new system of police training, certification and decertification under a reformed Criminal Justice Training Commission.
On May 18, Inslee also signed into law: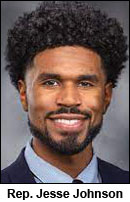 HB 1054 (sponsored by Rep. Jesse Johnson, D-Federal Way)—Prohibits the use of chokeholds and neck restraints by officers, restricts use of tear gas, firing on moving vehicles and vehicular pursuits, and prohibits the use of warrants that do not require officers to announce themselves (known as "no-knock" warrants). It also requires law enforcement agencies to develop policies to ensure officers are reasonably identifiable as they perform their duties.
HB 1088 (Rep. John Lovick) —Requires police to disclose information about officers' misconduct that may affect their credibility as witnesses.
HB 1089 (Rep. Bill Ramos)—Requires the State Auditor to review all investigations into use-of-force incidents to ensure rules and policies were followed.
HB 1140 (J. Johnson)—Concerning juvenile access to attorneys when contacted by law enforcement.
HB 1223 (Peterson)—Requires police to electronically record custodial interrogations.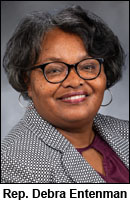 HB 1267 (Rep. Debra Entenman)—Establishes the Office of Independent Investigation within the Governor's Office to investigate deadly use-of-force incidents involving law enforcement officers.
HB 1310 (J. Johnson) — Establishes a statewide standard for use of force by police and correctional officers, restricts use of force, and requires police to exhaust deescalation tactics before using force.
SB 5055 (Sen. Joe Nguyen) — Reforms police grievance arbitration by having PERC maintain a list of qualified arbitrators, with specific experiential requirements, mandates arbitrator training related to policing, implicit bias, and racism, and empowers PERC to select an arbitrator in a predictable manner.
SB 5066 (Sen. Manka Dhingra) — Requires officers who see other officers using or attempting to use excessive force to intervene and to report wrongdoing by fellow officers. Officers must also render aid to anyone injured by use of force at the earliest safe opportunity. It also prohibits retaliation against officers for following this law.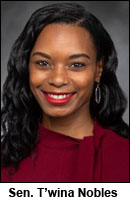 SB 5259 (Sen. T'wina Nobles)—Provides for the creation of a use-of-force data collection system developed jointly by nonprofit and community groups, and law enforcement agencies.
SB 5263 (Sen. David Frockt) —Concerning defenses in personal injury and wrongful death actions.
SB 5353 (Rep. Steve Conway) —Creating a partnership model that facilitates community engagement with law enforcement.
Perhaps the most significant bill, mainly by way of weaving them all together in a policy reform lattice, was SB 5051.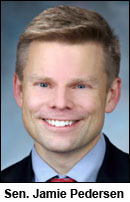 Sponsored by Sen. Jamie Pedersen (D-Seattle), this new law restructures the Criminal Justice Training Commission (CJTC) by including non-police commissioners on the commission itself who will now lead the agency responsible for training and licensing most law enforcement officers. The bill further improves background check requirements for new police and corrections officers, and expands the types of conduct for which an officer may be held accountable by the commission, including the loss of their certification.
While the 2021 police reform agenda was robust, it is far from complete. Many U.S. institutions were built on racist foundations and our national reckoning with that reality has lasted as long as the republic itself. Policing is a part of that legacy and it will take time to unravel it—time and vigilance. As these laws are implemented, and as the lived experience of people subject to policing is revealed, we must reassess them to meet the needs of the people of Washington, the need to be protected and safe, and the need to secure the rights of those who have had them denied.
---
Our state needs health system transparency
By SYBILL HYPPOLITE
Health care is increasingly corporate-driven and consolidated, with more and more hospitals and clinics being organized into large health systems – such as Providence, CHI Franciscan and Multi-Care. Fewer companies running more of the places we seek care means that healthcare prices increase while the quality of care decreases. All the while, inequities in care persist for Black, brown and Indigenous patients; and employers try to suppress workers' voice on the job. These trends are harmful for patients, workers and our communities.
Collectively, we spend a lot of money on health care, but where is our money going? During the COVID-19 pandemic, we saw our largest health systems making questionable choices with their resources, such as reserving vaccines for wealthy donors while elders struggled to get access and furloughing healthcare workers during a health emergency. We know healthcare systems are not providing the care we need. But, we don't understand enough to make the changes that support us.
That's why health systems transparency is needed. This is a necessary step toward the health care we want: affordable, high-quality care for all of us when we need it.
HB 1272, the health systems transparency bill sponsored by Rep. Nicole Macri (D-Seattle), will provide more information on how healthcare dollars are spent in our state. That way, healthcare purchasers, including Taft-Hartley health plans, self-insured employers and state plans for public employees and Apple Health enrollees, can control healthcare costs and provide high-value care.
Additionally, the bill requires non-profit health systems justify their tax-exempt status by providing more detail on their community-benefits activities: who is being served and how. To begin to address equity, the bill also requires health systems to collect information on patient demographics.
HB 1272 passed the House 58-40, was approved by the Senate 27-21, and was signed into law by Gov. Jay Inslee. Ultimately, better understanding of our state's health systems will help Washington direct money in the ways that benefit us as patients, workers and community members.
---
There are many, many more stories in the 2021 Legislative Report. Download the PDF to read them all.