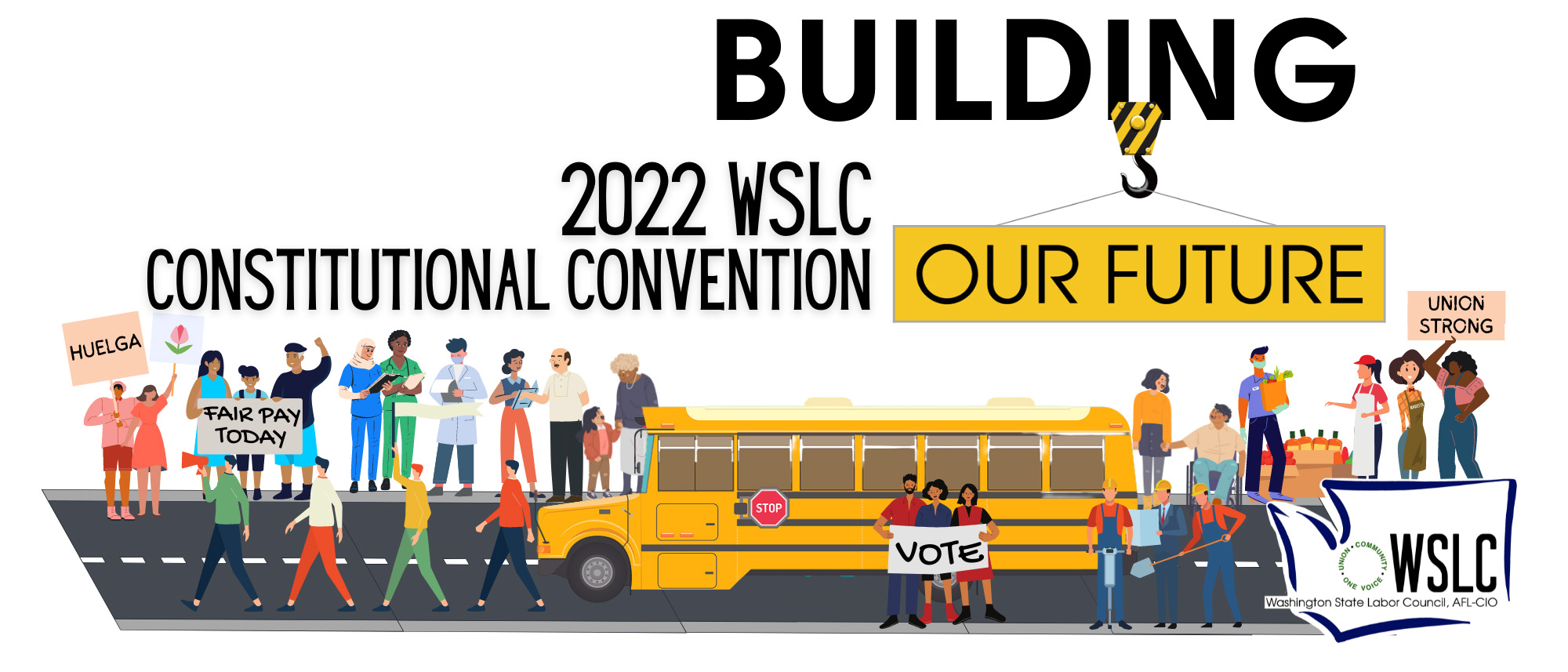 The 2022 Constitutional Convention of the Washington State Labor Council, AFL-CIO was held July 19-21 at the Coast Wenatchee Hotel and Convention Center. It was the first annual WSLC convention held in person since 2019, before the pandemic began. With the theme "Building Our Future," convention speakers and workshops focused on the once-in-a-lifetime opportunity in 2022 to help workers join together into unions and build worker power.
Agenda and action
See the 2022 WSLC Resolutions (printable PDF) approved by convention delegates. Check out the agenda and The Stand's summary of the plenary sessions on July 19 and July 20. Here are some of the highlights from each day (follow the links to the Facebook Live archives):
WSLC President Larry Brown (56:10)
UNITE HERE President D. Taylor (1:24:18)
Panel on Statewide Organizing Campaigns (2:04:00)
Panel on Local Organizing Campaigns (2:44:26)
WSLC Secretary Treasurer April Sims (20:42)
Washington State Attorney General Bob Ferguson (41:28)
Climate and Jobs presentation by Lara Skinner, Worker Institute at Cornell (1:12:25) — PDF of presentation slides
Panel on Manufacturing Jobs and Climate Action (1:44:40)
King County Executive Dow Constantine (2:37:00)
Here is the 2022 Convention "Our Victories" video:
2022 WSLC Award Recipients
Each year at convention, the Washington State Labor Council, AFL-CIO presents awards recognizing the efforts and accomplishments of specific union organizations and individual union members. Here are the award winners for 2022: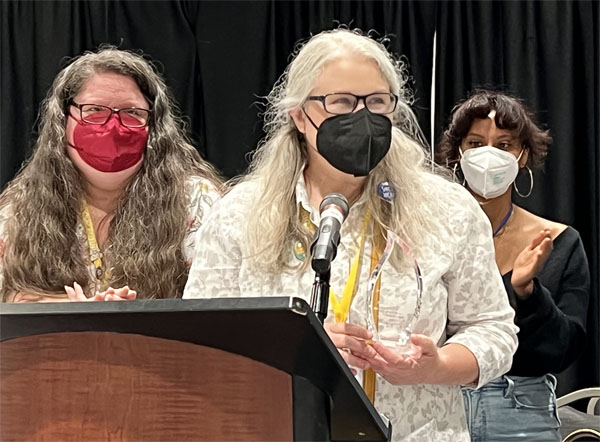 ELSIE SCHRADER AWARD — Tina Morrison, a member and long-time officer of the Musicians (AFM) Local 105 and Secretary Treasurer of the Spokane Regional Labor Council, won this award from the WSLC Women's Committee for the advancement of women in leadership roles and/or for activism on behalf of women within the labor movement.
POWER TO THE PEOPLE AWARD — International Association of Machinists and Aerospace Workers District 751 received the Organizational Award for the union's outstanding political activism advancing the labor movement's fight for the dignity of all workers, and retiring WSLC President Larry Brown received the Individual Award.
BRUCE BRENNAN AWARD — Caitlyn Jekel, former Senior Labor Policy Advisor for Gov. Jay Inslee (and WSLC staffer) and current Government Affairs Director for the Employment Security Department, won this award recognizing individuals who have contributed the most to further the cause of apprenticeship, education and workforce training in Washington state.
MOTHER JONES AWARD — This award has been recognized for decades as the state labor movement's award that recognizes our own members in their struggle for dignity and respect for all working men and women in our state. The organizational Mother Jones Award went to the workers at Industrial Container Services (ICS) who fought long and hard to join together in a union with Teamsters Local 117. The individual Mother Jones Award was given to Connie Kelliher, who is retiring after decades of service as Communications Director for IAM District 751.
Special Awards…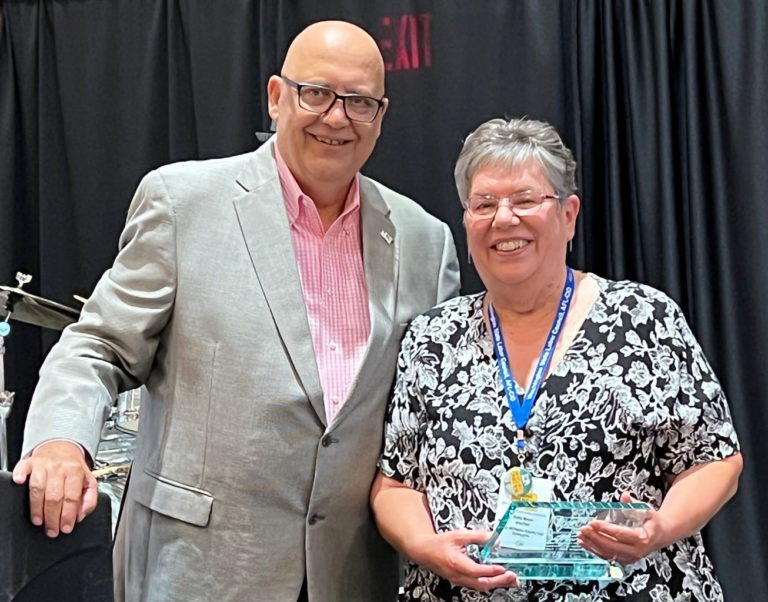 LIFETIME ACHIEVEMENT AWARD — Patty Rose, Secretary-Treasurer of the Pierce County Central Labor Council who is retiring from that position, was given a Lifetime Achievement Award for her 48 years as a leader in the Pierce County labor movement. "It's been a wonderful experience," Rose said. "I just celebrated 20 years at the Labor Council… but we don't do it alone. We do it will all the members of our supportive family."
PRESIDENT'S AWARD — Rep. Mike Sells (D-Everett), a former teacher and leader in his union, served as Secretary-Treasurer of the Snohomish County Labor Council from 1976 to 2014. He has been a quiet leader on labor issues in Olympia since his election to Washington's House of Representatives in 2004. With his retirement from the Legislature this year, Sells was presented the President's Award from WSLC President Larry Brown.
2022 WSLC Convention Photo