Celebrate International Women's Day on March 12 at Barrier Breakers: Challenge Course & Community Kickback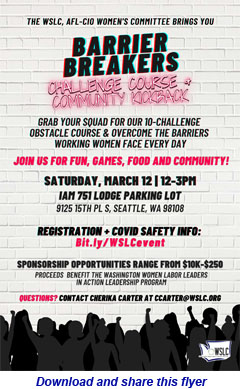 Join the Washington State Labor Council, AFL-CIO Women's Committee as we commemorate and celebrate International Women's Day on Saturday, March 12th! Grab your squad and go through our 10-challenge obstacle course overcoming the barriers working women face every day.
Come on out for an afternoon full of fun, games, and solidarity!
Event details:
Saturday, March 12th — Noon-3 p.m.
IAM District Lodge 751 parking lot
9125 15th Pl. S., Seattle, WA 98108
Rain or Shine!
Registration is free. Attendees are asked to bring hygiene products, particularly menstrual products, that will be packed up to share with our sisters and siblings in need.
This event celebrates womanhood in its many, complex forms. All are invited, regardless of gender, to join in this celebration.
Teamwork makes the dream work! You can assemble and sign up as a team to tackle obstacles together, or register on your own. We'll be giving out prizes for best team names, funnest costumes, and more – let that creativity shine!
SPONSOR & VOLUNTEER
All proceeds will benefit the Washington Women Labor Leaders in Action leadership program (WLLA) . WLLA is a joint 1-year fellowship program of both the WSLC and the AFL-CIO, that aims to recruit, retain, and develop women labor leaders through an intensive 2-week training program. WILLA connects women labor leaders to develop, shape, and forge their leadership paths through training, discussion, peer-coaching, and mentorship throughout the duration of the program.
Sponsor Levels:
● Event sponsorship — $10,000
● Obstacle Challenge Station Sponsorship — $5,000
● Obstacle Challenge Station Co-Sponsorship — $2,500
Additional sponsorship opportunities are available to support with monetary donations, volunteers, Union Swag, and snacks for the event.
As an event sponsor your organization's logo will be prominently displayed both at the event, and on event promotional graphics.
Sponsorship forms can be completed here.
In the spirit of solidarity, Union Brothers are encouraged to consider volunteering to support this event as a way to honor and celebrate International Women's Day.
Volunteer registration can be completed here.
Have questions about sponsoring or volunteering? Contact Cherika Carter at ccarter@wslc.org.
COVID SAFETY
We ask all attendees to show up in the spirit of solidarity that is the hallmark of our movement and take precautions to protect the health and well-being of our fellow working people.
This event is outdoors, rain or shine. Some obstacles will be covered by tents or overhangs. Indoor restrooms at the Lodge will be available; all attendees must mask when indoors. We ask attendees to also mask up when in close quarters with others outdoors. By taking precautions, we can help make this event more accessible for other folks in our community.
Masks and hand sanitizer will be available, and obstacles will be regularly cleaned between uses. Questions about COVID procedures? Contact Cherika Carter at ccarter@wslc.org.