The 2020 Convention of the Washington State Labor Council, AFL-CIO is Sept. 23-25 via video conferencing. Here's everything you need to know.

Welcome to the 2020 Convention page!
Consider this page your "convention bag" stuffed with all the information that delegates and guests need to get the most out of the first-ever virtual convention of the Washington State Labor Council, AFL-CIO. You'll find the convention agenda, rules, proposed resolutions, workshop descriptions, reports from officers and staff, forms, and everything else you need. Keep checking back as we continue to add materials for the WSLC's 2020 Constitutional Convention set for Sept. 23-25 via Zoom video conferencing.
---
GET READY!
---
Convention PROGRAM
Convention AGENDA — Here are Zoom links to join:
WORKSHOPS — See registration/Zoom links below.

Tuesday (pre-convention, 5:30 to 7 p.m.)
Wednesday (6:45 to 8 p.m.)
Thursday (6:45 to 8 p.m.)
---
POLITICAL

UPDATED: List of WSLC's 2020 Election Endorsements — This is the list of candidates who have earned the WSLC's endorsement for the general election on Nov. 3, effective Sept. 25, which includes action taken at the 2020 Convention.
Register for Labor Neighbor FUN Banks — The stakes are too high in this election for working people to sit out. Join other union volunteers, working from the safety and comfort of your own homes, phoning your fellow union members to let them know who has earned labor's endorsement in critical races. FUN Banks are every weeknight 5-7 p.m., Saturdays 10 a.m.-noon, and Sundays noon-2 p.m. Register today and the WSLC will contact you with details about how to participate.
Who Runs the World? Women in Politics — Cherika Carter, WSLC Political and Strategic Campaigns Director, interviews some women who have been endorsed by the WSLC about why have chosen to run for public office.
---
Convention COMMITTEES
Here is the list of committee assignments. Delegates appointed to serve on the committees were notified prior to convention. Each of the Proposed Resolutions has been referred to one of the following committees. (Check the end of each resolution to see the committee to which it has been referred.) Committees will meet at 6:45 p.m. on Wednesday, Sept. 23 to consider amendments and make recommendations to the full convention when resolution action occurs on Friday, Sept. 25. All delegates are welcome to attend and observe these committee meetings. Click the title to register and get the Zoom meeting link.
The following committees are not open to all delegates. They meet at 4 p.m. on Wednesday, Sept. 23. If you have been assigned to serve on one of these committees, click the title to register and get the Zoom meeting link.
---
Convention TRADE SECTIONS
By WSLC Constitution, each affiliated local union is entitled to membership in one or more of the following subordinate trade sections, which meet at convention to elect trustees, consider grants in support organizing or defense efforts, and conduct other business. They will meet at 4 p.m. on Wednesday, Sept. 23. Here is a list of unions in each trade sections, and the trade section meeting notice. Click the title to register and get the Zoom meeting link.
---
Convention WORKSHOPS
Click the title to register and get the Zoom meeting link. Descriptions and presenters are tentative and subject to change.

TUESDAY, SEPT. 22
(Pre-convention; 5:30 to 7 p.m.)
Labor Law Update — Since Trump took office in 2017, the NLRB and the U.S. Department of Labor have upended decades of legal and regulatory precedent. Employment attorneys will review the latest changes to federal regulations that impact workers' rights, and how unions are regulated under federal law. — PRESENTER: Danielle Franco-Malone,

Partner in the law firm of Barnard Iglitzin & Lavitt LLP

Labor Archives of Washington — How to keep and preserve union records, and how to research using LAW Collections. — PRESENTER: Conor Casey, Labor Archivist and Director of the Labor Archives of Washington
Public Money for the Public Good: Leveraging Washington's Purchasing Power to Fight Trade-Related Job Loss and Cut Pollution — For decades, unfair competition from foreign producers with poor labor practices has driven significant trade-related job loss. Offshoring has eroded the middle class and contributed to soaring income inequality. It is not only our economy but also our environment that suffers. This workshop presents innovative tools to leverage Washington's purchasing power to reverse this race to the bottom: buy fair and buy clean. These policies incorporate labor and environmental standards into public procurement. Recognizing and rewarding manufacturers that treat workers justly and invest in cleaner industrial processes is an important first step toward leveling the playing field and protecting Washington industries' competitiveness. — PRESENTERS: Hillary Haden, Executive Director of the Washington Fair Trade Coalition; Gaylan Prescott, District Director of USW District 12; and Jessica Koski, Washington BlueGreen Alliance
WEDNESDAY, SEPT. 23
(6:45 to 8 p.m.)
COVID-19's Impact on Women: Essential, Precarious and At Risk — Get an in-depth look at the latest report from the Washington State Labor Education & Research Center (LERC): Essential, Precarious, and At Risk: Washington Workers in High Hazard, Low-Reward Jobs. Hear directly from the authors, workers in "high hazard, low reward" jobs, labor leaders exploring the union difference for workers during the pandemic, as well as a discussion on collective solutions. Analysis goes beyond "essential" workers, by creating a new analytic framework (first study of its kind in the U.S.) for pinpointing workers most at risk both of health and economic crisis; by occupation and by demographics; and suggests policy interventions targeted to these workers.
The Important Infrastructure of Child Care— Families are having to make tough choices around child care. Availability, costs, location; all are impacting workers' ability to get child care and to afford being able to offer child care. We will explore what progress is being made within Washington state and what role labor can play in finding solutions. — PRESENTERS: Karen Hart, President of SEIU 925; Anna Minard, Communications Director of UFCW 21; Shana Peschek, Executive Director of the Machinists Institute; Kairie Pierce, WSLC Workforce Development Director
Saving Union Jobs Through Worker Cooperatives — This session will explore this unique moment in our economy as many business owners face retirement and the effects of covid-19 on the economy. — PRESENTERS: Diane Gasaway, Executive Director of the Northwest Cooperative Development Center; John McNamara, Senior Cooperative Development Specialist of the NCDC; Patrick McGrath, President of Working Systems Cooperative
Workers' Rights in the Time of COVID-19 — The COVID-19 pandemic has posed a generational challenge for workers and families, and has exacerbated racial, gender, and economic inequalities. The public safety net and worker protections have become the last line of defense for working families struggling to make it through this crisis. Representatives of state agencies will brief attendees on changes to workers' rights regulations, safety net programs, and public health policies since the onset of the pandemic, and will preview efforts that are underway to better protect workers on the job and in their communities. — PRESENTERS: Caitlyn Jekel, Labor Policy Advisor to Governor Jay Inslee; Joel Sacks, Director of the Department of Labor and Industries; Suzi LeVine, Commissioner of the Employment Security Department; and Lacy Fehrenbach, Deputy Secretary for COVID 19 Responsefor the Department of Health
THURSDAY, SEPT. 24
(6:45 to 8 p.m.)
---
Convention FORMS
---
REPORTS
WSLC CONSTITUTIONAL CONVENTION REPORTS
DEPARTMENTS:
COMMITTEES: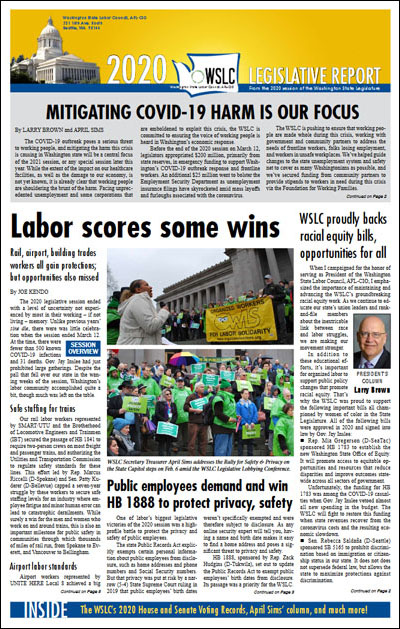 WSLC 2020 LEGISLATIVE REPORT (8 pages) — Following are links to some of this report's articles at The Stand:
---
ACTIONS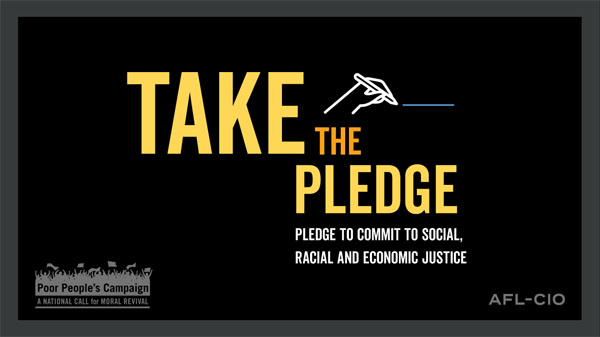 ---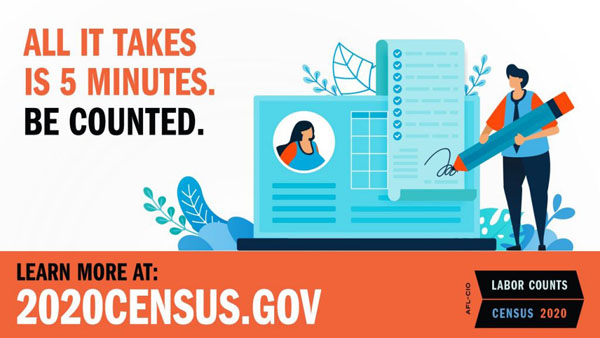 Participate in the 2020 Census — All U.S. households should have received a notice or form explaining what to do. Can't find it? No matter. Get counted at 2020census.gov online. Your mailed notice included a Census ID number on it, but that number is not necessary to go ahead and fill it out online. Or, you can participate by calling 1-844-330-2020 toll free (click here for other phone numbers with your preferred language). The Census Bureau has moved up the cutoff date to Sept. 30, so don't put it off. Be counted today! And when you're done, contact your family and friends and urge them to participate.
---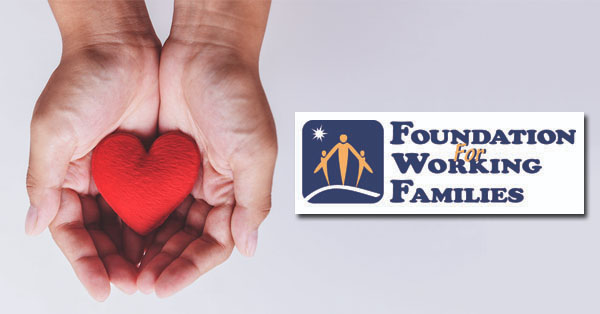 Contribute to the Foundation for Working Families — The Foundation for Working Families is the charitable nonprofit formed by the affiliated unions of the Washington State Labor Council, AFL-CIO to assist working families in times of hardship or disaster. As you can imagine, the FFWF has been quite busy during the COVID-19 pandemic and the recent wildfires. Please make a contribution to the FFWF online or mail a check to the Foundation for Working Families, 321 16th Ave S., Seattle, WA, 98144. The FFWF is a 501(c)(3) organization — federal tax ID 91-1702271 — so all donations are tax-deductible charitable contributions. Learn more here.
---
COMING EVENTS
---
VENDORS
Normally at the WSLC Convention, there are vendors tables set up outside the convention hall to share information with delegates about their wares and services. Following are your Virtual Vendors for the 2020 Convention:

THE STAND
The news service of the Washington State Labor Council, AFL-CIO and its affiliated unions — Visit us at The Stand.org. Or better still, subscribe to receive daily news via email.
---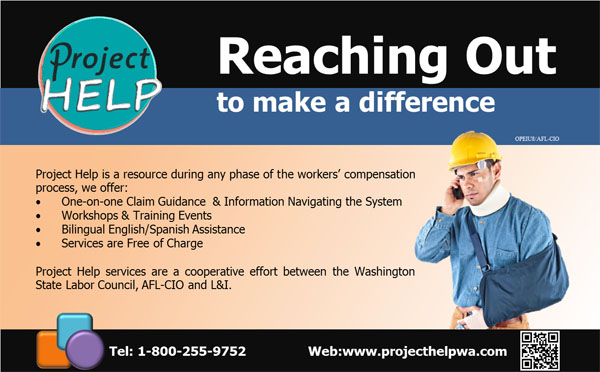 PROJECT HELP
Simplifying workers' compensation and providing free education and assistance about Washington state workers' compensation — Visit us at ProjectHelpWA.com
---

THE LABOR ARCHIVES OF WASHINGTON
University of Washington Libraries Special Collections
"Celebrating 10 Years of Saving Solidarity" — Visit us at laborarchives.org
---

PACIFIC NORTHWEST LABOR HISTORY ASSOCIATION
Order your 2021 Labor History Calendar or become a member at www.pnlha.org
---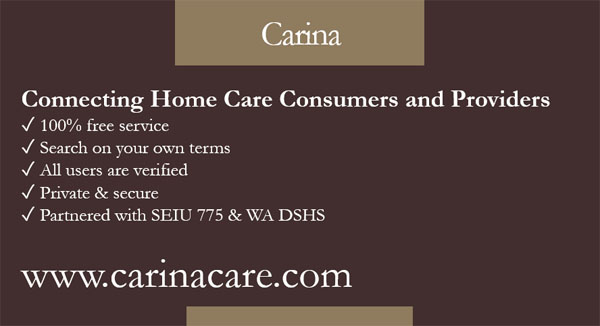 CARINA
Connecting Home Care Consumers and Providers at carinacare.com