Masks are required at in-person event on Saturday, May 21 at IAM 751's Seattle hall
The Washington State Labor Council, AFL-CIO — the state's largest union organization representing the interests of some 600 labor organizations with more than 550,000 members — will hold its 2022 Committee on Political Education (COPE) Endorsing Convention starting at 8:30 a.m. on Saturday, May 21 at the Machinists District 751 Hall, 9125 15th Pl. South in Seattle.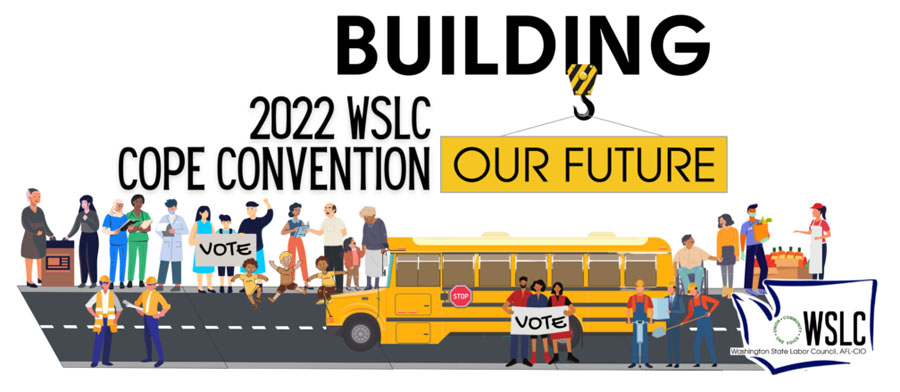 It is at this convention that hundreds of delegates representing WSLC-affiliated unions from across the state will vote on endorsements for congressional, statewide, state legislative and judicial candidates, plus state ballot measures.
Also unlike corporations and industry groups — which outspend unions about 24-to-1 on politics — labor's support doesn't just come in the form of a check. It comes in the form of volunteers who do household walks, worksite leafleting, and make personal (not automated) phone calls to other voters. Plus, it includes direct mail and other forms of political outreach intended to explain why endorsed candidates and ballot measures have earned labor's support.
---
Delegate Information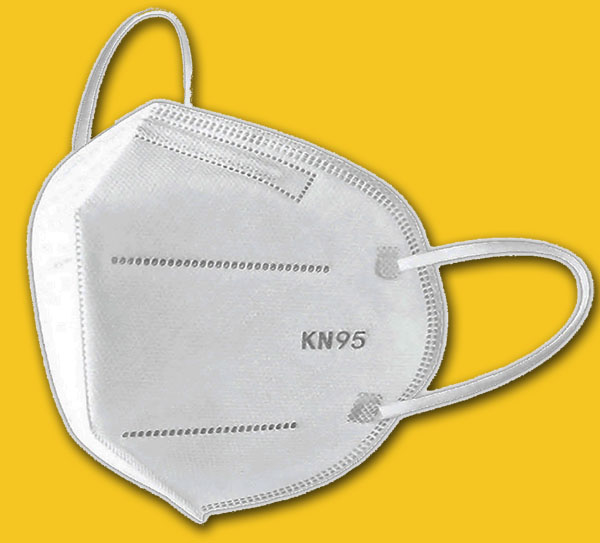 COVID PROTOCOLS — The WSLC is excited to be able to gather in person again for this event. The health and safety of all delegates is the top priority, therefore the WSLC has implemented COVID-19 safety protocols and will require that everyone in attendance wear a mask. A KN95 mask will be provided to each delegate the day of the COPE Endorsing Convention.
REGISTRATION — All WSLC-affiliated unions were notified about the number of delegates/alternates they can send. If you are interested in representing your union as a delegate or alternate at the WSLC COPE Convention, contact your local union for more information. Online pre-registration has concluded. Any delegates/alternates who did not register in advance can do so on Saturday morning, but MUST HAVE AN OFFICIAL DELEGATE CREDENTIAL FORM signed by an officer of their local union. Please come early to give yourself extra time to register. The registration fee is $125 per delegate. This includes registration, materials, and lunch.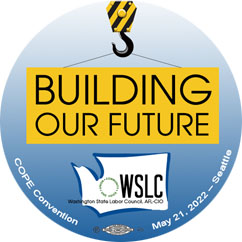 As is customary, the WSLC will be asking for donations to assist with its COPE program. The suggested donation to receive the 2022 COPE button (pictured here) is $20.
AGENDA
7:30 a.m. — Check-in and registration tables open
8:30 a.m. — Convention convenes. (The tentative agenda will be posted here soon.) TVW will be live-streaming the morning session, which will be available to watch live at the WSLC's Facebook page.
11 a.m. — Registration tables close. Delegates must be registered by 11 a.m. to participate in the afternoon endorsement action.
11 a.m. — BREAK for lunch. There will be three food trucks in the parking lot. At check-in/registration, each delegate will receive a meal ticket (included in the registration fee) to use at one of the trucks. There will be some tables set up outside in the parking lot or delegates can eat at their tables in the convention hall.
Noon — Convention reconvenes for debate and action on endorsements. ONLY DELEGATES AND ALTERNATES are permitted in the convention hall for this afternoon session. No guests, no candidates, no campaign staff, no media.
COPE Convention usually adjourns around 3 to 4 p.m., but could run longer depending on the pace of voting.
The results of the endorsement action will be posted on the Political Action page of the WSLC website shortly after the convention's conclusion.
---
The Process

Candidates seeking WSLC endorsement participate in a process that includes completing candidate questionnaires and interviews with local unions and regional Central Labor Councils. (Candidates can find questionnaires here. Delegates can email us to receive the link/password to access questionnaires completed by the candidates.)
STATEWIDE COPE — The night before the COPE Convention, the Statewide COPE Committee meets to vote on recommendations to make to the convention body. The Statewide COPE Committee consists of the WSLC's Executive Officers, members of the WSLC Executive Board, Central Labor Councils, the WSLC Political and Strategic Campaigns Director, and a representative of AFSCME, AFT (includes WSNA), IAM, IBEW, IBT, SPEEA and WEA. This year, Statewide COPE will meet at 5 p.m. on Friday, May 20 at the Machinist 751 Hall. Any affiliated organization may observe the Statewide COPE proceedings; however, space is limited and available on a first-come, first-served basis. This committee's recommendations will serve as the opening motion in each race at Saturday's convention.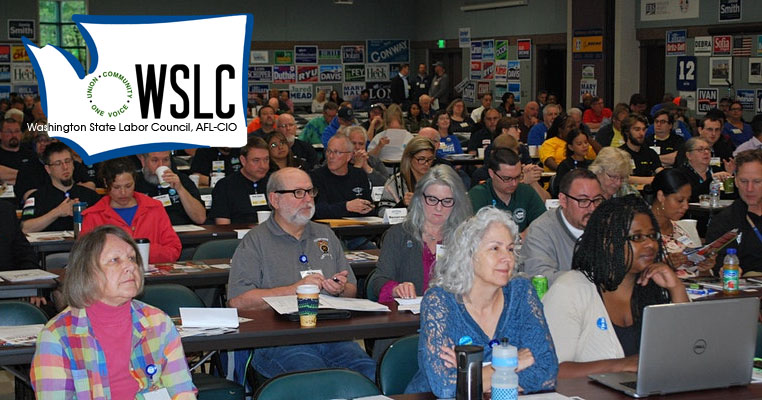 ENDORSEMENT ACTION — On Saturday afternoon, the Chair will proceed through each of congressional, legislative, statewide and judicial races under consideration. In each race, the Chair will announce whether Statewide COPE has made a recommendation in the race, and if so, make an opening motion with that recommendation. If there is a second, delegates will then debate or amend the motion under Robert's Rules of Order. Floor microphones will be set up and marked "FOR" or "AGAINST" the motion, and delegates should get in the appropriate line to speak. At the conclusion of debate, delegates will vote on the motions for each race. A two-thirds majority of is required for WSLC endorsement.
For details on how the debate and voting occurs, see the COPE Rules and Bylaws.
---
Questions?
If you have registration questions, email Willa Kamakahi at wkamakahi@wslc.org
If you have questions about the COPE endorsement process, email Cherika Carter at ccarter@wslc.org.