The people have chosen Joe Biden and Kamala Harris as our new leaders. It's time to move forward together!

For democracy to work for all of us, it must include us all. People across our country have stood together, marching to demand liberty and justice, pulling through this pandemic by pulling together, and rejecting attempts to divide us based on what we look like, where we come from or where we live. Despite COVID, the economic crisis, and deliberate barriers set to silence the voices of Black people, new Americans and people struggling to make ends meet, we turned out in record numbers to pick new leaders who will care for, and govern for, all of us. And now we will hold our new government to account — to not merely tackle the crises the last government created — but to make this a place where all of us can thrive.
Now that it's clear that "we the people" have elected Biden, Donald Trump has been trying to sow doubts about the outcome of the election through baseless claims and investigations. He has lost and he will fail. In America, we pick our leaders — our leaders do not pick their voters. The Washington State Labor Council, AFL-CIO and its affiliated unions are uniting to defend democracy and protect our communities by ensuring the will of the people prevails. Together, we are demanding that the leader the people have chosen is sworn in as our next president.
Take the Defend Democracy Pledge, a WSLC survey where everyone has the opportunity become a Democracy Defender and receive alerts, training opportunities and invitations to take various forms of action to defend our democracy in the wake of this critical election.

---
RESOURCES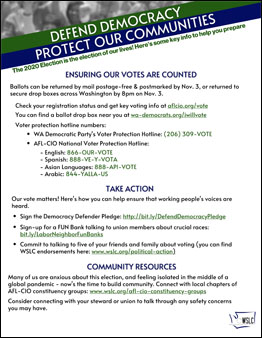 Download the "Defend Democracy: Protect Our Communities" two-pager that lists resources for ensuring our votes are counted, building community via AFL-CIO constituency groups, and de-escalation and community safety basics for taking action in the days following Election Day. That document is also broken down into shareable social media graphics for Facebook, Twitter and Instagram.
---
EVENTS
Stay tuned for updates.
---
TRAININGS
The WSLC has been hosting a series of "Defend Democracy: Protect Our Communities" trainings via Zoom video conferencing for leaders, staffers and rank-and-file members of WSLC-affiliated unions to prepare for this moment:
Training #1 was held Sunday, Nov. 1. Washington's labor movement needs to be prepared to take action after the Nov. 3 election in the event of a Biden win, a Trump win, or the likely scenario of an election outcome that is delayed until all the ballots can be counted in the days following Election Day.
Training #2 was held Nov. 5. It covered best practices related to safety, de-escalation and your legal rights for union members looking to take action in the streets, from home or in the workplace. Peacekeepers have been recruited and trained to perform that role at any upcoming protests.
Training #3 is Thursday, Nov. 19 from 6:30 to 8 p.m. will focus on community and self-care. This training will feature facilitator/healer Yvette Murrell and will provide participants with tools — grounded in labor values, solidarity, and moving from "I" to "WE" — for self-care in the wake of a divisive election that stirred racism and prejudice in our communities.  Click here to register.
---
QUESTIONS?
For more information about the WSLC's "Defend Democracy: Protect Our Communities" effort, please email Ingrid Chapman or call her at 206-566-3067, or email Kasi Perreira or call her at 206-566-3067.