In Support of Strong Unions After Janus Decision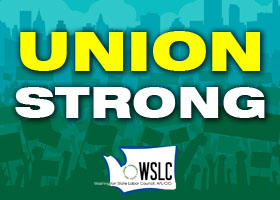 With its decision on Janus v. AFSCME, the U.S. Supreme Court has overturned more than four decades of legal precedent by declaring fair-share fees for public sector workers to be unconstitutional. This case is not about free speech. It is an effort to divide and conquer working families and take away their power to join together and negotiate for fair wages and working conditions.
I pledge to continue standing with Washington's union members and their families. Together, we will demonstrate that no court decision can extinguish the necessity of working people to stand together in strong unions. When we join together and fight for what is right, amazing victories are achieved. We will redouble our efforts at the local levels of government to raise wages, ensure all workers have paid sick days, enact paid family leave, protect immigrants on the job, strengthen workplace safety, fund public education, and much more.
As elected leaders in Washington state, we stand shoulder to shoulder with union families not only to condemn this decision, but to amplify the need for strong unions to fight back against an economy that's rigged to the advantage of the wealthy and powerful.
---
ELECTED OFFICIALS WHO HAVE SIGNED
CITY/COUNTY LEADERS
Sally Bagshaw, Seattle City Council
Larry Brown, Auburn City Council
Jean Burnham, Cathlamet City Council
Sue Cameron, Cathlamet City Council
Bob Champion, Mukilteo City Council
C. Brandon Chapman, Pullman City Council
Dow Constantine, King County Executive
Claude DaCorsi, Auburn City Council
Lorena González, Seattle City Council
Larry Gossett, King County Council
Nigel Herbig, Kenmore Deputy Mayor
Jeanne Kohl-Welles, King County Council
Eileen Macoll, Pullman City Council
Carmen Méndez, Yakima City Council
Teresa Mosqueda, Seattle City Council
Pedro Olguin, Burien City Council
Dan Rankin, Darrington Mayor
Christopher Roberts, Shoreline City Council
Paul Roberts, Everett City Council
Kshama Sawant, Seattle City Council
Ryan Smith, Cathlamet City Council
Tanya Waller, Cathlamet City Council
Bryan Yambe, Fife City Council
STATE LEADERS
Sen. Andy Billig, 3rd-Spokane
Sen. Steve Conway, 29th-Tacoma
Sen. Manka Dhingra, 45th-Redmond
Sen. Karen Keiser, 33rd-Des Moines
Sen. Sharon Nelson, 34th-Vashon
Sen. Guy Palumbo, 1st-Maltby
Sen. Jamie Pedersen, 43rd-Seattle
Sen. Rebecca Saldaña, 37th-Seattle
Rep. Sherry Appleton, 23rd-Poulsbo
Rep. Eileen Cody, 34th-West Seattle
Rep. Beth Doglio, 20th-Olympia
Rep. Joe Fitzgibbon, 34th-Seattle
Rep. Roger Goodman, 45th-Kirkland
Rep. Mia Gregerson, 33rd-SeaTac
Rep. Laurie Jinkins, 27th-Tacoma
Rep. Nicole Macri, 43rd-Seattle
Rep. Mike Pellicciotti, 30th-Federal Way
Rep. Gerry Pollet, 46th-Seattle
Rep. Kristine Reeves, 30th-Federal Way
Rep. Cindy Ryu, 32nd-Shoreline
Rep. Mike Sells, 38th-Everett
Rep. Derek Stanford, 1st-Bothell
Rep. Gael Tarleton, 36th-Seattle