Manka Dhingra is organized labor's endorsed candidate in the special election for Washington State Senate in the 45th Legislative District. She's a King County prosecutor and a community leader on mental health and domestic violence prevention issues. Fed up with the cynical politics of Donald Trump and Republican efforts to take away health care, Manka decided to run for the Legislature.
The mother of two children who attend public schools, Manka Dhingra believes that public schools are the foundation of our economy. She is committed to ending gridlock in the Legislature so our state can improve education funding and resources for early learning and child care. Manka says that when we invest in our schools and our children's future, we're investing in an economy that works for everyone.
Why unions support Manka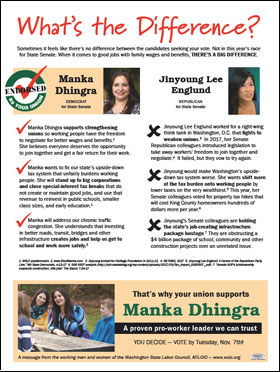 Union delegates representing the more than 600 unions that comprise the Washington State Labor Council, AFL-CIO voted to endorse Manka Dhingra's candidacy. Now the WSLC and its affiliated unions are working to inform rank-and-file union members who live in the 45th District — which includes Kirkland, Sammamish, Duvall and surrounding King County communities — about that endorsement, and more importantly, WHY Manka Dhingra earned that endorsement.
The WSLC has compiled fliers and information explaining the positions of Manka Dhingra and her opponent on issues of concern to working families. This information is intended only for union members and their families. To access this information, please fill out the following form indicating your union membership.