As part of the commitment of the Washington State Labor Council, AFL-CIO to building power for working people, the WSLC offers naturalization legal services in Yakima Valley.

WSLC naturalization legal services are offered at Nuestra Casa in Sunnyside and are limited to naturalization applications for legal permanent residents of the United States who are eligible to become U.S. citizens.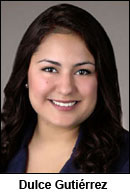 Dulce Gutiérrez, WSLC Community, Union & Naturalization Organizer, has been authorized by the U.S. Department of Justice to provide these services to U.S. legal permanent residents at a reduced cost to the client (pro-bono).
All legal permanent resident union members seeking citizenship are encouraged to sign-up for a consultation. There is a $10 fee for consultation appointments and a $50 fee for completion of each naturalization application.
You can schedule an appointment to receive naturalization legal aid services by calling Nuestra Casa at 509-839-7602 or emailing Dulce Gutiérrez.