► From The Stand  — Overtime pay comment period ends; final rule coming in December — The public comment period for the proposed update to Washington's overtime rules has ended. The state Department of Labor & Industries (L&I) reports that it has received thousands of public comments. L&I took public input for more than three months after announcing the proposal in early June. The state agency is now reviewing each of the public comments as it considers all aspects of the proposed changes to the state's overtime rules. A final decision is expected in early December.
---
Update state rules to take back our time!
Washington is poised to close a gigantic loophole in the state's wage-and-hour laws, and help its citizens bring their working lives back into balance. The state Department of Labor and Industries (L&I) has announced a long-awaited rule change to restore overtime pay rights — and the 40-hour workweek — for working families. We need to support that proposal because OUR TIME COUNTS!
What You Can Do — Background Information — Q&A — Links
---
WHAT YOU CAN DO
Comment in support of the rule change. Washington residents are encouraged to click here to submit your comments to L&I via Working Washington's web form. L&I's comment period ends on Friday, Sept. 6, 2019.
Share your story. Are you someone who would benefit from the rule change? Are you "exempt" from making time-and-a-half overtime pay and/or forced to work long hours without extra pay? Share your story with us!
Attend L&I's public hearings on the rule. L&I has planned the following public hearings across the state. Mark your calendar to attend and express your support for restoring overtime pay protections. Check the Overtime Rulemaking web page for details on this public hearing schedule:
TUMWATER — Monday, July 15 at 1 p.m. at L&I headquarters, 7273 Linderson Way SW
SEATTLE — Tuesday, July 16 at 9 a.m. at The Swedish Club, 1920 Dexter Ave N
BELLINGHAM — Wednesday, July 17 at 9 a.m. at Four Points by Sheraton Bellingham Hotel & Conference Center, 714 Lakeway Dr
ELLENSBURG — Monday, Aug. 5 at 9 a.m. at Hal Holmes Community Center, 201 Ruby St
KENNEWICK — Tuesday, Aug. 6 at 9 a.m. at Springhill Suites by Marriot Kennewick Tri-Cities, 7048 W Grandridge Blvd
SPOKANE — Wednesday, Aug. 7 at 9 a.m. at CenterPlace Regional Event Center, 2426 N Discovery Pl
VANCOUVER — Thursday, Aug. 15 at 9 a.m. at the Clark College Columbia Tech Center, 18700 S.E. Mill Plain Blvd
Spread the word on social media. Share information — including the following images — on social media to help get the word out about this important proposal. Use #RestoreOT.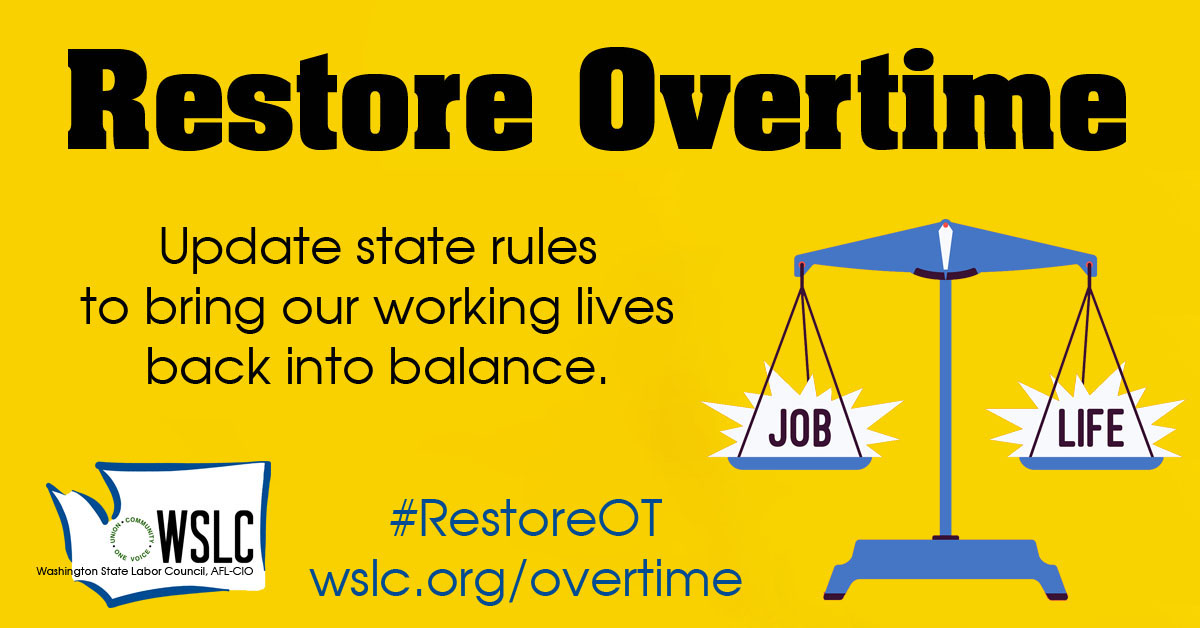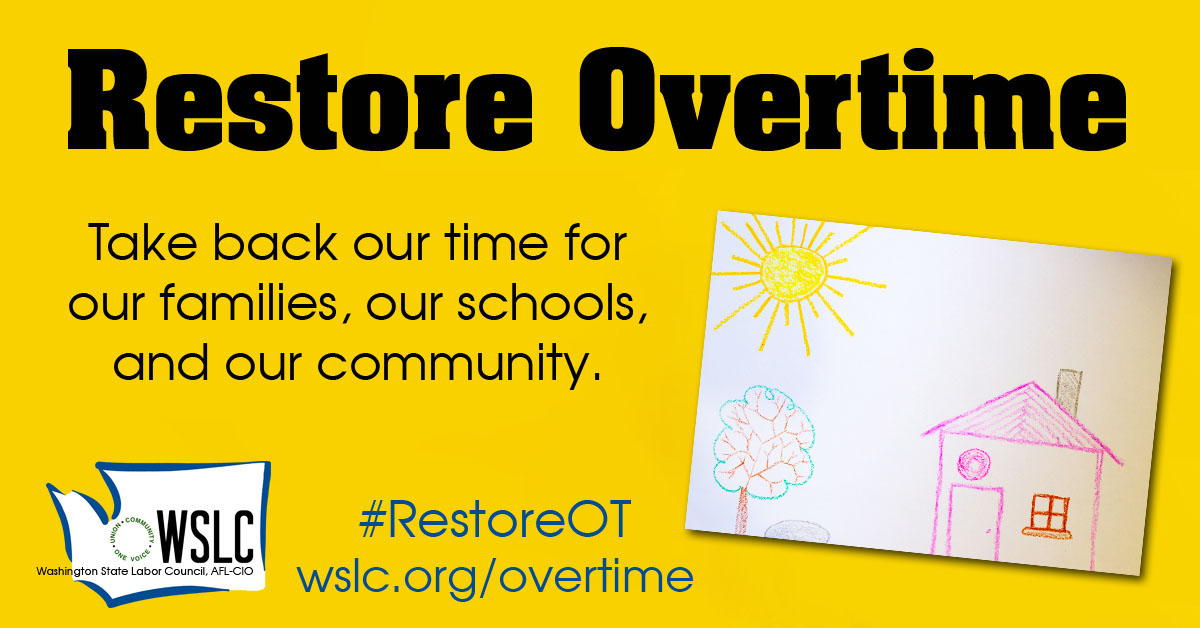 ---
BACKGROUND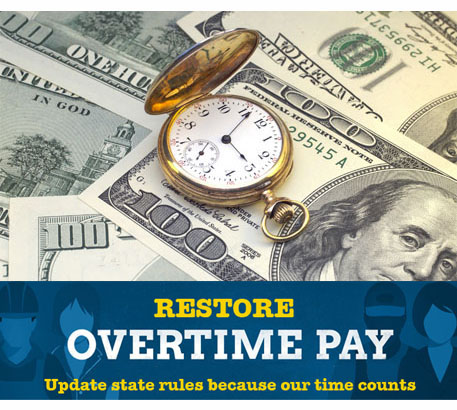 The state Department of Labor and Industries has announced its long-awaited proposed rule to restore overtime pay rights. L&I has proposed to gradually increase the overtime salary threshold, under which all workers in the state must be paid time-and-a-half for working beyond a 40-hour workweek, to 2.5 times the state minimum wage by 2026. That would mean anyone making less than about $80,000 per year seven years from now, regardless of whether they are classified as hourly or salaried employees, would get time-and-a-half pay beyond 40 hours per week.
OVERTIME HAS BEEN TAKEN AWAY — The current salary threshold, which has not been updated for decades to adjust for inflation, is just $23,660 per year. That's less than what a full-time minimum wage worker in Washington earns. Anyone who earns more than $23,660 can be declared "exempt" salaried employees and forced to work additional hours beyond 40 per week for free. In the decades that salary threshold has been frozen, the percentage of salaried American workers eligible for overtime pay has gone from more than 60% in the 1970s to less than 7% today.
"As working families struggle to pay the bills, they have been working longer and longer hours, sometimes for free because of our outdated overtime pay rules," said Larry Brown, President of the Washington State Labor Council, AFL-CIO. "This update is badly needed so companies can't exempt so many workers from the 40-hour workweek. It will mean extra pay for some, but importantly, it will help many people in Washington get their time back, too."
RESTORING OVERTIME IS GOOD FOR FAMILIES AND COMMUNITIES — Brown added that L&I's proposed rule will help restore some balance to the working lives of thousands of Washington families.
"When your workweek never ends, your life becomes a constant scramble, and it's almost impossible to maintain your health, care for your family, and make some time for yourself," Brown said. "But when an employer has to pay more for extra work hours, it means more parents have more time for their children, more neighbors have time for their communities, and more people have time to pursue their passions."
OUR STATE MUST ACT — The Trump administration has announced plans to dramatically scale back an Obama-era rule to update the federal salary threshold for overtime exemption. The Department of Labor wants to increase it to just $35,000 per year. Millions of Americans — well over half of the workers who would have gotten new or strengthened overtime protections under Obama's 2016 rule to raise the threshold to $47,500 — will be left behind by Trump's plan. Had the Obama rule, which provided for automatic inflationary updates of the threshold, remained in place, the threshold would be $51,064 today and $55,000 in 2022.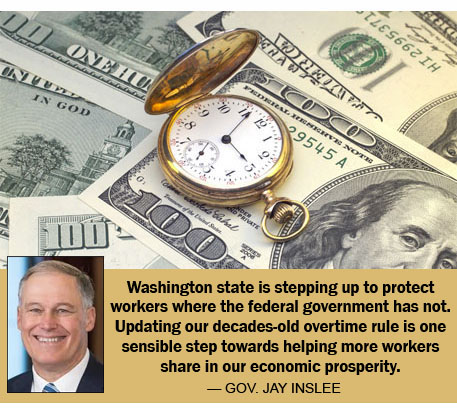 Gov. Jay Inslee, who directed L&I last year to begin the rule-making process for updating state overtime standards, said it is necessary because "yet again, it is up to the states to step up where the federal government has failed."
"Washington state is stepping up to protect workers where the federal government has not," Inslee wrote in a column that appeared in The Stand last fall. "Updating our decades-old overtime rule is one sensible step towards helping more workers share in our economic prosperity."
---
Q&A
I thought only managers and supervisors can be exempt from overtime pay. Aren't there duties tests that determine whether an employer can deny overtime?
Technically there are rules about what kind of jobs can be exempt, rules designed to determine whether you are a manager or "white collar" worker. But in the end, your employer is the one who tells you whether you get overtime pay or not. If you think they're wrong, you could file a claim over that classification, but unless you have a lawyer on retainer, in the day-to-day reality of the workplace, your employer tells you whether your job is exempt from overtime pay. That's why the minimum salary threshold is so important. Everybody who makes less than that amount gets time-a-half pay for hours beyond 40 per week.
Isn't it illegal to force someone to work without pay?
Yes, it is. But if your employer pays you a salary and exempts you from overtime pay — which routinely happens in the food service and retail industries, among others — you can be expected to work as many as 60 hours per week or longer to get the job done. And you won't get paid a dime for all that extra time after 40 hours.
If your time doesn't cost anything, it doesn't get treated with respect.
How will restoring overtime boost productivity?
Opportunities for advancement are restricted when an employer over-relies on a small group of employees because they are exempted from overtime and their time is free. Long hours have also been shown to negatively affect productivity, workplace safety, community involvement, and children's school performance.
Don't some jobs simply require long hours?
Yes, some do. But if an employer expects you to work more than 40 hours a week, they should be expected to pay you accordingly. Time is money — employers shouldn't just get both.
---
LINKS
► From The Stand — Super-majority of voters support state's plan to restore overtime (Aug. 2, 2019) — According to the poll, conducted by Patinkin Research Strategies, 67 percent of likely 2020 voters support the plan to restore overtime protections to more than 250,000 of Washington's salaried workers by restoring the threshold to 2.5 times the state minimum wage. That two-thirds approval is universal across every Washington media market, indicating strong statewide, bipartisan support. In fact, 75 percent of independents support the proposal, as well as 45 percent of Republicans, with about 1-in-5 Republicans undecided.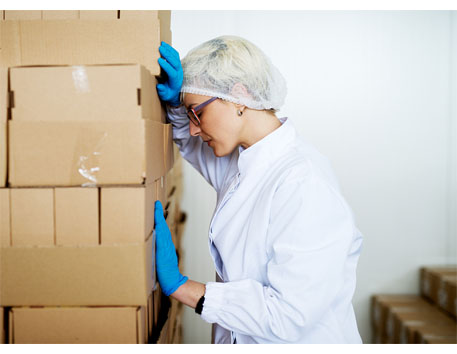 ► From The Stand — Young people are overworked and underpaid (Aug. 2, 2019) — By SARA BEKELE — The deterioration of workplace protections are part of this problem. The last time salaried overtime protections were updated in the state of Washington was in 1976 (and) because the protections haven't been updated, employers are taking previously hourly jobs – such as grocery store managers, administrative assistants, and YMCA staff – and turning them into salaried positions so they can pay their workers less. Young people, people of color, women and all those that fall in the intersections in between, bear the brunt of the consequences of inaction.
► From the Seattle P-I — New Washington state overtime rule: Relief for stressed, underpaid workers? (July 17, 2019) — A proposed revision to Washington's overtime rules, unchanged since Gerald Ford was president, is a needed catch up for workers dealing with eroding pay and job stress, backers told a Department of Labor and Industries hearing Tuesday. "It would give us a little bit of time and a little bit of money," said Elizabeth Kwan, a research scientist. The hearing was a surprise hit, with 40 witnesses signed up and more waiting on top of that.
► From The Stand — Attend public hearings to support restoring overtime pay (July 12, 2019)
► From Talk Poverty — States are going around Trump to get more workers overtime pay (June 27, 2019) — Getting a promotion is usually a cause for celebration. But after Chip Ahlgren was made a general manager at a Jiffy Lube in Washington state, he moved from an hourly position to a salaried one, and was no longer owed overtime pay when he put in more than 40 hours a week. Instead, Ahlgren could be asked to work as many hours as his boss demands for the same $52,000 a year. These days, he's putting in around 60 hours a week, even though his contract says he's supposed to work 50 hours and the payroll system only counts 40 hours a week for the purpose of accruing sick leave.
► From The Stand — Immediate, widespread support for updating overtime pay rules (June 5, 2019) — The Washington State Department of Labor and Industries (L&I) announced on June 4 its long-awaited proposal to restore overtime pay rights, which is projected to return time-and-a-half pay to more than 250,000 workers who've lost those protections because rules haven't been updated in more than 40 years. And the support for L&I and its proposed rule was immediate and widespread.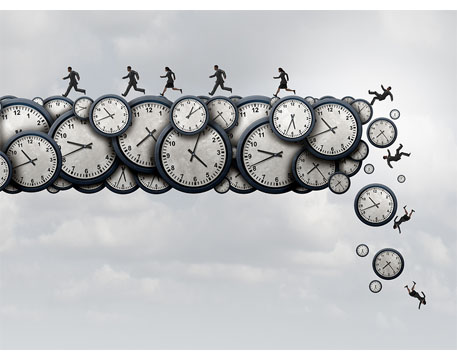 ► From Vox — Obama expanded overtime pay to 4 million workers. Now Trump is scaling that back. (March 12, 2019) — A four-year fight to expand overtime pay to millions of workers may soon be over. About 1.2 million workers will win and 2.8 million will lose… AFL-CIO President Richard Trumka called the new rule "disgraceful."
► From The Stand — Trump administration's federal overtime proposal 'way too weak' (March 8, 2019) — The U.S. Department of Labor's "insufficient" plan raises the urgency for Washington state regulators to restore the 40-hour work week.
► From The Stand — On overtime pay, Washington state must step up (by Gov. Jay Inslee, Nov. 8, 2018) — Yet again, it is up to the states to step up where the federal government has failed. That is why I've directed my state Department of Labor and Industries to update Washington's decades-old rule.
► From the Seattle Times — Washington considers raising 42-year-old standard on who gets overtime pay (Oct. 25, 2018) — Washington's salary threshold for overtime pay is the same now as it was 42 years ago — $250 a week, or $13,000 a year — although the slightly more generous $455-a-week current federal threshold governs in the state. People who are paid more than that — and anyone working full time at Washington's $11.50-an-hour minimum wage is earning $460 a week — can be exempted from overtime pay.
► From The Stand — L&I moves to restore workers' overtime pay protections (Oct. 9, 2018) — After four decades of inaction, L&I releases "pre-draft" towards updated overtime rules that could restore protections to hundreds of thousands of salaried workers.
ALSO SEE:
A Toolkit to Help Restore Overtime for the Middle Class (by DemWritePress and Civic Action)
Washington to Raise the Overtime Salary Threshold (by Economic Opportunity Institute)