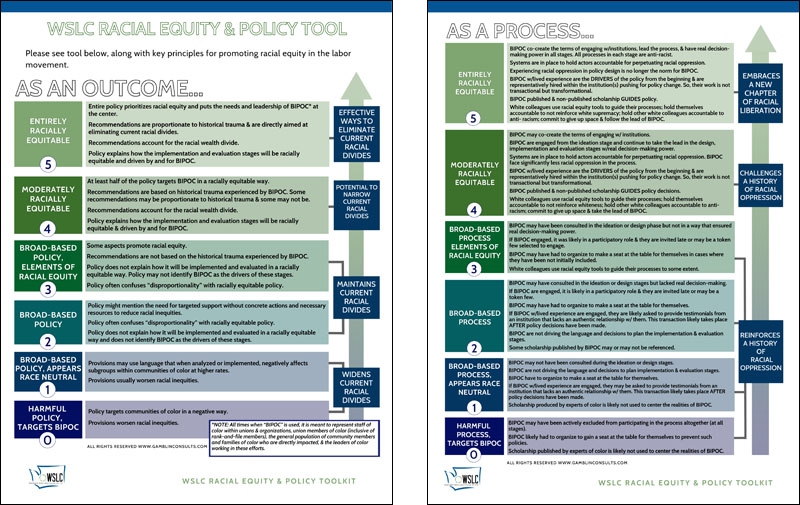 The following tool, which is part of the WSLC Racial Equity & Policy Toolkit, assesses how successfully a proposed or existing policy promotes racial equity. The policy can be assessed on a scale of 0 ("harmful policy" capable of widening racial inequities) to 5 ("racially equitable" in each aspect), both as an outcome and a process.
This tool is for policymakers, policy analysts, rank-and-file advocates and anyone who supports policy that can eliminate current racial divides. Most policies in the labor movement tend to be broad-based, meaning that the policy benefits people in a broad way, but may not do the additional work of providing targeted support to eliminate current racial divides. Many broad-based policies could be made more racially equitable by (1) applying this ranking tool to evaluate each part of the policy; (2) making recommendations that acknowledge and address the deep origins of racism throughout U.S. history; and (3) centering the needs, leadership, and power of BIPOC in every stage of the policy process.
Click the Outcome and Process images to view/download them in higher resolution, or download a printable 2-page PDF of this tool. See the full WSLC Racial Equity & Policy Toolkit for context and more information.
---
---

This WSLC Racial Equity & Policy Toolkit has been adapted to meet the needs of the Washington State Labor Council, AFL-CIO for the purposes of advancing racial equity in our labor policy. The tool and corresponding racial equity principles are based on the original Racial Equity Scorecard, previously designed and authored by Marlysa D. Gamblin, founder and CEO of GamblinConsults, a racial equity and anti-racist consulting firm for Bread for the World Institute to help policymakers promote racial equity. All rights reserved, GamblinConsults.com.