The following information is intended only for union members and their families.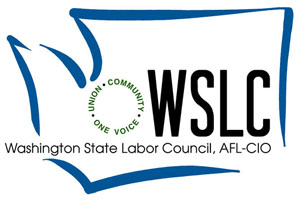 Delegates from unions across Washington state voted upon which candidates earned the WSLC endorsement. Here are the candidates who earned labor's support and more information on why they did. (Check back as we approach the Nov. 3rd General Election as much more information will be added to this page.)
---
CONGRESS — STATEWIDE OFFICES — STATE LEGISLATURE
---
CONGRESS
WHO EARNED LABOR'S ENDORSEMENT:
1st CD — Suzan DelBene
2nd CD — Rick Larsen
3rd CD — Carolyn Long
4th CD — no endorsement
5th CD — Dave Wilson
6th CD — Derek Kilmer
7th CD — Pramila Jayapal
8th CD — Kim Schrier
9th CD — Adam Smith
10th CD — Beth Doglio
Candidate comparison fliers will be posted here soon. In the meantime, check out the AFL-CIO Voting Records for members of Congress for details on how they voted on key working family issues.
---
STATEWIDE OFFICES
WHO EARNED LABOR'S ENDORSEMENT: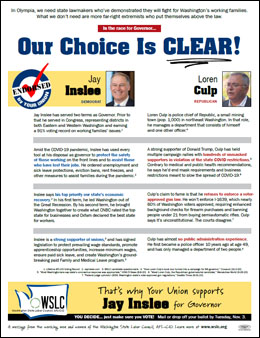 Governor — Jay Inslee
Lt. Governor — (dual) Denny Heck and Marko Liias
Attorney General — Bob Ferguson
Insurance Commissioner — Mike Kreidler
Lands Commissioner — Hilary Franz
Secretary of State — Gael Tarleton
State Auditor — Pat McCarthy
State Treasurer — Mike Pellicciotti
Superintendent of Public Instruction — Chris Reykdal

STATE SUPREME COURT
Pos. 3 — Raquel Montoya-Lewis
Pos. 4 — Charles Johnson
Pos. 6 — Helen Whitener
Pos. 7 — Debra Stephens
---
STATE LEGISLATURE
See the full list of 2020 WSLC Endorsements. Also, check out the WSLC's 2020 Voting Record for Washington state senators and representatives. (For details on the bills voted upon, see the WSLC's 2020 Legislative Report or previous years' Legislative Reports and Voting Records here.)
MORE INFORMATION ON SOME KEY RACES: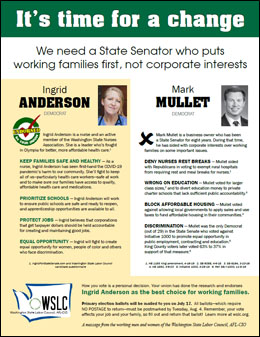 5th LD — INGRID ANDERSON for State Senate — Ingrid is a Snoqualmie Valley resident, a Registered Nurse at Overlake Hospital, and an active member of the Washington State Nurses Association. She is a leader at her union who has fought in Olympia for better and more affordable health care. Now she's running for State Senate against incumbent Mark Mullet, a business owner who has been a State Senator for eight years. During that time, he has sided with corporate interests over working families on some important issues. Download the candidate comparison flier and read more about Ingrid's candidacy at The Stand.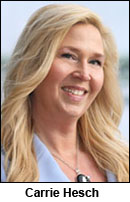 26th LD — CARRIE HESCH for State Representative — Carrie is a Gig Harbor resident who works at the Washington Corrections Center for Women, serves as an elected Director on the Key Peninsula Community Services Board, and is a proud Shop Steward for Teamsters Local 117. Carrie is a Democratic candidate for State Representative, Pos. 1 against Republican incumbent Rep. Jesse Young, who has just a 25% voting record on working families issues.
Carrie has been endorsed by The (Tacoma) News Tribune, which writes:
"Bringing new blood to the 26th's legislative delegation is consistent with the spirit of change in that district. Carrie Hesch, 47, is a Gig Harbor Democrat and state prisons professional; she runs the recreation and wellness programs at the Washington Corrections Center for Women in Purdy. She not only has an eye for waste in bureaucracy, she also has insights into the 'vicious cycle' of drug abuse, incarceration, homelessness and recidivism that plagues marginalized women."
Read more about Carrie's candidacy at The Stand.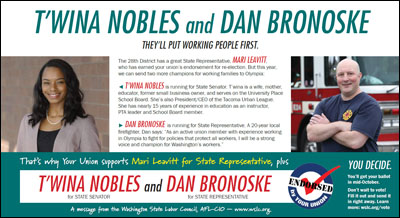 28th LD — T'WINA NOBLES for State Senate and DAN BRONOSKE for State Representative — T'wina Nobles is a wife, mother, educator, former small business owner, and serves on the University Place School Board. She's also President/CEO of the Tacoma Urban League. She has nearly 15 years of experience in education as an instructor, PTA leader and School Board member. Dan Bronoske is a 20-year local firefighter who says: "As an active union member with experience working in Olympia to fight for policies that protect all workers, I will be a strong voice and champion for Washington's workers."
Nobles and Bronoske have both been endorsed by The (Tacoma) News Tribune, which writes:
"T'wina Nobles is a powerful voice for that transformation, speaking up for working families in the era of coronavirus and other hardships… Nobles, 38, is a 15-year resident of the district who came to the area as a JBLM military spouse. Now in her second term on the University Place School Board, she has a clear-eyed view of public education challenges. Likewise, her three years as president and CEO of the Tacoma Urban League make her well grounded on business and social service issues, particularly for people of color.
"Voters would do well to entrust retiring Rep. Christine Kilduff's Position 2 seat to fellow Democrat Dan Bronoske. He would give Lakewood a seat in the statehouse for the first time in years. The West Pierce Fire & Rescue engine company captain has an impressive grasp of public policy issues and a master's degree in public administration."
---
Check back soon for more materials. We will continue to add information right up until until Election Day on Tuesday, Nov. 3rd.