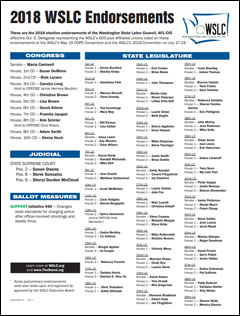 See the full list of election endorsements by the Washington State Labor Council, AFL-CIO, as voted upon by representatives of unions from throughout our state. It includes endorsements for Congress, Washington State Supreme Court Justices, Ballot Measures, State Senators and State Representatives. If you want more information about why these candidates earned labor's support, union members are invited to check out the WSLC's candidate-comparison flyers explaining where they stand on the bread-and-butter issues that matter to working families.
Remember to fill out the whole ballot, and drop it in a mailbox or county ballot drop box near you by Tuesday, Nov. 6. NO POSTAGE IS NECESSARY.
There are also some local judicial races and ballot measures for which your area Central Labor Council may have made endorsements.
MLK Labor (King County)
Pierce County Central Labor Council
If your council isn't listed here, contact your local Central Labor Council to see if they have any 2018 election recommendations.